A New Push for Early Ed: While Some States Expand Pre-K, Most Don't Require (or Fund) Full-Day Kindergarten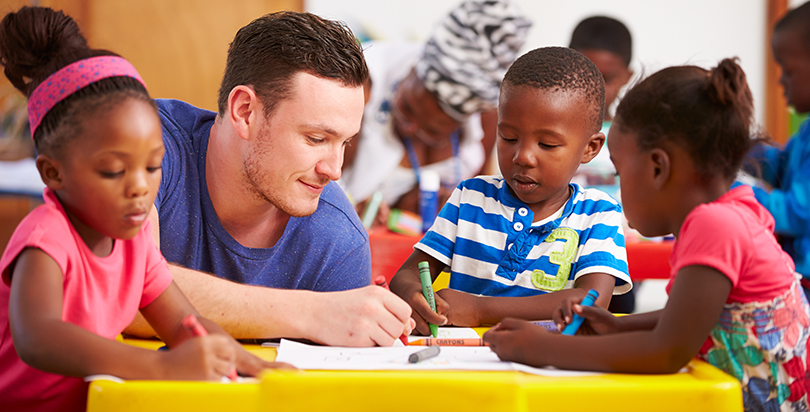 Updated July 13, 2017
The New Hampshire legislature passed, and Gov. Chris Sununu yesterday signed, a bill to provide an additional $1,100 per kindergartener beginning in 2019 to help expand full-day programs, funded by keno.
"I am proud to be the first governor to deliver a real full-day kindergarten program for communities across our state, which will close the opportunity gap and provide students, regardless of their economic status, an extra step as they enter the first grade. Full-day kindergarten is good for children and families, and a critical tool in retaining our future workforce," Sununu said in a press release.
Yet for all the push for new programs for the youngest learners — as well as the emphasis on high standards and accountability in elementary school and beyond — there remains a curious gap when it comes the other pillar of early education: Most states don't require, or fund, full-day kindergarten programs.
Just 13 states plus the District of Columbia require schools to offer full-day kindergarten to 5- and 6-year-olds, according to a September 2016 report by the Education Commission of the States. That's up from nine in 2005.
West Virginia is something of an exemplar in the area. The state, one of the poorest in the nation and not often a leader in education, requires schools to offer only full-day programs. Kindergartners are funded at the same rate as older students, and the school day is the same length as first-graders'.
"There are areas of public education in West Virginia that can benefit from improvement," former state superintendent of schools Jorea Marple said in 2012 when West Viriginia was recognized by the Children's Defense Fund. "Early childhood education is one area where we are overcoming societal obstacles to help children start their academic careers on a firm foundation. West Virginians should be proud to be held up as an example of doing what's right for young children."
Funding kindergarten at the same per-pupil rate as older students remains a gold standard that many other states are still seeking. And while early education is often seen as a Democratic priority at the federal level, there are Republican state-level leaders pushing to expand it. This year, two Republican governors — John Sununu of New Hampshire and Doug Ducey of Arizona — advocated to better fund full-day kindergarten.
"Policymakers are increasingly aware that by offering only a half-day program, they're missing an opportunity. This is a period when children learn best," said Bruce Atchison, director of the Early Learning Institute at the Education Commission of the States.
New Hampshire considers "Keno-garten"
Until this year, the Granite State has been better known as a laggard for its kindergarten policy. It was the last state in the country to require schools to offer even half-day kindergarten — in 2009.
"It seems to me we should have done it at least 21 years ago," a consultant to the state Department of Education said at the time.
Nationally, about 87 percent of 5-year-olds were enrolled in school (most in kindergarten, though some were in preschool programs) in 2015. Of those enrolled in kindergarten, 82.6 percent attended full-day programs, according to the National Center for Education Statistics. That's up from 51.5 percent in 1995, and just 11.6 percent in 1970.
Districts that aren't getting funding for full-day through their state aid formulas can shuffle other dollars; raise the money locally, through philanthropy or additional taxes; or, in some states, charge parents tuition for the extra hours.
After New Hampshire's decades-long delay in mandating that schools offer programs (the 49th holdout, Oregon, required schools to offer kindergarten back in 1988), Sununu and legislators of both parties are pushing to join the ranks of full-day-kindergarten states.
Sununu told the House Education Committee in April, in what the Associated Press billed as a "rare appearance by a chief executive in a legislative committee," that full-day kindergarten would help close achievement gaps.
It would boost the economy in the short-term, too, he said. Businesses seeking to relocate to New Hampshire, including some from Canada, have asked about the availability of full-day kindergarten, which they see as a benefit for employees, Sununu told legislators.
(The 74: Make Private School Free or Die: The Fight Over Education Savings Accounts in New Hampshire)
Beyond the economic and education arguments, advocates have also been working with law enforcement to show the impact of early learning on reduced crime rates long-term, said Lindsay Hanson, government relations manager at Save the Children Action Network, the political advocacy arm of the worldwide charity.
The idea has broad support among New Hampshire residents.
The current effort has evolved several times since the start of the year, but 83 percent of respondents, including majorities of voters in both parties, either strongly or somewhat backed an earlier version of the bill, according to a University of New Hampshire poll.
Unlike other, more contentious issues in education, the idea of full-day kindergarten is generally a bipartisan one, said Emily Parker, a policy analyst at the Education Commission of the States.
"It's great to have more seat time for young kids in the classroom … When you try to find the money, that's where you start seeing those differences in opinion," she said.
That funding issue has come to the forefront in the New Hampshire debate.
The state House on June 1 passed a bill that would provide an additional $1,100 annually for every child enrolled in full-day kindergarten, a total of $9 million. It would be paid for by legalizing and taxing Keno, a lottery-style game in which bar and restaurant patrons bet on which numbers will be randomly selected. That aid, which some have started calling "Keno-garten," would go to every school that chooses to offers full-day kindergarten, regardless of community need.
A conference committee will have to reconcile that bill with a different version passed by the state Senate in March. The Senate's version authorized $9 million, targeted at the state's highest-needs schools, as judged by the number of English language learners and low-income students and the district's existing resources.
With the session ending June 30, the conference committee will have to complete its work by June 15, and the legislature will need to take it up it soon after that.
Advocates will push the committee to completely fund full-day kindergarten, at the same per-pupil rate as older children. That would cost an additional $1,881 per kindergartener, for a total of $14 million, Hanson said. A previous version of the bill that passed the House had authorized that much spending to make full-day programs available in all districts.
"If not full [funding] adequacy now, we'd like to see this bill offer us a path to full adequacy by the time it comes out of committee of conference," she said.
There are "mixed feelings" about tying the program to tax revenue from a new gambling game, she said.
Some opponents to Keno are willing to accept it to pay for full-day kindergarten. It would be easier for them to swallow, she said, if the program were fully funded instead of the partial $9 million currently on the table.
There's also a chance full-day kindergarten could be used as a bargaining chip and included in ongoing budget negotiations between New Hampshire lawmakers, Hanson said.
Arizona approves a more modest effort
Full-day kindergarten in Arizona is experiencing something of a return to its roots.
Then-Gov. Janet Napolitano, a Democrat, secured funding for full-day kindergarten beginning in 2006. But after the state was hit particularly hard by the 2008 recession and Napolitano joined the Obama administration, Republican leadership cut funding for the additional hours, according to a report by the New America Foundation.
Many policymakers have tied full-day kindergarten to getting children to read by third grade, a critical benchmark that has been linked to high school graduation.
Research generally finds greater academic gains for children who attend full-day programs rather than half-day, with increased benefits for low-income children who enter school already behind peers from wealthier families.
(The 74: Conor Williams — The Fight to Boost Student Literacy Is Happening Years Too Late)
Advocates in Arizona began their full-court press for full-day programs last year.
Business leaders in an op-ed pushed for full-day kindergarten across the state by 2022, starting with $20 million in 2018. They had backup from Michael Crow, the president of Arizona State University, and school superintendents, who wrote their own op-eds. Full-day kindergarten would be optional under these scenarios.
"If kindergarten once was a cozy setting for cookies and naps, today we should know it as a curriculum-rich launching pad," Crow said. "There still may be cookies, but the bigger prize is giving all of our kids a clear shot at success."
Ducey, too, in his annual budget address early this year, connected it to reading achievement.
"My budget gives the lowest-income schools dollars to start or expand full-day kindergarten, and addresses an issue we know is critical to closing the achievement gap: the ability to read by third grade," he said.
He proposed $10 million that would go to full-day kindergarten or other "early literacy" initiatives, like preschool or reading tutors.
Right now, 41 percent of Arizona children are proficient in English, said Erin Hart, chief operating officer of Expect More Arizona.
"That's not good enough. Six out of 10 of our kids are not where they should be, and we have a lot of work ahead of us," she said.
(The 74: Analysis — Arizona Is the Worst State in the Nation in Serving Students Still Learning English)
Some Republicans, who control both chambers of the state legislature, were initially cool to the idea, arguing the money would be better spent on increasing teacher salaries or aiding other programs.
Advocates tried to make the case that more money for kindergarten isn't a zero-sum option.
"Ultimately, we think that this investment is super important and don't think it should be at the expense of anything else to support education," Hart said ahead of the final deal. "We think we can work on teacher pay and literacy."
Arizona's final budget includes $8 million a year for the early literacy programs, including full-day kindergarten, if districts choose. Schools where more than 90 percent of students are eligible for free or reduced-price lunch, a common measure of poverty, can apply for three-year grants. Another $12 million will go to the programs next year.
That flexibility will be essential for high-poverty schools. "I have no doubt they'll be put to good use," Hart said of the new funds.
Advocates hope it's just a first step toward full-day programs for all students.
"We hope it is a longer-term conversation" to support the early reading skills for all students in Arizona, Hart added.
---
---
Support The 74's year-end campaign. Make a tax-exempt donation now.