DC Public Schools Is Latest District to Announce All-Virtual Start Despite Federal Pressure in Its Own Backyard to Reopen. 10 Things Families Need to Know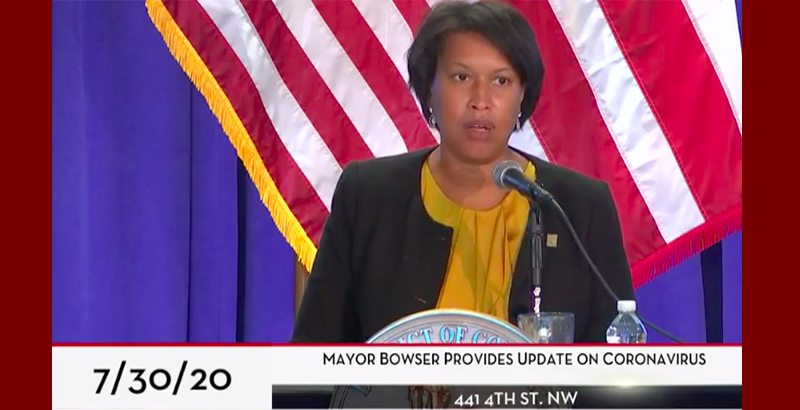 D.C. Public Schools' 52,000 students will start the 2020-21 year entirely virtual, city officials announced early Thursday.
With the announcement, which came a day earlier than expected, DCPS is the latest school district to temporarily forgo in-person learning as COVID-19 cases this month increased in the region — despite pressure in its own backyard from the White House to reopen.
Nearby Fairfax County Public Schools in Virginia and Montgomery County Public Schools in Maryland, two of the largest school districts in the country, made similar announcements earlier this month.
Mayor Muriel Bowser indicated Thursday that the decision was informed not only by health data but also in wanting the support of staff and families. Many had vocally opposed starting the school year with any form of in-person learning. Although virtual learning in the spring wasn't seamless, officials said it'll be more robust and interactive this time around, with multiple hours of live instruction a day depending on grade level.
"[We want to] make sure that when we do have an in-person option that we can maximize the attendance of our teachers and our kids," Bowser said.
Here are 10 things families should know about the decision:
1. Virtual learning will be in effect through Term 1
Students will be fully online from Aug. 31, the first day of school, through Nov. 6.
When pressed if that time frame will apply to every student — including those with more personalized needs, like students with disabilities — DCPS Chancellor Lewis Ferebee said, "We will start the school year in an all-virtual posture. But we will continue to explore all pathways … that could be some form of in-person instruction."
2. There will be 'predictable' class schedules for families
Virtual learning will include a mix of interactive lessons and independent learning time, with the amount of live daily instruction increasing depending on grade level. As of now, here's how daily live instruction breaks down by grade:
Pre-K: 30 minutes to an hour
Grades K-2: 2 hours
Grades 3-5: 2 to 3 hours
Grades 6-12: 4 to 5 hours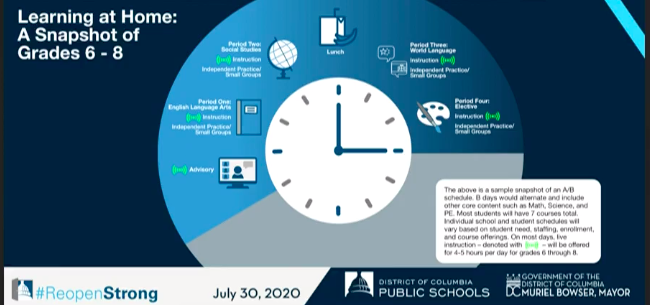 Canvas will be the main platform for accessing curriculum materials, Ferebee said.
3. Many students still need laptops and Wi-Fi. Officials say they're 'committed' to providing that
Forty-four percent of respondents in an ongoing tech survey, which has garnered more than 13,000 responses, said they have a student who does not have a device, such as a laptop. And 18 percent have a student without access to a hotspot or reliable Wi-Fi.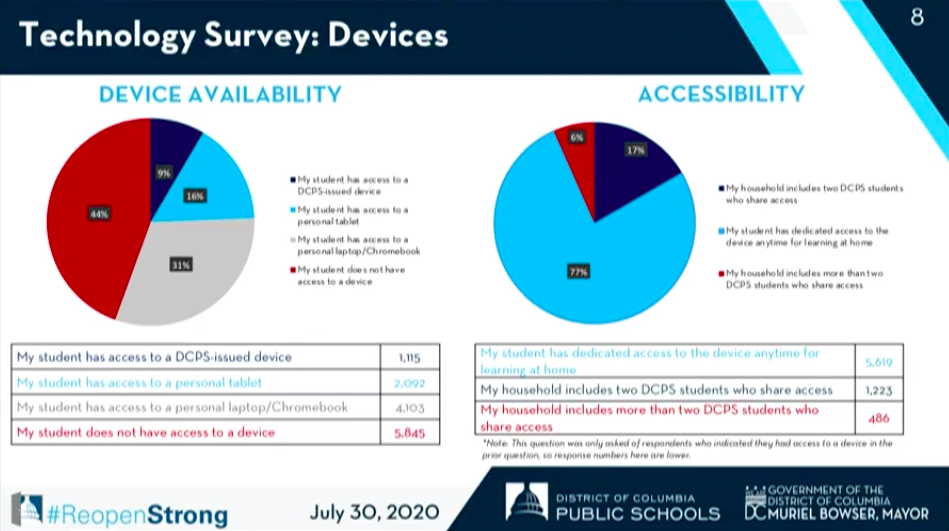 The district has 36,000 devices, many pre-enabled with Wi-Fi, to distribute next school year "based on the feedback we get from families through the survey," Ferebee said.
4. Attendance will be taken daily
This was emphasized several times by officials. Ferebee said attendance will be "primarily done" by students logging in through Canvas. No further information was provided at that time.
5. Grading protocols will reflect DCPS's approach in the spring
Elementary school children will receive a grade of 1, 2, 3 or 4. Middle and high schoolers can receive a grade of an A or a B; if the grade is below a B, students can either have the grade they received — like a C — reflected on their report card, or they can opt for a "Pass/Fail" designation.
Across grade levels, Ferebee emphasized that grading will weigh heavily on completion of practice materials and student engagement — not just assessments.
6. Summer bridge program, extra days planned to fill learning gaps
When asked how DCPS intends to recoup learning loss, Ferebee pointed to the district's already-planned "summer bridge" program starting virtually Aug. 10 for grades 3, 6 and 9, which Ferebee has called key "transitional years where students need additional support."
There are also extra instructional days sprinkled in throughout the 2020-21 year that were normally staff-only work days. The exact number wasn't immediately clear.
Teachers will monitor students' performance and understanding of materials with regular "check-ins" as well, Ferebee said.
7. Special ed, English language services will continue
Learning from home could include "co-taught and/or small group or individual lessons with a special education teacher or ESL teacher," according to Thursday's presentation.
Ferebee noted that any students with an Individualized Education Program will have a "distance learning plan addendum" added, too.
8. There is new material to help students process recent events
Ferebee noted that on top of working this summer to make curriculum more "user-friendly" online, the district has also added some new material, including a "Living Through History" Cornerstone. Cornerstones are lessons that every DCPS student in every grade takes.
It will be "an opportunity for students to reflect on their experiences over the spring and the summer and use that as a learning opportunity," he said.
9. Students will still get meals 
Ferebee said the district is "positioned to continue to provide meals throughout the summer and school year, and add sites if we need to."
DCPS's website directs users here for information on where to find meal sites.
10. Charters do not have to follow DCPS's decision
The city's charter networks, serving nearly half of D.C.'s students, are not beholden to DCPS's decision. But Deputy Mayor for Education Paul Kihn said officials nonetheless "have full expectation that all charter schools will follow strict health guidance as DCPS is doing."
"We have worked in a very, very collaborative way with charter [agencies] across the city," Kihn said. He added that many charters will be making their announcement by week's end.
Get stories like these delivered straight to your inbox. Sign up for The 74 Newsletter