Parents and Teachers Want Clarity on Technology Needs as D.C. Delays Reopening Plan by Two Weeks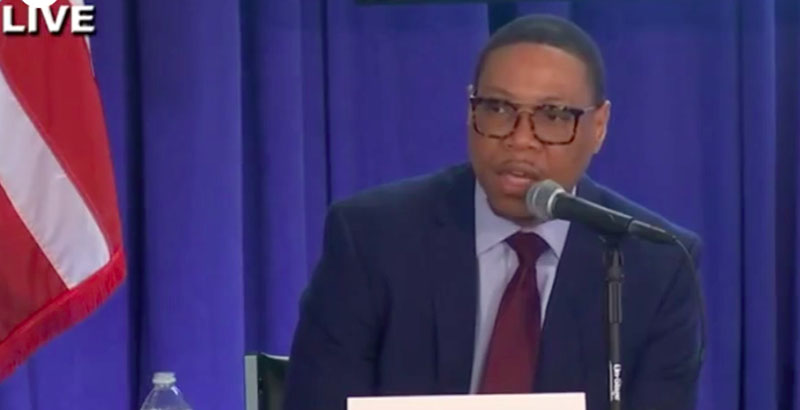 D.C. Public Schools parents and teachers want assurances that all students will be able to log on remotely and safety equipment will be in place this fall as officials on Thursday delayed announcing its reopening plan, citing a "volatile" trend in local coronavirus cases.
Classes are set to resume Aug. 31 for the district's 52,000 students, and advocates say not all students have laptops and hotspots, despite much of the first semester likely virtual. And they want details on what a school safety plan could look like, along with the funds DCPS has for supplies like masks, should classes resume partly in person.
Nearly two-thirds of about 500 DCPS educators surveyed by the teachers union in June said up to a quarter of students didn't have a device or Wi-Fi by school year's end. About 56 percent of middle school teachers surveyed reported spending $100 or more out of pocket on tech monthly.
The risk of not investing more is that "you'll have large segments of the student population missing out on learning," said parent Grace Hu of Digital Equity in DC Education, which says $11 million has to be added to the FY21 budget to ensure every student is connected. "There's going to be a lot more issues than tech come the fall. But this … that's fixable."
"It's going to be more expensive than $11 million later on if more kids miss out on learning," she added.
The announcement's delay came as "the situation with this virus is changing, and has been volatile," Mayor Muriel Bowser said Thursday. D.C. and districts nationwide have been grappling with how to reopen, with many weathering record-breaking spikes in coronavirus cases.
Schools Chancellor Lewis Ferebee on Thursday said DCPS is considering one to two days a week of in-person learning depending on grade level, with parents able to choose a fully virtual option. Mayor Bowser added, though, that the model could change before the reopening plans are released July 31.
Teachers "want to go back to school," special education teacher Ali Morgan said. But "we want to be safe."
Discord on devices
For months, there's been a sharp disconnect between what DCPS is providing and what parents, teachers and advocates say is needed.
District and local officials "have assured me they're fine" with devices, D.C. council member David Grosso said at a July 7 budget meeting. As of early July, DCPS had distributed nearly 10,000 devices and 4,000 hotspots for remote learning, a spokesman said — and has $6.9 million in the FY21 budget to move itself closer to a 1:1 student-to-device ratio.
Advocates, however, say DCPS is unaware of the full extent of students' needs because of a lack of uniform, robust surveying of families in the spring.
For Maurice Cook, giving students devices is non-negotiable — the equivalent to "a pencil and paper" in today's environment. Yet his nonprofit, Serve Your City, found itself having to ask the community starting in April to donate laptops for students and families in need.
They've refurbished and distributed 120 so far.
Parent Alamaze King said her seventh-grader's school didn't ask if their family, who only has iPhones, needed laptops or hotspots when schools shuttered. She'd assumed families were on their own because, she explained, "Where I come from, we just make do with what we got."
When King heard in mid-April that devices were being distributed, she asked Kelly Miller Middle School — but they had none left. King said she is now "bracing" to pay out of pocket.
Morgan, the special education teacher, felt the disparity in access to devices and Wi-Fi last semester at School Without Walls at Francis-Stevens. She'd donated iPads from her husband's temporarily shuttered restaurant to students. She even became their IT support, "battling internet companies" and calling Comcast when one of her students lost connection for three days.
"It dramatically impacted my ability to do my job," she said.
It's unclear if DCPS plans to conduct a districtwide device audit, but Ferebee on Thursday said that "part of the [school] registration process will also include an opportunity for families" to request a device. He added that DCPS will have about 36,000 devices to distribute next year and that new devices will be LTE-enabled to "eliminate the need for additional hotspots."
Questions of safety 
DCPS in early July asked teachers to indicate if they'd be willing to come back to school in person. It was — and still is — an unanswerable question without facts, Morgan said.
"It's critical to have a breakdown of how much money [could] be allocated" for things like PPE, she said. "I work in a restaurant right now. You know how many times I change my mask? At least seven to eight times a day."
DCPS received $25 million in federal CARES Act funding that could help fund protective equipment — but with no formal reopening plan, the district has yet to release any spending breakdown.
The price for cleaning supplies alone if in-person learning resumes would likely be hefty. KIPP DC's charter network serving 7,000 students recently purchased three months' worth of cleaning supplies and PPE— including 16,000 disposable masks — for more than $300,000.
The question of PPE funding is only one of dozens. Educators also want to know if every school that reopened would have a school nurse on site, for example, and whether teachers could be eligible for hazard pay.
Mayor Bowser on Thursday said there's "more to the discussion … about how schools are getting ready and the protocols at schools" that's forthcoming. She added there will be town halls for families to participate in before July 31.
Support The 74's year-end campaign. Make a tax-exempt donation now.