Lessons From a Global Reckoning: D.C. Looks to Make 14-Year-Old Social Studies Standards More Inclusive as Cities Nationwide Grapple With Re-Engaging Students During COVID
This is the third story in a six-part series, "Lessons From a Global Reckoning," in which The 74 examines how issues of race are taught — or ignored — in America's classrooms. As the pandemic continues and after nationwide protests following the death of George Floyd, this series seeks to take a hard look at how educators are tackling these painful but important issues. Read the rest of the pieces as they are published here.

The world has changed since D.C.'s social studies standards were created 14 years ago.
A few events stand out for State Board of Education member Jessica Sutter: the election and presidency of Barack Obama; the landmark marriage-equality Supreme Court ruling; and now, historic protests and a global pandemic ravaging communities of color that have once again forced the nation — D.C. included — to take an introspective look at whose histories have been uplifted or buried.
"To think about how we teach history and whose stories predominate … It is not for the faint of heart," said Sutter, a former middle school social studies teacher.
Sutter and a newly appointed 26-member committee, however, are up to the challenge, and they will spend the next half year combing and critiquing a 104-page standards document that informs schools' curricula by outlining key events and skills that students should learn by grade.
The work is important "now more than ever," Sutter said, with culturally responsive education critical in the coming months and years as schools look to re-engage students and recoup learning loss from COVID-19. 
"It's just so important that students see themselves in the way they're being taught and in what they're being taught," said Fadhal Moore, a committee member and former eighth-grade history teacher at D.C.'s E.L. Haynes Public Charter School. "If there's a huge disconnect between students' lives and what happens in the classroom, they check out."
Though the standards were well received early on, five committee members interviewed by The 74 were quick to point out wanted changes: More space for history and culture that doesn't revolve around a white, often European, narrative; giving students better tools to be engaged citizens and voters; and introducing more diverse perspectives in the K-2 grades. D.C. Public Schools' curriculum is based on the standards; as many as three-quarters of D.C. charters also use them. 
Officials say the standards play a vital role as a guidepost for educators. And they reflect what D.C. considers relevant history. 
It "sends a signal of what are the things that we are saying we value," said Scott Abbott, DCPS's director of social studies, "and what is actually important."
Tying in more diversity
The mix of educators, administrators, students and experts on the committee agree that the standards don't give equal attention to non-white cultures and people. E.L. Haynes Public Charter School teacher Jessica Rucker counted the number of times the word "American" appears in the current standards: 171 times. 
If "American" were "replaced with the words 'white people,' it would more clearly illustrate the what and who we expect students to know," she told other committee members during their first Zoom meeting July 7.
Moore has taken notes, too. African history before European colonization is sparse. The standards for the Industrial Revolution don't explicitly suggest uplifting diverse voices, like that of a Latino child or a Black woman. One of the most striking to Moore is there are "no non-Western-society history standards" until seventh grade. And even when continents like Africa do emerge, European history is often still the backdrop. In ninth-grade World History, for example, at least 10 of 16 units center on Europe or how periods like the Renaissance influenced other cultures.
"Most students' interactions with persons of color outside of Europe are going to be simply victims of European expansion and growth. Not exclusively, but by and large," said committee member Michael Stevens, social studies director at Friendship Public Charter School. While that network doesn't use the standards, it hopes to adopt the updated version.
Students feel this imbalance of perspectives in the classroom. In a lunchtime Zoom chat with Sutter in March, one student lamented that there "isn't a lot of positive history" about Black people that's taught. A few others said history lessons often feel stagnant, rarely connecting past oppression of communities of color to present-day struggles.
Across D.C. public schools, 66 percent of students are Black, 19 percent are Latino, and 11 percent are white.
"We talk about slavery, we talk about segregation, we talk about the civil rights era … [and] a young learner, just going off the textbook, would think that racism ended there," said Alex O'Sullivan, a rising junior at BASIS DC Public Charter School who is on the committee. He wants more attention paid to systemic issues like housing segregation or the war on drugs and the resulting mass incarceration of Black men. 
Committee members also feel there are gaps in civics education, which encourages students to explore their identity within society and teaches them how to be more engaged citizens.
There aren't any civics standards between grades 3 and 11, Moore said. He intends to push for updated standards that include skills-building across grades: how to organize a protest and obtain necessary permits, craft petitions and pen letters to local politicians, for example.
"You do not become a citizen at 18. You are always a citizen," he'd tell his students. So "what does that mean for you to start to interact with that now?"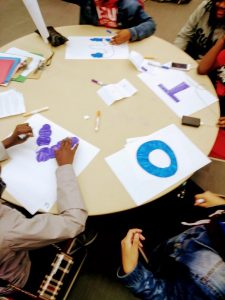 Standards for the younger grades, in general, need to be more "robust," committee members like Sutter and Abbott said. The current K-2 standards focus on basic concepts such as reading a map, identifying American symbols like the Statue of Liberty and learning to respect others. The one outlier — which Abbott said he wishes there were more of — is a section on Maya, Inca and Aztec civilizations in first grade.
Sutter thinks kids can handle more. In second grade, for example, when kids learn about American citizenship, there should also be discussion about Dreamers, she said. More specifically, "What does that mean, and how are these students and families supported if they are not 'citizens'"?
"I have a 4-year-old nephew who can name you every dinosaur and pronounce their multisyllabic name correctly," she said. "We underestimate young children."
Holding district, schools accountable for change 
Committee member Laura Fuchs is more focused on holding DCPS and charters accountable for not cherry-picking standards "they're most comfortable with." 
The H.D. Woodson Senior High School teacher takes issue with current DCPS World History curriculum. It suggests, for example, that teachers spend 12 days on a U.S.-Russia Cold War unit, while another unit covering more ground — the ramifications of World War II, the Cold War and colonization on Africa and Latin America, regions with largely Black and Latino populations — is allotted 11 days. 
"The standards, that's just one thing," she said. "The problems I'm facing in my classroom" exist because the standards are being prioritized "in a very poor way."
Committee member and sixth-grade geography teacher Melanie Holmes felt a similar disconnect between the standards and curriculum recently. "I'm working on curriculum for my individual school [MacFarland Middle School] right now … and [while referring to the standards] we just found so many good standards that are left out" of what's provided to teachers, she said at the meeting.
Some teachers find they have autonomy to craft organic and diverse lesson plans. Emory Calhoun at Dunbar High School brings in historians to talk about Georgetown's Black history, and he has students call his aunt, who lived through the civil rights movement. Cosby Hunt, an AP U.S. history teacher at Thurgood Marshall Academy, takes his classes through Jacob Lawrence's 60-panel art series portraying the Great Migration of African Americans from the rural South.
Both acknowledged that having that flexibility can depend, though, on a school's management style, and how new a teacher is to a particular subject. 
Abbott, DCPS's social studies director, said the district works with teachers to develop curriculum. It brought in six educators this summer to serve as "race and equity fellows" who are looking at the curriculum "through this lens of anti-racism, anti-bias" to identify short-term fixes as the standards review process continues. Abbott added that the district is "looking forward" to expanding course offerings for its African American History and Culture elective — the most popular non-AP elective last year. 
The committee will submit recommendations to the Office of the State Superintendent of Education in December and will advise that office as it formally rewrites the standards in 2021. The State Board will vote on the revisions in March 2022, to go into effect the 2022–23 school year.
Get stories like these delivered straight to your inbox. Sign up for The 74 Newsletter