COVID Vaccine Authorization for Children Ages 5-11 Possible Within Weeks After Pfizer Trials Find Shots Produce 'Robust' Immune Response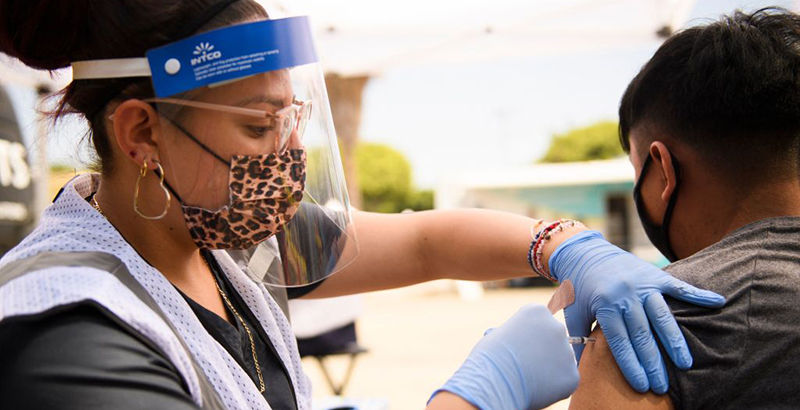 Support The 74's year-end campaign. Make a tax-exempt donation now.
Updated
In a pivotal development for school coronavirus safety, Pfizer-BioNTech announced Monday that its vaccine was safe and created a "robust" antibody response for children ages 5 to 11 in trials.
These are the first such results for this age group in the U.S., and data have not yet been peer-reviewed or submitted to the Food and Drug Administration for emergency use authorization. The pharmaceutical company plans to apply for approval to use the shot in children before the end of the month, the New York Times reports, meaning that millions of 5- to 11-year-olds could be inoculated before Halloween if the regulatory review goes as smoothly for this age group as it did for adolescents.
The trial included 2,268 participants ages 5 to 11 who were each given a two-dose regimen of the vaccine 21 days apart. Children were given a 10 microgram dose, smaller than the 30 micrograms administered to older children and adults, which the drug company said was a carefully selected dosage for safety, tolerability and effectiveness.
One month after the second dose, the shots produced an immune response and side effects comparable to that delivered by the larger dose in 16- to 25-year-old patients, Pfizer said. A company spokesperson confirmed to CNN that there were no instances of myocarditis in the trial, a type of heart inflammation that has been linked with mRNA vaccines in boys and young men.
The results come at a pivotal time, as children now make up 29 percent of all new COVID cases and as the highly contagious Delta variant has sent more children into hospitals in the past few weeks than at any other point in the pandemic.
"Since July, pediatric cases of COVID-19 have risen by about 240 percent in the U.S. — underscoring the public health need for vaccination. These trial results provide a strong foundation for seeking authorization of our vaccine for children 5 to 11 years old, and we plan to submit them to the FDA and other regulators with urgency," said Albert Bourla, Pfizer's chairman and CEO.
The trial results are a hopeful indication that shots will be available for young children before the winter months, when low temperatures complicate outdoor activities and ventilation across much of the country.
"We are pleased to be able to submit data to regulatory authorities for this group of school-aged children before the start of the winter season," said Dr. Ugur Sahin, BioNTech's CEO and co-founder.
​​Pfizer said it is expecting to release trial data for children as young as 6 months "as soon as the fourth quarter of this year."
Already in the first weeks of the school year, tens of thousands of students have been forced out of class due to infection or exposure to the virus, oftentimes with sparse learning opportunities while they self-isolate. In Mississippi, where the state does not require that masks be worn in school, more than 4,500 students caught the virus in just one week and over 20,000 students and staff were in quarantine.
Even as quarantines stack up, worst-case outcomes among healthy children — like chronic illness or death — still remain "vanishingly rare," health experts told The 74 earlier this month.
But with schools across the country scrambling to regularly test their student bodies as a screening measure against viral spread, the now-likely approval of shots for elementary schoolers before the winter may provide an alternate route for mitigation, and could open the door for more widespread COVID vaccine mandates for students in school.
Earlier this month, Los Angeles Unified became the country's first major school district to require student vaccinations with a rule dangling full vaccination by the winter holidays as a necessary step to remain learning in person for students 12 and up. Culver City, California and Hoboken, New Jersey made similar moves in late August.
LAUSD officials chose not to comment when asked by The 74 whether they would extend their student vaccine requirement to learners ages 5 to 11, should shots be approved for that age group.
In late August, the FDA gave full authorization to coronavirus shots for individuals ages 16 and up. Health experts are mixed on whether schools should mandate that 12- to 15-year-old students, who are currently approved for doses under emergency use authorization, receive the vaccine, according to interviews The 74 conducted in early September.
Authorization of shots for younger learners "starts to open the door" for wider student vaccine requirements, Benjamin Linas, professor of medicine at Boston University, told The 74.
"We can and do mandate vaccines (like shots protecting against measles, mumps and rubella) for students all over the place, every day in this country," he said. "We should treat [the COVID shot] like we treat all vaccines."
Without mandates, districts may have trouble persuading their younger children to get immunized. Though youth ages 12 and up have been eligible for doses since May, only 43 percent of 12- to 17-year-olds are fully vaccinated, according to the American Academy of Pediatrics. After a high of 1.6 million pediatric vaccinations per week in late May, the rate has since fallen to 273,000 weekly doses in mid-September.
"It's going to be an uphill battle addressing [vaccine] hesitancy in schools," said Linas.
Learn more about the vaccine results for 5- to 11-year-olds here:
Support The 74's year-end campaign. Make a tax-exempt donation now.