Controversial Bill That Would Make Local Districts Sole Authorizers of Charter Schools Moves to a Public Hearing in the California Senate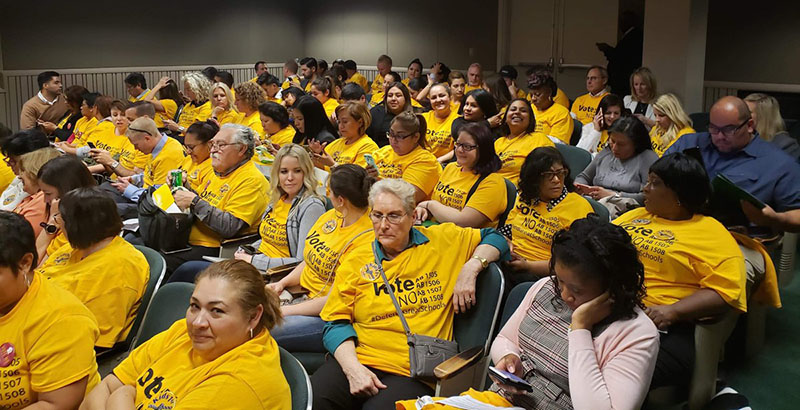 A controversial charter school regulation moving through the California legislature will take its next step Wednesday when the state Senate Education Committee holds a public hearing that's expected to draw crowds of supporters and opponents of the state's large charter school sector.
Assembly Bill 1505 would grant local districts sole authority to approve or deny petitions for charter schools, which are publicly funded but independently operated and are often seen as competition by local school districts. Under the current system, both the county and state boards of education can approve petitions denied by districts on appeal. The state Assembly narrowly passed AB 1505 last month, although with a stipulation that a final version of the bill will retain some kind of appeals process extending beyond districts.
The legislation began this spring as part of a package of bills rewriting state charter policy. The state Assembly ultimately passed only two of them. The other item, Assembly Bill 1507, closed a loophole some districts were using to boost their budgets by approving charter schools outside of their boundaries. The Senate Education Committee is considering both bills, but Wednesday's hearing will cover only AB 1505.
"I'm proud to co-author AB 1505, which will finally allow our local school boards to factor the financial, academic, and facilities impacts that charter schools will have on their districts," state Sen. Nancy Skinner, D-Berkeley, said last week. "Our locally elected boards are in the best position to determine whether a proposed charter school would negatively impact their district."
In April, the state Assembly held its own public hearing on the bill amid a throng of advocates at the capital. Three witnesses for each side gave extended statements.
The speakers in favor of AB 1505 comprised leaders from both the Oakland and San Diego Unified school districts, as well as a traditional public school advocate from the San Bernardino County District. All described their frustration when charter petitions their districts had denied were approved by the county or state on appeal. In these cases, enrollment at traditional public schools fell as students moved to charters.
"The financial oversight and management challenges are complex and need to be supported by state law in order to be better addressed and best addressed locally," said Oakland Unified board president Aimee Eng. At 27 percent, Oakland has the highest ratio of charter school students of any district in the state. Since the 2006-07 school year, nine charter schools in Eng's district have opened after appealing for approval from the county.
The witnesses in opposition to the bill featured the CEO of a charter school network, a representative for the Sacramento County Board of Education, and Lety Gomez, a founding parent of a charter school in her East San Jose neighborhood. She voiced the concern among many critics of AB 1505 that the legislation would make it too easy for districts to close high-performing charter schools.
"This bill is trying to take away [from] communities of color the right to school choice and equal opportunity. I cannot afford private school for my daughter. And with the current cost of living, I cannot afford to move in order to find the school that best supports her," she said.
That tension has come to a head across the state. In addition to restricting the appeals process for denied charter school applicants, AB 1505 also allows districts to consider the financial impact of charter schools on their budgets when making the decision. District school officials argue that charter schools siphon away badly needed funding, while charter proponents say their schools are being scapegoated for the fiscal mismanagement of district schools.
In a statement from February, when AB 1505 and its companion bills were first introduced, California Teachers Association President Eric Heins called for "significant changes in the decades-old laws governing charter schools that have allowed corporate charter schools to divert millions away from our neighborhood public schools."
Pro-charter forces are worried the bill would essentially cut off charter school growth in the state. California has just over 1,300 charter schools, more than any other state in the country. Myrna Castrejón, president of the California Charter Schools Association, said in May that the bill would lead to "closing down the charter schools that are helping [vulnerable communities] learn and thrive."
Should the Senate pass AB 1505, the measure would go to Gov. Gavin Newsom for approval. In June, representatives from two prominent civil rights groups, the National Action Network and the National Urban League, met with members of Newsom's staff. Both oppose AB 1505 and argue it would harm California's students of color, who tend to be among the lowest-performing in the state.
Newsom has so far been reticent to take a strong position on charter regulations, but during his campaign he received the support of California teachers unions. Charter schools are typically not unionized, and curbing their growth was at the heart of teacher strikes this year in Los Angeles and Oakland.
Adding to the complexity is a report released last month from the California Charter Task Force. Newsom assembled the group and charged it with studying the impact of charter schools on state education funding. The unanimous recommendations the task force published countered the goals of AB 1505 by stating that "no changes were recommended to the [charter schools] appeals process." But the report also included several measures that did not reach unanimous support advocating big changes to the charter appeals process directly in line with the bill.
At the state Assembly hearing in April, AB 1505's author, Assemblymember Patrick O'Donnell, said that the results of the task force would likely be reflected in the bill. But in advance of the Senate vote, it isn't yet clear to what extent that will be true. The Senate Education Committee will decide whether to advance the bill to the full voting body on the same day as the hearing. The current legislative session ends in September.
Support The 74's year-end campaign. Make a tax-exempt donation now.