Charter School Showdown in California: Assembly Moves Forward with Package of Powerful Regulations as Proponents and Teachers Unions Clash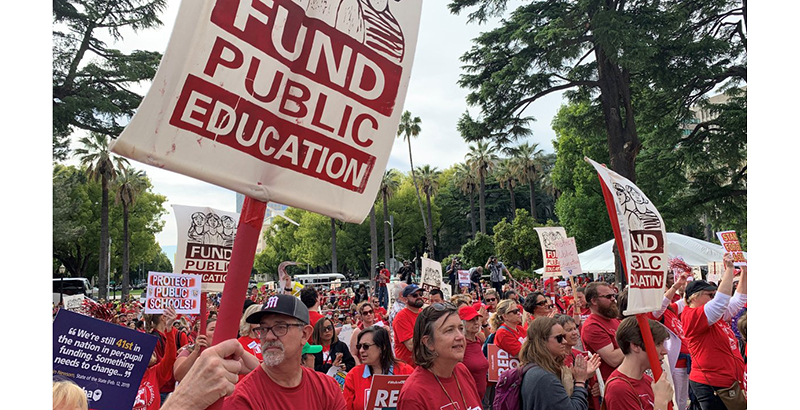 The biggest statewide battle over charter schools in the country is coming to a head in California. Amid competing protests in Sacramento on Wednesday, the California Assembly narrowly passed legislation that would give local school districts sole authority to approve new charter schools.
The bill, titled AB 1505, is one of several new measures the Assembly has passed or is considering that would level tougher regulations on charter schools, which are publicly funded but independently run. The schools are typically not unionized and have greater control over decisions such as staffing, the length of the school day and the school year, and their educational model.
Under the current law, new charter schools seeking approval can appeal to the county and then the state if the district initially denies them. In order to hit the 41-vote mark supporters of AB 1505 needed, the Assembly agreed to create a new appeals process, but it's not yet clear what that would look like.
The vote signals a broader policy shift in California, home of the 1992 Charter Schools Act that many recognize as one of the movement's first big wins. California has the largest number of charter schools and charter school students in the country, with about 11 percent of students in the state attending charters. But public support for them — especially among Democrats — has become more ambiguous.
AB 1505 is one of four bills regulating charter schools that either the California Assembly or Senate is considering. Here's a breakdown of what they would do:
● AB 1505 – The bill gives local school districts sole authority to approve new charter schools and to consider how new schools would impact the district's budget in the approval process. Since new charter schools typically attract students – and funding – away from traditional public schools, many expect that this measure would make it much more difficult for new charter schools to be approved. AB 1505 passed on Wednesday and will now go to the state Senate.
● AB 1506 – This measure would place local and state caps on charter schools. Those figures would be determined at the end of 2019. AB 1506 passed the Assembly Appropriations Committee on May 16 and will now head to the full body.
● AB 1507 – This bill closes a loophole in state law that has let some districts boost their budgets by approving charter schools outside their boundaries. AB 1507 would require all charter schools approved by a district to be located within it. It passed on May 13 in the state Assembly and is now headed to the Senate.
● SB 756 – The only bill in the package being considered first by the state Senate, SB 756 would put a two-year moratorium on new charter schools unless the Legislature passes the reforms above. The Senate Appropriations Committee approved the bill on May 16, and it's headed now to the full body.
Wednesday's demonstrations — with fiery chants and parades of decorated flags and signs — highlighted the highly charged divide over the charter school legislation. On one side are teachers unions, including the powerful California Teachers Association, whose members marched on the capitol in support of AB 1505 and other initiatives, including raising public education funding. Teachers unions in California have made curtailing charter schools central to their cause, and the issue was at the heart of this year's teacher strikes in Los Angeles and Oakland.
"We've been through an era of the Wild West around the charter schools," CTA President Eric Heins told his supporters. "What we find is that there is a charter school industry that's risen in California without any accountability or transparency."
On the other side of the debate are charter proponents, including the influential California Charter Schools Association. The organization held its own, smaller counterprotest called the "black parent strike." The group opposes the bill, arguing that broadening school choice in California — a state with persistent achievement gaps between white students and students of color — is a racial equity issue.
"We are standing up and telling legislators and the [teachers union] that they cannot take away the rights of our most vulnerable communities … by closing down the charter schools that are helping them learn and thrive," Myrna Castrejón, president of the charter association, said in a statement.
In blasting the California legislation in a statement Wednesday, the National Alliance for Public Charter Schools cited a 2014 CREDO study that found that low-income black students in California charter schools gained 36 more days of learning in reading and 43 more days in math a year than their district school counterparts. Low-income Latino students gained an additional 22 days of learning in reading and 29 days in math compared with their district peers.
Charter schools have become a complex issue for black voters — in California and nationally. While recent analysis from Democrats for Education Reform indicated that support for charter schools is much higher among black Democrats than white ones, research from the Public Policy Institute of California last year showed that just over one-third of black families in the state support them generally.
The NAACP continues to uphold a national moratorium on charter schools, arguing that they need greater transparency and can contribute to segregation. But earlier this spring, three of the organization's branches in California publicly challenged that position, stating that only 10 majority African-American public schools in California fall in the top half of student performance statewide in English and math, and eight of them are public charter schools.
For the California Teachers Association, a major complaint with charter schools in the state is the perceived financial drain they have on already-stretched funding for traditional public schools.
"Concerned Californians will be calling on lawmakers to support legislation to fix the broken laws governing charter schools that have allowed for egregious cases of waste, fraud and abuse of taxpayer dollars intended for students in neighborhood public schools," reads a CTA press release from the day before the vote.
In the lead-up to the AB 1505 vote, the National Action Network and the National Urban League, two nonprofit groups advocating for racial equality, issued their own letter urging Gov. Gavin Newsom not to sign off on charter-restrictive legislation.
"We have determined, these measures represent a direct attack on the ability of African American parents to choose the best education possible for their children," it reads.
Rev. Dr. Tecoy Porter Sr., president of the Sacramento chapter of NAN, supports the letter and believes that the NAACP's moratorium is out of touch with black families in his community. He is skeptical of the concern that charter schools drain needed district funding.
"The big story is the underfunding of public schools, or the mismanagement of funds," he says. "Unfortunately [supporters of AB 1505] are using charter schools as a scapegoat rather than addressing the real issue."
If the state legislature passes AB 1505 or its companion bills, they will proceed to Newsom to be signed into law. Part of the energy behind this package of charter school bills is linked to the state's new governor, who was heavily supported by the teachers unions and has more actively pursued charter school regulations. Similar versions of AB 1507 have passed in the California Legislature before, but former Gov. Jerry Brown consistently vetoed them.
"It should have happened a long time ago, but it's happening now," Heins told the San Francisco Chronicle. "I think that Gov. Newsom thinks differently about this than Gov. Brown."
Get stories like these delivered straight to your inbox. Sign up for The 74 Newsletter