CA Lawmaker Seeks Home School Oversight in Wake of Captive Siblings Case; Government Shutdown Watch — and More Must-Reads From America's 10 Biggest School Districts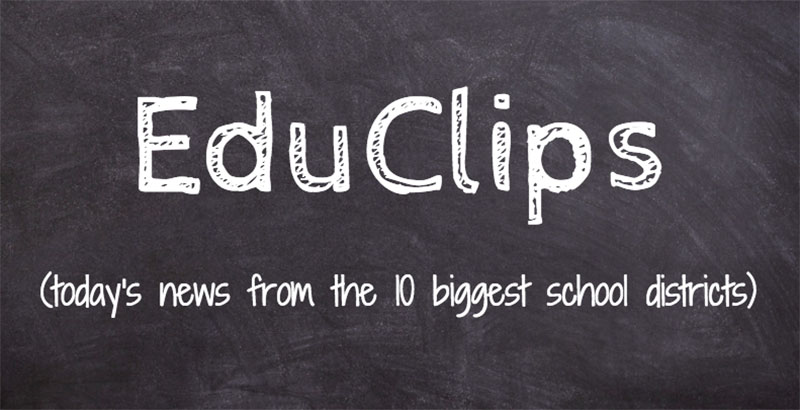 EduClips is a roundup of the day's top education headlines from America's largest school districts, where more than 4 million students across eight states attend class every day. Read previous EduClips installments here. Get the day's top school and policy news delivered straight to your inbox by signing up for the TopSheet Education Newsletter.
Top Story
SHUTDOWN WATCH — With the clock ticking to avoid a government shutdown when federal funding expires at 12:01 a.m. Saturday, news continues to focus on stalled negotiations to create permanent protections for "Dreamers," young undocumented immigrants brought to the U.S. by their parents. The Washington Post this morning reported that "competing factions are vying for a public stamp of approval from a president driven by impulse and prone to contradiction." President Trump's morning tweets present another wild card. Meanwhile, the prognosticators at FiveThirtyEight indicate that while some activists and Democrats want the party to oppose any funding bill that does not address immigration, even if that leads to a shutdown, the Democrats lack the votes to make that happen. (Read at FiveThirtyEight)
National News
SUPERINTENDENTS — With Churn at the Nation's 3 Largest School Districts, Experts Agree: A Good Superintendent Is Hard to Find (Read at The 74Million.org)
HEALTH — Children's Health Insurance Program is on the brink. Here's why that matters for education (Read at Chalkbeat)
INFRASTRUCTURE — Lawmakers Press Trump to Spend on Public School Infrastructure (Read at Politics K-12)
"NET NEUTRALITY" — State Attorneys General Sue to Block FCC's Repeal of Net Neutrality (Read at Education Week)
SEX ED — With an Eye Toward Consent, Students Seize the Moment to Overhaul Sex Ed (Read at The74million.org)
District and State News
CALIFORNIA — California lawmaker seeks more home school oversight (Read at The Mercury News)
PENNSYLVANIA — Opinion: How Safe Are Philadelphia's Schools? New Interactive Map Shows Discipline Reform Has Created a School Climate Catastrophe (Read at The 74Million.org)
CALIFORNIA — Federal audit finds problems with California's graduation rate calculations (Read at LA Times)
NEW YORK — Federal officials deny New York testing waivers but sign off on its plan for judging schools (Read at Chalkbeat)
ILLINOIS — Lawmakers Demand Fast Internet for Rural Schools (Read at NPR Illinois)
NEW YORK — New York City will add dual language options in pre-K to attract parents and encourage diversity (Read at Chalkbeat)
FLORIDA — South Florida Schools Competed for an Extra $2K Per Student — and Broward Lost (Read at WLRN)
NEVADA — CCSD holding public meetings on superintendent search (Read at KTNV)
Think Pieces
GRADING — No, Students Don't Need Grades (Read at Education Week)
ARTIFICIAL INTELLIGENCE — Ginni Rometty on How AI Is Going to Transform Jobs — All of Them (Read at The Wall Street Journal)
TEACHERS — Diversity at the front of the classroom could mean more diversity among future scientists (Read at Hechinger Report)
Quote of the Day
"He's confused on immigration. He's being torn in so many different directions, and he hasn't spent his entire life thinking about it. He's spent most of his life thinking about making money." — Louise Sunshine, a former Trump Organization executive who has known the president for decades. (Read at The Washington Post)
Want the day's top school and policy news delivered straight to your inbox — for free? Sign up for the TopSheet Daybreak Education Newsletter.
Support The 74's year-end campaign. Make a tax-exempt donation now.