As Education Department Prepares to Release Highly Anticipated Title IX Rules, Dem Bill Offers Last-Ditch Effort to Shut Them Down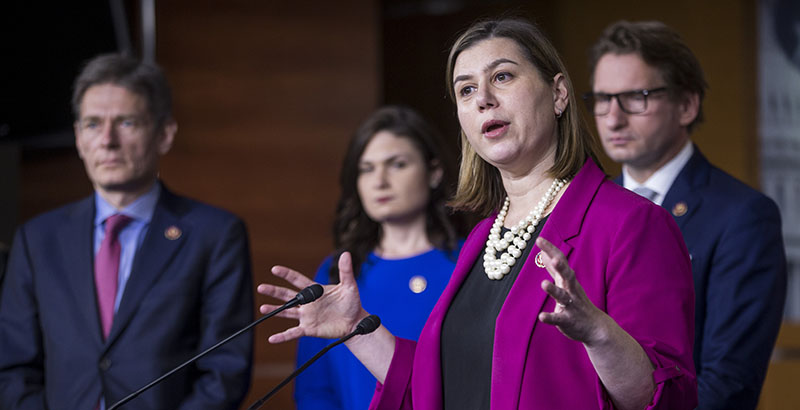 Democratic lawmakers have mobilized a last-ditch effort to stop the release of controversial federal rules that govern how schools across the country must respond to sexual misconduct complaints.
The legislation from four Democratic congresswomen aims to halt the release of highly anticipated regulations expected soon from the Education Department that would bolster the due process rights of students accused of sexual misconduct.
Draft regulations released last year would make several controversial changes to the way schools must respond to misconduct complaints under Title IX, the federal law that prohibits sex discrimination in education. Released last week, the Democratic bill would prohibit Education Secretary Betsy DeVos from implementing rules "that weaken the enforcement" of Title IX. The bill would likely face steep opposition from the Republican-controlled Senate.
"It's as if fraternities around the country drafted this rule," Rep. Jackie Speier, a Democrat from California and co-author of the bill, said in a media release. "The bar for proving sexual violence will be so high that survivors will be discouraged from coming forward and schools will once again be able to sweep allegations under the rug."
The Education Department's draft regulations, which narrow the definition of harassment and allow schools to adopt a higher standard of proof, offer a significant policy shift from Obama administration guidance. Once released, the final regulations will likely face lawsuits. Conversations over campus sexual harassment generally center on colleges, but the rules also apply to K-12 schools — which have faced their own challenges in combating abuse.
For Rep. Elissa Slotkin, a Democrat from Michigan, concern over the proposed regulations centers on Michigan State University, located in her congressional district. The proposed changes, Slotkin said in the news release, would negatively affect survivors abused by convicted sex offender Larry Nassar, a former doctor for the American women's gymnastics team and Michigan State University associate professor. In September, the Education Department fined the university a record $4.5 million for its failure to address sexual abuse claims against Nassar.
The Education Department recently confirmed that it aims to release the final regulations by the end of the fall semester. However, the White House Office of Management and Budget, which reviews proposed regulations before they're finalized, has scheduled meetings on the issue until early February 2020. Among groups scheduled to meet with the office are the National Center for Youth Law, a vocal critic of the proposed rules, and National Coalition for Men Carolinas, which supports the changes. The office is also scheduled to meet with leaders at multiple universities and the Los Angeles Unified School District.
Proponents of the proposed regulations say they're a victory for student due process rights. Among changes in the draft regulations, schools would be able to choose a standard of proof — either "clear and convincing" or "preponderance of the evidence" — to adjudicate misconduct cases. Under Obama-era rules, schools were required to use the lower "preponderance of the evidence" standard. Under the proposed regulations, schools can use that standard only if it is applied to all student misconduct. Critics say that change, among others, could discourage victims from reporting abuse.
Elizabeth Tang, the counsel for education and workplace justice at the National Women's Law Center, said the legislation sends "a clear message" that the proposed regulations "are harmful and illegal."
"The Department of Education's dangerous goals are not a secret, as it has explicitly stated that its goal is to reduce the number of sexual harassment investigations conducted by schools," Tang, whose law center helped Slotkin's office draft the legislation, told The 74 in an email. "We cannot allow Secretary DeVos to sweep sexual harassment under the rug and to make it harder instead of easier for student survivors to come forward."
In the Nassar case, victims often reported abuse to athletic personnel, staff and others they trusted. If the proposed rules had been in place at the time of the Nassar case, Michigan State wouldn't have been required to respond to several key incidents, according to Slotkin's office. Current department policy requires schools to address harassment if a student reports an allegation to a "reasonable employee." The proposed regulations require students to report allegations to a Title IX coordinator or a school official with "authority to institute corrective measures."
Critics of the proposed regulations made a similar argument after an Education Department investigation found that Chicago Public Schools failed for years to address sexual misconduct. Under the proposed regulations, for example, the Chicago district wouldn't have been required to intervene when a teacher assaulted a student in his car, according to the critics.
It remains unclear, however, how the final regulations will differ from the proposed rules. Citing anonymous sources in a story last month, The Washington Post reported that the final rules will retain many of the most controversial proposals. Among them is a provision that would allow college students accused of misconduct to cross-examine their accusers. An Education Department spokeswoman declined to comment on the final rules or legislation.
However, the Post noted that the Education Department is expected to step away from a proposed rule that would hold institutions responsible only for incidents that occur on campus or during school activities. That proposed rule, Slotkin's office noted, would have required the university to ignore Nassar's off-campus misconduct.
Still, Tang said the proposed regulations could be particularly harmful for students in K-12 schools. While it's difficult to report abuse at any age, it's particularly difficult for younger children, she said.
"If the rules go into effect, schools will be legally allowed to ignore all sexual harassment that is not reported to a small set of high-ranking school employees," Tang said. "That means a K-12 student will not be entitled to any help if they tell a guidance counselor they were raped by a classmate, or if they tell a teacher that they are being sexually abused by another teacher."
Support The 74's year-end campaign. Make a tax-exempt donation now.