DeVos vs. DeVos: The Education Department's Response to Chicago's Sexual-Misconduct Scandal Contradicts Its Proposed Direction for Title IX, Experts Say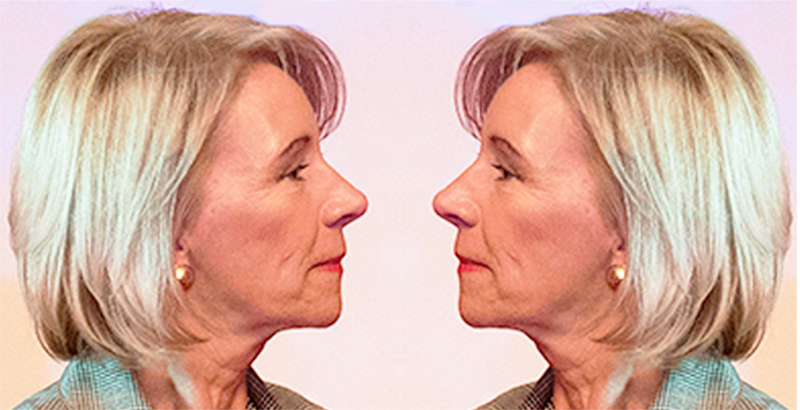 When a senior Education Department official recently outlined years of harrowing findings against Chicago's public school system, attorney Seth Galanter saw a blatant contradiction. Officials trumpeted an investigation that found widespread failures in the district's response to sexual misconduct complaints — while relying on rules it has sought to curb for over a year.
"It is hypocritical of the department to publicize this case as evidence of the department doing things when the department is trying to prevent this from ever happening again," said Galanter, senior director of legal advocacy at the National Center for Youth Law.
The damning findings against Chicago Public Schools landed as the education policy world was awaiting the release of regulations that could reshape Title IX, the federal law that prohibits sex discrimination in education. In November 2018, the Education Department released proposed Title IX regulations that limit the scope of federal oversight and bolster the due process rights of accused perpetrators. But some of the proposed changes — such as defining more narrowly which school officials must respond to misconduct reports and limiting the locations where an assault report would trigger a mandatory response from the school — could undermine future cases that resemble the one in Chicago, critics say.
An Education Department spokesperson didn't respond to questions about the Chicago findings or its proposed regulations.
When the department announced a voluntary resolution agreement with the district last month, it called the moment historic. Kenneth Marcus, assistant secretary for civil rights at the Department of Education, said the agreement was the result of "probably the most comprehensive investigation" his agency has ever undertaken involving sexual violence at an urban public school system.
"We cannot permit this to recur in Chicago or anywhere else," Marcus said. The agreement requires the district to overhaul its efforts to combat sexual harassment and abuse. The changes required "are not mere tweaks to an existing policy," Marcus said. "They require a very significant rebuild."
During the Obama administration, the department received two separate complaints against the district in 2015 and 2016, both alleging that the school system failed to respond promptly to complaints of sexual abuse. As they examined those complaints, federal officials launched a "systemic" investigation against the district that encompassed more than 3,000 harassment and abuse allegations against students and adults.
For about a decade, investigators found, the Chicago district lacked a Title IX coordinator as required by federal law. District officials also failed to respond promptly to misconduct complaints, maintain records and follow procedures.
In one of the complaints that prompted the federal investigation, a Chicago student alleged that a teacher sexually assaulted her during the 2012-13 school year. Prior to the alleged assault, the teacher had commented on the student's appearance, excused her from other classes so he could spend time with her in his classroom, bought her gifts, and sent her private emails and text messages, according to federal findings.
Then the situation escalated. The student alleges that the teacher drove her to a restaurant, where he bought her alcohol and kissed her. After the student became upset and asked the teacher to drive her home, he allegedly assaulted her in his car.
In a separate complaint to federal officials, a Chicago student alleges she was on her way home from school when a group of boys, including multiple classmates, surrounded her in a park, forced her into a vacant building and repeatedly sexually assaulted her. In both incidents, Chicago officials failed to respond appropriately to the reported allegations, federal investigators found.
But among the problems that investigators identified in Chicago are issues the department is "trying to eliminate as violations going forward," said Galanter, who previously worked as a senior official at the Education Department's Office for Civil Rights during the Obama administration. "They seem to be wanting to take credit for fixing things, but they are also dismantling the very requirements that they enforced in this case."
In July, the department boasted its efficiency in closing civil rights investigations. Though Education Secretary Betsy DeVos has faced criticism for her agency's policies on civil rights enforcement, the department noted that it has resolved more complaints each year — including those involving sexual harassment — than the previous administration. Under President Donald Trump, the department revised an internal manual and scaled back investigations of broader, systemic violations.
Investigating off-campus harassment
In both cases, the student victims alleged that they were assaulted off school property. One was reportedly assaulted in a teacher's car, while the other said she was attacked in an abandoned building.
Current department rules say schools must address sexual harassment if it creates a "hostile environment" at school — regardless of where the incident transpired. Under the proposed rules, however, school districts wouldn't be held liable for off-campus harassment unless it occurs during a school activity like a field trip or a sports event. Under the proposed regulations, it's unlikely the federal government could have held the school accountable for the reported incident in the teacher's car, said Elizabeth Tang, counsel for education and workplace justice at the National Women's Law Center. In fact, "the school would be required to dismiss that complaint," Tang said. This change wouldn't affect the district's obligation to investigate the comments the teacher made to the student at school, Tang said, or the times he excused her from class to spend time with him in his classroom.
The center, in partnership with the National Center for Youth Law and other civil rights groups, sued the department in 2018 after it rescinded Obama-era guidance on how schools should manage sexual harassment and assault complaints. The Obama letter directed schools to use a "preponderance of the evidence" standard in investigations, rather than a tougher "clear and convincing" standard.
In the other Chicago case, the student reported that she was attacked in a vacant building on her way home from school. As such, the education department wouldn't be able to hold the Chicago district accountable under Title IX , Galanter said.
But Shep Melnick, a politics professor at Boston College who supports the Trump administration's proposed Title IX regulations, said the draft rules have a big gray area: It's unclear whether heading home from school would count as a school activity, he said. Melnick said he hopes the department will better define situations "where there might be some school control, but it's not in school."
Attorneys noted another problem with the proposed change: Districts would still be able to investigate off-campus sexual misconduct through their own policies, such as student conduct codes, but not through formal Title IX procedures. Tang said that could require districts to create two separate procedures to address complaints, depending on whether they occur on or off campus.
"The school could have great policies on paper," Galanter said, but if it fails to protect student victims, "the federal government couldn't come in from a civil rights lens and say, 'You have to respond better,' because under the proposed regs, the federal government doesn't require you to respond at all."
Reporting abuse
After a Chicago teacher allegedly assaulted a student in his car, the student victim's mother reported the allegations to the school guidance counselor, who then informed the assistant principal.
Under current department policy, schools must address sexual harassment under Title IX if a student reports an allegation to a "responsible employee." But the proposed regulations narrow the group of school officials who'd be required to respond to sexual misconduct allegations. That group includes a Title IX coordinator, a school official with "authority to institute corrective measures," and a K-12 teacher in cases of student-on-student harassment.
"Reporting to a guidance counselor would not have been enough under the proposed regulations," Galanter said. "If that guidance counselor had not escalated it to the vice principal, the Office for Civil Rights would have been forced to find no violation" because the school didn't have "actual knowledge" of the allegation, as required by the law. In this case, he said, the student's mother "told the wrong school employee."
There's some ambiguity here, Tang cautioned, because the department has not defined school officials who have "authority to institute corrective measures." That ambiguity could cause confusion for students and their families.
"It seems so ridiculous to have to put a burden on students and families to understand who they need to report sexual harassment to in order to get help," Tang said.
However, Tang said, the courts offer some clues. Federal courts have typically held that only high-ranking administrators have "the authority to institute corrective measures." Likewise, two federal appellate courts — the Third and Eighth Circuits — found that guidance counselors have no such authority.
Current rules incentivize districts to know information disclosed to school staff, including guidance counselors, Galanter said, while the proposed rules "actually incentivize ignorance on the part of the school districts." If district administrators don't know what guidance counselors know, he said, then "they can't be held responsible for failing to respond to the complaints the guidance counselor got."
A higher bar
Current rules require schools to address a broad range of misconduct complaints, including sexual harassment that creates a "hostile environment" — even if it relates to off-campus activities. But the proposed regulations "really upped the bar for what would count as sexual harassment," Galanter said. The proposed regulations define sexual harassment as unwelcome conduct that is "so severe, pervasive and objectively offensive that it effectively denies a person equal access" to education.
Galanter said it's the "and" that's pivotal. It's likely some of the cases mentioned in the Chicago report — like flashing genitals — would fail to meet that standard, he said.
"They're crude. No one would say they are good things to do, and they are clearly teachable moments and subject to discipline under school rules, but it's not clear to me that they're 'pervasive and objectively offensive,'" he said.
In fact, this language could have ruled out aspects of one of the central Chicago complaints, Tang said. Before the Chicago teacher assaulted a student in his car, according to the federal investigation, he commented on her appearance, excused her from other classes so he could spend time with her and gave her gifts. But Tang said it's unlikely the educator's conduct at that point would have met the criteria for severe, pervasive and objectively offensive conduct.
Similarly, the proposed regulations state that a district can be held accountable under Title IX if it is "deliberately indifferent" to complaints — a change from earlier rules that required "prompt and effective action." In the Chicago case, investigators noted that an elementary school student was suspended for five days because he said he was going to rape a female classmate — but school officials didn't provide any services, such as counseling to the victim.
In that case, Galanter argued that federal investigators would be "hard pressed" to call the school's response deliberate indifference, even if it was insufficient.
"They investigated, they issued some kind of punishment — that hardly describes deliberate indifference," he said.
Get stories like these delivered straight to your inbox. Sign up for The 74 Newsletter