Updated
Youth vape and e-cigarette use has dropped precipitously during the pandemic, according to a recent study — reversing a years-long explosion in teen use.
"About two-thirds of [adolescent and young adult] e-cigarette users were either quitting or cutting back," Bonnie Halpern-Felsher, co-author of the study and a developmental psychologist at Stanford University, told The 74.
"That's really good news."
Halpern-Felsher and her team surveyed over 2,000 young people aged 13 to 24 in May 2020, asking how lockdown had impacted their vaping habits. More than half reported that their patterns of use had changed.
Out of 776 underage youth who had altered their behavior, 283 said they had quit e-cigarettes outright and another 239 said they had reduced their use by up to half. Young adults aged 21 to 24 reported similar changes.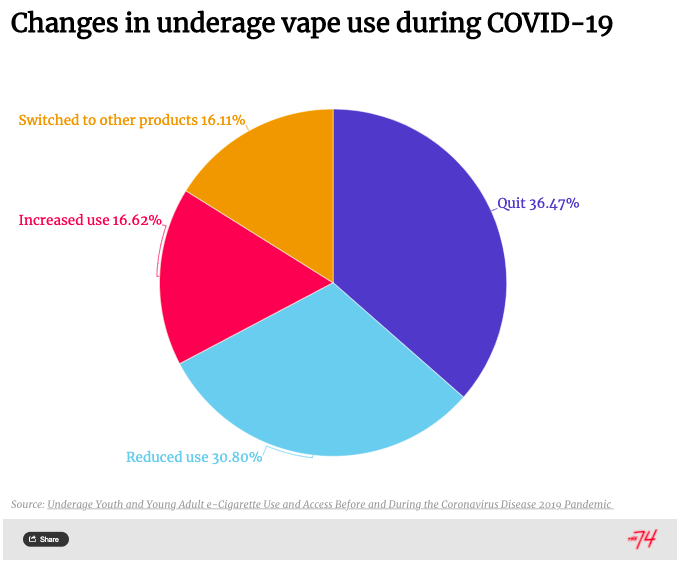 Those shifts come on the heels of steep increases in teen vape use since 2017, shortly after the brand Juul came on the market with its trademark USB-sized e-cigarette product.
In Halpern-Felsher's study, youth who had cut back their vape use reported higher awareness of and worry for lung damage caused by e-cigarettes. And data from the National Institutes of Health show more young people than ever before now see vaping as risky or harmful — a sign that typically indicates use will decline in years to come, according to the Partnership to End Addiction.

However, pandemic conditions may have also contributed to the new trend. Concern for lung damage may have sharpened amid COVID-19, a respiratory illness that has infected youth e-cigarette users at up to five times the rate of their non-smoking peers, according to a separate paper from the Stanford researcher. Other young people in the study who had cut back noted that they were vaping less frequently out of fear of being caught by parents — presumably while stuck at home with their families during quarantine.
In addition to damaging their health, Halpern-Felsher says youth should consider the potential academic impacts of vape use. The devices often have a "huge amount" of nicotine, making them highly addictive, she said. If students become dependent, it can have a destructive effect on school performance.
"They can't concentrate, they're having headaches, they're finding that they have to get up to go vape," said Halpern-Felsher.
In her sample, young people were 51 percent less likely to quit if they were nicotine dependent and 68 percent less likely to quit if they had previously used e-cigarettes over 100 times. Many of those who were most addicted had increased their use due to quarantine stress and boredom.
Those who were determined to get vaping products seemed able to find them easily — despite quarantine and even if they were underage.
Though some respondents noted that they had less access to e-cigarettes, others reported that they could order products online. Over a quarter of underage users said that they did not have to verify their age when they purchased products. Others noted weak checks like requiring an email login or uploading a picture of an ID card.
Those numbers, however, could represent illegal online sellers, says Gregory Conley, president of the American Vaping Association, a pro-vaping advocacy organization. A December 2020 law, passed after Halpern-Felsher's study was conducted, bolsters age checks for online e-cigarette sales.
"The online sales issue has been more than adequately addressed by Congress and it is now up to state attorneys general… to actually go after the illegal sellers of vaping products," Conley told The 74.
Vaping products are not intended for underage users, said the AVA president. He's glad that youth are quitting amid COVID-19.
"That is a positive thing," said Conley. "This technology is intended for adult smokers looking to get away from combustible cigarettes."
That technology has evolved beyond Juul-like products, however. In 2020, disposable e-cigarette consumption from products like Puff Bar and Posh Plus surged, accounting for over 26 percent of all high school users, up from just 2 percent in 2019, according to the FDA.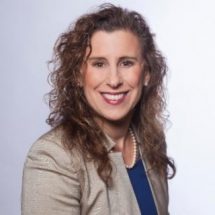 Even among overall declines in vaping, youth use remains widespread. During remote school, the habit can be hard to catch, says Halpern-Felsher.
"I've had teachers tell me that they're working with young people in a class and they'll notice a student bring their hand to their face," she said. "They don't realize until after that the student is probably vaping."
But as inconspicuous as Zoom vaping may be, Halpern-Felsher worries that e-cigarette use may spike again as students' return to classrooms and are once again surrounded by peers.
One principal in rural Maine, whose students have returned to in-person learning, just spoke out on the topic in late April, describing more students who vape than those who don't — across both middle school and high school grade levels. Dependency is so high, he said, parents write requests to build breaks into the school day so their children can go outside and use e-cigarettes.
To help curb underage use of vape products long term, schools can play a pivotal role, the researcher says, in educating students about the dangers of e-cigarettes. She has published a tobacco prevention toolkit available free online to help teachers lead educated conversations with young people, which has already reached 1.8 million students.
"We need to talk about lung health," Halpern-Felsher said.
In 2019, pneumonia-like symptoms sent over 2,500 vape users — mostly young men and boys — to emergency rooms and caused 54 deaths, prompting a flurry of regulations at the state and federal level (though some studies link dire symptoms to illegally sold THC cartridges). Then-President Trump, however, eventually walked back his starkest promises, including the abandonment of a sweeping ban on flavored vaping products, which can appeal to young users.
Amid kid-friendly flavors like cotton candy and gummi bear, and sex appeal-laden social media campaigns from manufacturers, the Stanford psychologist hopes that young people won't miss what she sees as the key truth of vaping.
"It's not safe," Halpern-Felsher said.
Support The 74's year-end campaign. Make a tax-exempt donation now.