Williams: Trump Continues Anti-Immigrant Assault By Targeting the Education Department's Office Serving English Learners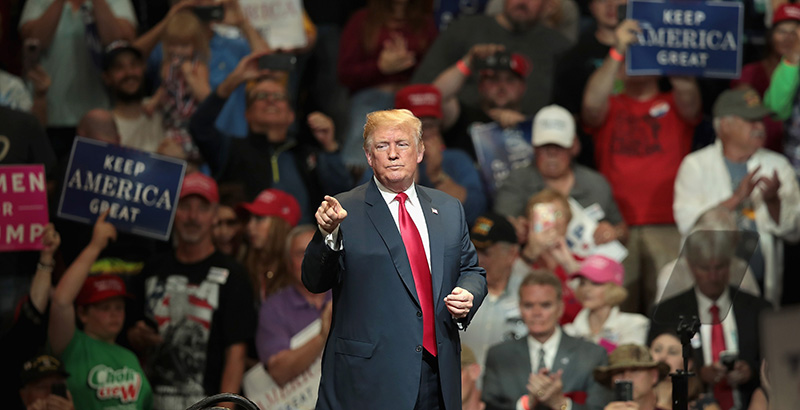 There's a temptation in D.C. — especially for conservatives, but also for a certain stripe of leftist — to declare that all the public hand-wringing about President Trump is overwrought.
Yes, they say, this Stormy Daniels thing is a bit outside the usual bounds for presidential politics, and yes, intemperate tweeting is an odd way to conduct sensitive foreign policy discussions, but check the tape and you'll see that Trump hasn't actually governed especially differently than most any other Republican president would have. Tax reform with benefits tilted towards the wealthiest corporations and individuals? Sure, sounds like President Romney. A shiny new Supreme Court justice with hyper-originalist views of the U.S. Constitution? Yeah, that's right up President Jeb's alley.
But this line of thinking utterly collapses on immigration policy. The Trump administration's well-publicized crusade against Dreamers — undocumented immigrants brought to the United States as children by their families — has dominated headlines, but it's only one of a host of attacks the administration has leveled against U.S. immigrant communities by upending the policies that shape their lives.
A long-threatened executive order making it harder for legal immigrants to establish U.S. residency appears to be imminent. The Trump administration has been preparing to deport tens of thousands of immigrants from El Salvador, Haiti, Honduras, Sudan, and elsewhere by winding down the program that grants them legal status in the U.S. Most recently, it has also begun splitting immigrant families at the border, ostensibly to deter them from seeking refuge in the United States — presumably if America treats asylum seekers badly enough, they'll choose to risk persecution and violence they would otherwise flee.
This isn't just horrific. It isn't just hard-hearted. It isn't just un-American. It's a comprehensive effort to make the United States less diverse in the short and long run. It's the nuts and bolts payout of candidate Trump's ethno-nationalist campaign rhetoric.
These moves have rocked schools across the country. Teachers report palpable shifts in student anxiety and behavior. But the Trump administration's campaign against American pluralism isn't just impacting the public education system — it includes education-specific policy reforms. Late last week, Education Week reported out details of the administration's plans for eliminating the U.S. Department of Education's Office of English Language Acquisition. Remaining staff and programs would be built into the department's Office of Elementary and Secondary Education, in an effort "to merge English-learner support with services provided to other disadvantaged student groups."
The Office of English Language Acquisition was created by — I suppose it bears noting — Republican President George W. Bush, under the terms of his signature education legislation, No Child Left Behind. It manages approximately $50 million in grant programs that help train educators to better support English-learner students.
Its elimination wouldn't rise anywhere near the gravity of the administration's other immigration-related changes. It wouldn't directly threaten the lives or safety of children in the United States. But it would be further evidence that the administration's assault on American multiculturalism extends to multilingualism — indeed, it extends to every aspect of federal governance.
It's also further evidence that Trump administration rhetoric about empowering schools and supporting all students' needs is, frankly, hollow. Nearly 10 percent of American students are officially classified as English learners, and over 20 percent of American kids speak a non-English language at home — a significant increase since 2000.
As the founder of New America's Dual Language Learners National Work Group, I've visited dozens of linguistically diverse schools over the past several years. Unfortunately, educators' expertise about how to serve English learners hasn't kept pace with the growth in this student population. Schools need — and these students deserve — dedicated federal support and attention.
In theory, the U.S. Department of Education could continue providing resources and strong leadership to English learners while folding the Office of English Language Acquisition into larger student support teams at the LBJ Building. A separate office dedicated to their needs isn't necessarily a guarantee of effectiveness. Why not integrate English-learner support services into other targeted efforts to support educational equity?
Trouble is, English learners' needs aren't the same as those of "other disadvantaged student groups." Linguistically diverse kids need specific supports, and they deserve an office dedicated to helping schools deliver them. Move responsibility for their growth into a more generic part of the federal education bureaucracy, and these students' unique needs are likely to be lost in the shuffle. In too many schools in too many communities, English learners have frequently been treated as though their nascent bilingualism is somehow a threat to their academic development.
Of course, the reorganization would be perfectly coincident with the Trump administration's governing philosophy, which treats multilingualism and multiculturalism as threats to its project to make the country "great." Is that governing as a "normal" Republican in 2018? Absent any meaningful pushback from the president's party, it appears so.
Get stories like these delivered straight to your inbox. Sign up for The 74 Newsletter