Williams: Coronavirus Pandemic Reveals the Reality — and the Risk — of America's Child Safety Net Being Its Public Schools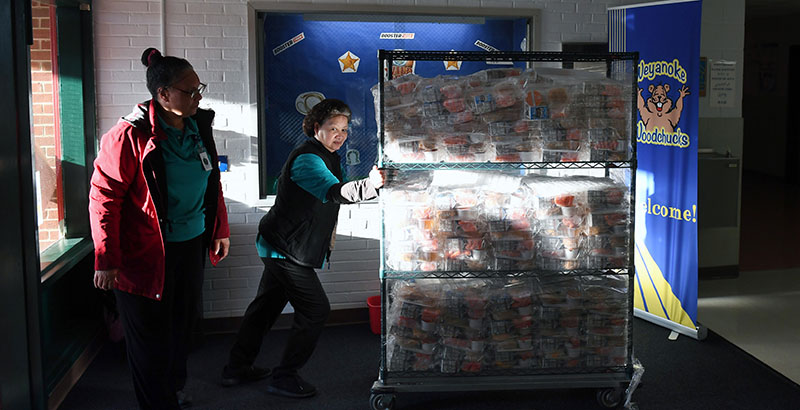 What's a school for in the 21st century? Start with the bedrock: they're for helping children develop academic skills and access core content, right? Those famous R's: reading, writing, 'rithmetic, you know the deal. We also count on them to grow democratic citizens — informed, aware, civic-minded community members.
But that's just the beginning. Public school mandates have expanded significantly over the years. In many places, schools are also medical centers and food distribution hubs and more. This approach aims at combining an array of services to meet as many family needs as possible at a single community location.
As the country grapples with the COVID-19 pandemic, the Centers for Disease Control and Prevention finally released guidelines on Friday indicating that even those districts that had already closed might not be shutting down for long enough. Education leaders are finding that such extended closures — with some talking for the rest of the academic year — are more complicated than ever, partly because schools have become the delivery mechanism for additional social services.
Concerns about keeping schools open aren't idle chatter. While children appear to be somewhat less likely than adults to suffer from severe COVID-19 infection, they can still serve as disease vectors, carrying microbes to friends, family and the broader community. To that end, sometimes in response to a reported local case of the virus, sometimes as a preventative measure, campuses and even entire school districts are shut down in communities from Seattle to Arlington, Virginia. As of Sunday, public schools in 33 states, the District of Columbia and Puerto Rico had all been shuttered, according to Education Week.
In response, the U.S. Department of Education is signaling that it would be open to granting states flexibility on federal academic assessment mandates. That's a no-brainer — and a good sign that the current administration may finally be catching up on the gravity of this public health crisis. No one wants to see students lose out on weeks or months of academic instruction. That's the sort of sacrifice that only makes sense in the face of a truly serious public health emergency that threatens human life.
Logistically speaking, though, it's not a simple trade of academics for public health. Debates in New York City highlight the range of non-educational challenges that come with shutting down schools. For much of the past few weeks, Mayor Bill de Blasio argued that widespread school closures would harm families counting on schools to provide food, child care and health services. NYC's health care workers union agreed, arguing that such a move would limit its members' ability to "protect the health of their families, their patients, and the general public … Closing New York City's public schools with no care plan for these children would place a dire strain on our social infrastructure by reducing the healthcare workforce."
It's Economics 101: schools provide convenient care and a reliable schedule that allow children's caretakers to get to and contribute at their jobs (especially if they work in health care) and earn money to keep their families healthy and the economy chugging along.
Late Sunday, when de Blasio announced that NYC's schools would, in fact, be closing, public reactions suggested that he may have been correct to be reticent about the move: Solutions to these problems are still in development. As the city works to provide free meals and technology to allow children to connect to online academic materials and open special enrichment centers for particularly vulnerable students and so on and so forth, it's clear that schools have expanded well beyond math and reading instruction.
After the mayor's Sunday announcement, New York Times education reporter Eliza Shapiro tweeted, "Public school principals and teachers make sure parents in domestic violence situations can get to safety, they help connect families to employment, they check in every day, multiple times a day on the most vulnerable kids. There is no substitute for what schools do."
It's not just New York. In Washington, D.C. (where I live), similar issues are arising. The school district is slated to be closed for at least several weeks; it is offering free meals on campuses across the city, but community members are still worried about the impact on schools' broader social missions.
Similar cost-benefit calculations are playing out across the country as communities weigh their public health options. But they're particularly live in NYC, where Mayor de Blasio has enthusiastically embraced the "community schools" model that provides mentoring, tutoring, dental services, adult education programs and much more.
The novel coronavirus outbreak reveals a risk of combining a host of public priorities — education, child development, adult learning, nutrition, medical care — into a single community institution. It's almost a paradox: Hunger, poor health and other adverse poverty-related experiences affect how children learn, but that doesn't necessarily mean that schools are the best mechanism to host the delivery of services to address them. Kids learn best when they get reliable dental care, but dental care may not always be best delivered down the hall from math class.
So: On one hand, our current national health emergency shows the extraordinary value of public schools. They are central to families' and communities' lives — perhaps more than ever before.
And yet, on the other hand, the coronavirus outbreak illuminates just how much we now ask of our public education system. That's the real question. As Americans spend the next few weeks managing their isolated, individual anxieties, it's worth asking whether the cancellation of classes should mean that large numbers of children go without food. It's worth asking, in a country as wealthy as ours, if it's acceptable that more than half of public school children qualify for subsidized lunches from the federal government.
In other words, their precarity — and our collective responsibility for it — will be sharpened in the current crisis, but it won't fully recede when schools reopen their doors.
Support The 74's year-end campaign. Make a tax-exempt donation now.