Unexpected Front-Runner Andrew Yang Courts Parents Intent on Reopening Schools in Crowded NYC Mayor's Race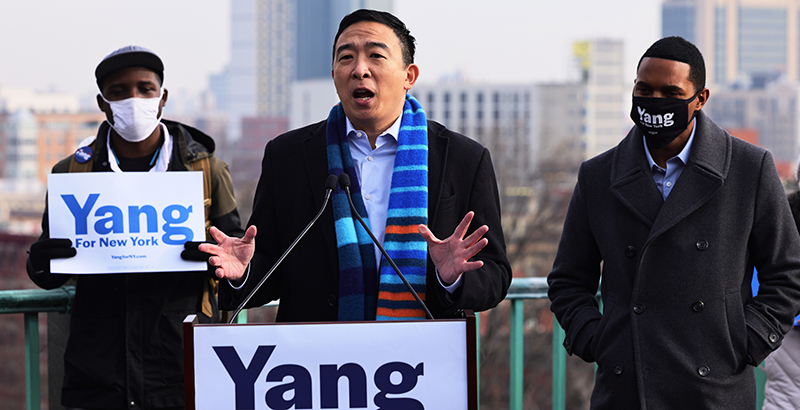 Updated, April 8
New York City mayoral candidate Andrew Yang likely knew heading into Wednesday's UFT-hosted forum that he'd have to face the elephant in the room: a comment he made in mid-March bashing its members.
"I will confess to being a parent that has been frustrated by how slow our schools have been to open, and I do believe that the UFT has been a significant reason why our schools have been slow to open," he had said, during an interview with Politico.
United Federation of Teachers President Michael Mulgrew cut to the chase on Wednesday, asking the former presidential candidate and unexpected mayoral front-runner about the remark less than 20 minutes into the panel.
"I expressed my frustration as a public school parent about the pace of school reopening, and I think that's a sentiment that many, many parents share," Yang said, before pivoting to a recent conversation he said he had with Mulgrew, during which the two agreed to lay the blame for the bungled reopening on the mayor.
"I thought that conversation was very informative," Yang said. "And I agree that the mayor has failed the teachers and public school parents like me in providing the leadership we needed to get our schools reopened more quickly."
The UFT invited its top four picks for mayor — Yang, Brooklyn Borough President Eric Adams, City Comptroller Scott Stringer and former advisor to Mayor Bill de Blasio Maya Wiley — to its endorsement forum.
Yang's campaign did not respond to multiple requests for comment by Wednesday afternoon, but followed up Thursday with an internal email campaign co-manager Sasha Ahuja sent to staff with her post-mortem on Yang's performance.
"If you read the daily clips … you know that there has been 'some' chatter about Andrew's relationship with the UFT, a critically important institution in our city," she said, concluding that their candidate showed he's "deeply committed to having hard conversations" and "authentically and unapologetically himself."
While Yang's candor may end up alienating him from one of the most city's most powerful political organizations, it's won him a fan base among some parents, including Daniela Jampel, a Washington Heights-based attorney who cofounded the KeepNYCSchoolsOpen movement. The group's Facebook page has about 2,300 followers, she said, and one of its recent protests drew about 150 participants.
"Andrew Yang came out and put the blame on the teachers union," Jampel said. "I think that resonated with a lot of parents. They've been on the brink since last May … It's true you need to work with your labor partners, but if there was ever a year to go against the UFT, this is the year."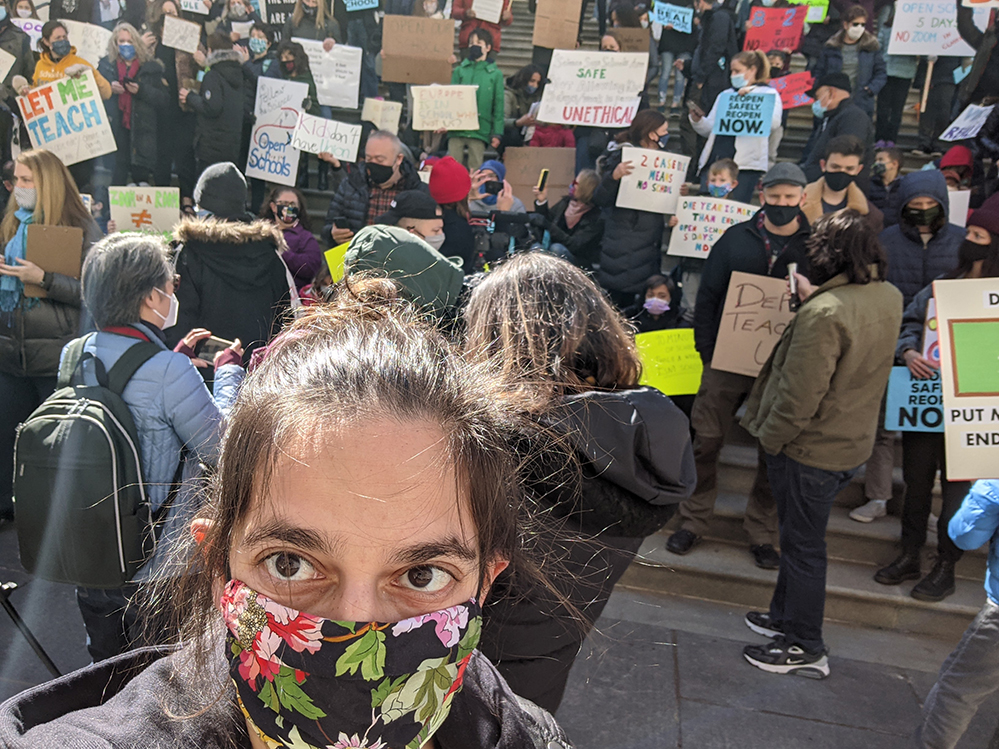 Other aspects of Yang's education platform have made him popular among some of the same parent groups. In January, after the city's Panel for Education Policy narrowly voted to end the Department of Education's contract with the company that tests 4-year-olds for admission to the city's gifted and talented program, Yang, who used to lead a NYC-based test prep enterprise himself, said that ending it — something rival Scott Stringer has promised to do — would drive parents from New York.
"We should face the reality that these programs, in many cases, are what is keeping many families in the city," he said. "I think getting rid of these programs without some kind of real replacement is making some people think that the city might not be right for them and their families."
The G&T program is disproportionately white and Asian-American. Abolishing the controversial test is part of a growing political and legal movement to integrate the city's highly segregated schools and ensure fairer representation in its most sought-after programs for Black and Hispanic students, who make up nearly 70 percent of enrollment. A longstanding, if now less openly acknowledged, barrier to doing so has been the argument that it would cause more affluent, white families to flee the system.
On what might be considered the more progressive end of Yang's political philosophy is the support he voiced during his presidential bid for universal basic income, which makes Educators for Excellence Executive Director Paula White hopeful about what he could do for city schools.
"UBI is really a proxy for saying that far too many folks don't have a living wage … and that is a problem that needs to be solved," she said. "I think that, for a long time in education, we looked at these issues in isolation: over here, we need to educate students well, over here, we need to think about social services. And maybe the twain shall meet but not necessarily. But I do think that's a springboard from which we can think about, what does that mean within the context of teaching and learning?"
Yang also drew attention to autism and the challenges faced by special needs families on the campaign trail. His older son, Christopher, is on the autism spectrum, and his younger son receives learning supports under an individualized education program.
"To me, special needs is the new normal in this country," he said during the last presidential debate of 2019, pointing later to the critical role that early intervention played in Christopher's life.
It's not clear to what extent that experience could influence Yang's approach to New York City's troubled special education program, which is the subject of multiple lawsuits and thousands of parent complaints saying that it failed to provide required services. As for essential early intervention, NYC toddlers with special needs faced a projected shortage of 1,000 to 2,000 preschool seats pre-pandemic, and special education advocates have sued over the hours of mounting missed services both preschoolers and older students experienced during remote learning.
As a presidential candidate, Yang also aligned himself with the charter school movement, characterizing himself as "pro-charter" and saying, "There are excellent charter schools and terrible charter schools. We should just be pro-excellent school, and [stop] saying that this entire category of school is somehow problematic." Teachers unions generally oppose charter schools because their teachers are mostly non-union, and they compete with district schools for student enrollment and funding. Democratic support for the publicly funded, independently run schools has waned recently.
Dan Weisberg, who went head-to-head with the UFT during the Bloomberg era when he was the DOE's chief executive of labor policy and implementation, said that Yang's relationship with charters has yet to play out, but he did note that none of the candidates, Yang included, have placed themselves in opposition to the charter movement the way de Blasio did during his first run.
"Even beyond that 2013 campaign, he characterized charters as being a negative force that he was going to contain or eliminate," said Weisberg, now the CEO at TNTP, a nonprofit focused on teaching. "His policies particularly early on reflected that. I haven't heard those sorts of messages from any of the candidates."
Weisberg also noted how Yang's background in tech startups could translate on the ground in NYC education: "I think that tech, as we've seen over the last year, is an increasingly essential piece of K12 ed. To the extent that he can improve the way we use tech to engage students — whether it's remotely or in the classroom — that's a positive thing."
Jampel, the parent leader of the reopening movement, said that while she personally identifies as politically progressive, the last year has changed how she views the candidates and their policies.
"I know so many other parents that may have voted for a very progressive mayor, if COVID hadn't happened," she said. "Now, they're furious that their children are being deprived of a year of education. I'm not saying whether it's fair to blame the union, but they are blaming the union, and Andrew Yang really spoke to that."
Jampel's daughters, ages 7 and 3, have lived two different versions of the pandemic. The elder goes to a Department of Education school in Upper Manhattan, and the younger one goes to 3K in a non-DOE building that wasn't subject to the much-maligned "two-case rule," which required a school to close for 10 days if administrators found two unrelated COVID-19 cases there.
Watching her kids' contrasting experiences unfold has been frustrating for Jampel, especially as she's seen a very different reopening process play out in nearby Westchester County. Her toddler is, according to Jampel, "happy as a clam," while her first -grader only saw the inside of a classroom for a handful of days in January and March.
"It's really hard for my 7-year-old, frankly, because she doesn't understand why her sister goes to school every single day," Jampel said. "It's very difficult."
On Thursday morning, de Blasio announced that the city had reached agreement with the UFT to enact major changes to the policy. Starting Monday, NYC public schools only have to close for 10 days if at least four COVID cases are confirmed in separate classrooms across a seven-day period and only if the city's contact tracers confirm the infections have come from within the school. Individual classrooms will continue to immediately close when an infection is discovered and COVID testing will double from 20 percent to 40 percent of students and staff if two or more classrooms are affected.
Prior to Thursday's announcement, Weisberg noted that the UFT continued "to not just advocate for [the two-case rule], but insist upon it. That [was] creating a barrier to having a consistent in-person option for parents, and so I think Yang was representing a point of view of lots of parents in the city … There is no doubt there's a significant amount of parent frustration."
One test of how many more NYC parents are keen on in-person learning is playing out right now with the second opt-in period. The mayor extended the deadline to Friday for families to give up fully remote instruction, saying more may want to send their kids back into schools now that the frequent disruptions of the two-case rule have been eliminated.
How Yang fared with the UFT will be clear next week when the delegate assembly announces its mayoral endorsement on April 14. Dermot Smyth, a political action coordinator for the teachers union, said it chose Yang as a finalist based on a number of factors — including his performance in a closed-session, members-only panel earlier this year, during which he "talked about the heroic job [teachers] had done during the pandemic," and because of his polling numbers.
Following the Politico interview, Smyth said, Yang's team reached out to the union multiple times.
"They've done everything they can to talk to us, to let us know he didn't mean what he said," he explained. "Of course," he added, "We're not saying we believe he didn't mean what he said."
A late March poll found that Yang enjoyed the highest name recognition among the eight leading candidates, but that half of likely voters remained undecided three months before the critical June primary.
Jampel considers herself among those undecided voters, but views school reopening as the all-important factor for her and a number of other parents in her network.
"I've seen schools becoming more and more of an issue," she said. "I think people are very disappointed in how schools have been reopened … There are a lot of parents saying publicly and privately this is the issue I think about, and I'm going to vote for the person that speaks to me most on it."
Support The 74's year-end campaign. Make a tax-exempt donation now.