Pandemic Learning Loss, Police in Schools, Desegregation: NYC's Mayoral Hopefuls Talk Education Issues at Child Advocate Forum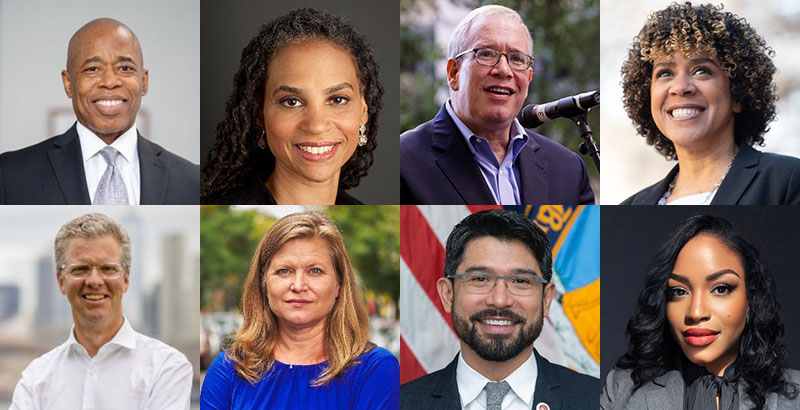 Eight candidates in the heavily crowded race for New York City mayor traded views this week on the critical issues facing the nation's largest school system, from pandemic-driven learning loss to desegregation.
The forum, presented by Advocates for Children, which works to advance the interests of New York's most underserved students, took place over a publicly broadcast Zoom call and drew some 1,000 viewers.
The panel brought out some, but not all, of the race's leading contenders, from Brooklyn borough President Eric Adams and City Comptroller Scott Stringer to Maya Wiley, a former advisor to Mayor Bill de Blasio, and erstwhile federal housing secretary Shaun Donovan. Former city sanitation department commissioner Kathryn Garcia, nonprofit executive Dianne Morales, Brooklyn City Council member Carlos Menchaca and accountant Quanda Francis rounded out the group.
The forum was organized by Columbia and New York University law students. Advocates for Children policy director Randi Levine asked the candidates roughly the same seven questions. Here are some topics they addressed, along with a synopsis of the contenders' responses.
The coronavirus and early childhood education
The pandemic has profoundly disrupted education for all of New York city's 1.1 million students, but it has had the most severe impact on the groups that Advocates for Children serves. Candidates began Wednesday's forum by talking about how they would address that fallout, if they're voted into office.
Stringer, Wiley, Donovan, Garcia and Morales said they'd prioritize mental health resources for students. City lawmakers will have "to recognize a lot of our children are going to be coming out of something that no one has experienced, kids who lost frontline parents," the comptroller said. Wiley promised social workers and guidance counselors at every school.
Adams and Morales said they'd extend in-school hours to help students catch up post-pandemic. Donovan pledged to start his time in office with a mayor and chancellor's listening tour, where he'd hear from families around the city talk about their needs, with a focus on Black, Latino and immigrant communities, as well as families in temporary housing and those with children with disabilities.
Candidates then identified the education-related issues they consider most pressing, pandemic aside. Early childhood education and career readiness ranked highly on a few lists (Adams and Stringer mentioned the former; Francis and Donovan identified the latter; Garcia mentioned both).
The former city sanitation department commissioner said she wants to see the Department of Education collaborate with community -based organizations to offer families either new early learning spaces or vouchers to fund child care for kids aged 0 to 3.
"Women have such a hard time," she said of child care. "They end up having to step back from … work, or [having to] put their kids in poor quality care because they have to work. [That's] … hard … on them being able to maintain employment and a stable household … which is also critical for their [kids'] learning in the long run."
Stringer committed to tripling the city's child care slots, with a focus on reaching low-income parents, a move he estimates would return about 20,000 parents to the workforce. That plan is an extension of work the comptroller has already started with state senators. He added that he'd like to address educator retention issues across the city — 40 percent leave after five years — by establishing a teacher residency program.
Adams explained that he wants to invest in adult training for parents, so that they can learn more about early childhood development. He also said he intends to improve CTE programs and focus city education efforts on practical life skills, like critical thinking, communication, financial literacy and computer science.
Donovan promised a paid internship for every NYC public high school student, and he said that, within his first 100 days as mayor, he would ask leading chief executives to commit to hiring Black and brown city graduates as they move into their careers.
Literacy and policing in schools
Levine, of Advocates for Children, also asked the candidates how they'd help raise literacy among NYC students. Stringer, Wiley and Menchaca all said they'd emphasize best practices in teacher training, and both Adams and Menchaca said they want to promote culturally relevant reading material. The Brooklyn borough president promised literacy coaches for teachers, while Stringer and Menchaca said their reading-related efforts would focus on early childhood education. The city councilman added that he would commit to lowering class sizes around the city, and that he would pour resources into adult education, so that parents can better support their kids.
Next, the candidates tackled police reform in schools. Whether to remove law enforcement from buildings and move New York Police Department funding to the DOE in support of student mental health proved the most divisive issue of the night. Wiley, Morales and Menchaca were decidedly pro — "absolutely," the first two said — while Garcia and Adams opposed the idea. Menchaca said that he would also end the use of school metal detectors.
Morales, who's been a vocal proponent of defunding the police, said she would train every DOE employee in restorative justice practices and de-escalation, engage young people as peers in remediation, and expand the number of social workers in schools. Stringer, Donovan and Menchaca echoed that last intention, with the former housing secretary promising 150 additional professionals in schools. Wiley said she'd like to bring cognitive behavioral therapy, a talk-based service that's been used to treat mental health issues like anxiety and depression, into schools to reduce student self-harm.
Selective schools and segregation
The candidates then addressed how they'd reduce racial disparities in the system. Stringer said he wants to expand school integration efforts, like those in Brooklyn's District 15 and District 3 in Manhattan. He also said he'd eliminate admissions screens that give neighborhood preference to some of the city's most sought-after high schools.
Both he and Garcia pledged to stop testing 4-year-olds for admission into the city's gifted and talented program. On Thursday, the city's Panel for Education Policy narrowly voted against extending the contract for the company that makes the screen, terminating it in its final year and defying de Blasio. Later that day, mayoral hopeful and former presidential candidate Andrew Yang, who did not attend Wednesday night's forum, voiced concern during a different, live-streamed conversation over that decision, arguing that ending gifted and talented classes, which are predominantly white and Asian, could prompt some parents to leave city schools.
Several candidates, Stringer and Menchaca included, said they were in favor of canceling the Specialized High Schools Admissions Test, the entrance exam for the city's eight elite high schools, which for most of those schools would require the approval of state lawmakers. Historically, that assessment has produced student bodies that severely underrepresent Black and Latino students, who constitute about 67 percent of citywide enrollment. The comptroller said he'd replace that test with seventh-grade math and English evaluations, arguing that they assess classroom learning more fairly.
"We cannot have admissions practices that have nothing to do with the learning abilities or needs of our kids — that are, frankly, just testing how much income parents have," Wiley added.
Morales said she was in favor of "remov[ing] all screens and barriers" to school entry by redrawing district lines. She also promised to incorporate a culturally responsive and inclusive curriculum, and to diversify the teacher workforce. Donovan pledged to open more dual language and arts-based schools in neighborhoods that have been left behind, and Garcia said she'd ensure that every community school had enrichment programs in subjects like music, art and coding.
English learners and special education students
Afterwards, Levine asked contenders how they'd center the needs of English language learners and students with disabilities.
Several candidates, Wiley included, said they'd prioritize celebrating the presence of English learners in the city's schools and respect multilingualism for the asset that it is.
That topic particularly resonated with Menchaca, who learned Spanish before English and attended a Head Start program as a preschooler. He promised to fully fund in-person translators for every school, so that all families have the language access they need.
Garcia said she would gather data on ELL student needs, including numbers on how many ESL teachers are in each school, and how often they're present in buildings.
Donovan guaranteed 450 new bilingual programs over four years, which he said would create 28,000 new student seats, and a pipeline for more bilingual New Yorkers to assume school leadership and teacher positions citywide. Adams also said he'd hire more multilingual teachers.
Garcia added that she would expand inclusion programs for students with disabilities, while Menchaca committed to more local placements for students enrolled in District 75 schools — those specialized programs serving kids with profound disabilities — so that fewer would have to ride the bus for hours in order to access services.
The candidates also addressed how they would center the needs of homeless students. Stringer, Adams and Wiley said that they'd fix the lack of Wi-Fi connectivity in shelters immediately.
"The greatest embarrassment that we witnessed in our city , and the greatest insult, is the fact that we failed to give technology and devices to many of our homeless [students during the pandemic]," Adams said.
Wiley and Menchaca promised to reduce the number of homeless children — an estimated 111,000 students — by building more affordable housing, which they intend to fund through a $10 billion capital construction plan and a Green New Deal, respectively. Adams said he'd expedite housing rules to move more students into permanent housing and expand wraparound services in schools.
This year's race to succeed the two-term limited de Blasio will look different than in years past. In accordance with a new ballot referendum adopted in 2019, voters in the June primaries will rank their top five candidates in preferential order. If no candidate receives over 50 percent of the vote, the contender in last place will get forced out, and their votes will go to voters' second-choice candidate. That process will continue, until one candidate pulls ahead with a majority.
In an overwhelmingly Democratic city, the June primary could serve as the de facto election.
Get stories like these delivered straight to your inbox. Sign up for The 74 Newsletter