New York's City 3-K Expansion A Relief for Many Families Struggling During the Pandemic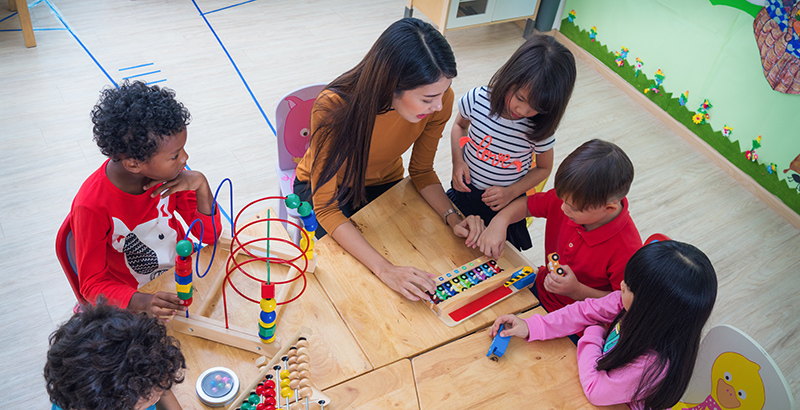 Ramona Garcia's 2-year-old daughter had only been attending early Head Start for a few weeks when her mom was notified that Frederick Douglass Children's Aid would have to close its early childhood program that summer, in June 2021.
Garcia, who has big dreams for her toddler's future, had planned on keeping her there until kindergarten. Now, she discovered, it was shutting down due to under-enrollment and lost city funding.
Garcia had received a voucher from the city's Administration for Children's Services when she'd adopted her little girl, but it had taken her ages to find a seat in a program that accepted them. In midwinter during a pandemic, she was back to square one, looking for a place to send her daughter while she went to her job as an administrative assistant.
But last week, everything changed for Garcia, and countless other parents with very young children citywide. That day, Garcia received another update, this one from the New York City Department of Education, saying that publicly funded 3-K had been newly expanded to all of the city's 32 districts, including hers, in Harlem's District 3.
The news was huge for Garcia. She had started to reluctantly accept that she might have had to travel to Upper Manhattan, or even the East Village to find a seat for her toddler. Now, she could secure one in her own neighborhood.
"I was amazed by the change," she said.
Mayor Bill de Blasio, now in the last year of his second and final term, has made early childhood education a cornerstone of his legacy, dating back to before he took office. The timing of the expansion was possible now, as the city recovers from COVID-19, due to the $1.9 trillion federal stimulus package recently passed by Congress. Officials estimate the expansion could save families an estimated $10,000 a year. That's a boon in particular to working mothers, who have dropped out of the workforce in droves during the pandemic, primarily because of child care responsibilities.
"As a matter of priorities, this is to me, unquestionably one of the highest priorities we can have in this city," the mayor said at a Wednesday press conference. "And certainly one of the highest priorities within education. if you get early child education right, everything else works … what I've felt from the beginning is the investments in early childhood education, they have a profound impact on families, as you've heard. But they're also where we get the biggest impact for the dollars we spend on education because if you get that foundation right, all other things are possible."
The shift will add 16,500 more free preschool seats for 3-year-olds and bring 3-K to all 32 districts across the city by Fall 2021. The deadline for parents like Garcia to sign their children up has been extended from April 30 to May 28.
Currently, there are 23,500 3-K seats in 12 districts. The change will expand access to 40,000 toddlers, moving the city a step closer to providing early childhood care to the city's estimated 60,000 3-year-olds needing such services, according to the mayor. Officials estimate that the expansion will cost about $300 million. About 70,000 4-year-olds are already enrolled in free preschool through the mayor's landmark Pre-K For All program, which launched in September 2014.
3-K enrollment is down this year by 8 percent, as compared to the 2019-20 school year, while pre-K is down 13 percent, according to unaudited, preliminary DOE data. While department officials pointed out that the numbers reflect national trends during COVID-19's widespread upheaval, they declined to say whether they expect those numbers to rebound in September.
Jennifer March, the executive director of the nonprofit Citizens Committee for Children of New York, commended the latest development. The group, in a December 2020 report entitled "New York City's Child Care Affordability Crisis," noted that in 2019, there were 27,970 3-year-olds in publicly funded early education programs and 74, 523 4-year-olds.
"CCC applauds the de Blasio Administration for the 3-K for All plan announced today, as it dramatically expands 3-K across all school districts," March said. "As we've seen with Pre-K for All, that reaches NYC 4-year-olds, the 3-K initiative will play an impactful role in providing more families with access to high quality early education that shapes children's social, emotional growth and kindergarten readiness in profoundly positive ways. This 3-K expansion is an important step toward achieving universality in the very near future."
Special education advocates pointed out last week that universality is far from the reality for many children with special needs, for whom the city projected a shortage of 1,000 to 2,000 preschool seats before the pandemic. That lack disproportionately affects children in the Bronx, and demand will likely only increase moving forward, as young children with special needs who missed services during the pandemic are revealed as needing interventions.
"3-K and Pre-K will never be 'for all' while preschoolers with disabilities are sitting at home without the classes they need," said Kim Sweet, executive director of Advocates for Children. "Announcing a major expansion of 3-K with no plan to provide legally required classes to preschoolers with disabilities is a slap in the face to parents whose children need additional help — and is a violation of children's civil rights."
The mayor and Schools Chancellor Meisha Ross Porter addressed that concern at Wednesday's press conference.
"We absolutely understand how important it is to ensure that we have services in place for our youngest students, particularly our students with IEPS (Individual Education Programs)," the chancellor said. "But ensuring that all of our students have a strong start will really be a game changer in this space … Starting earlier, starting younger is the best way to make sure we are giving our students all of the foundational learning and understandings they need. Today is the first step, but we know we need to do more work in this area, and we will continue to do so."
Ramona Garcia thought hard about her daughter's future as she scrolled through 3-K options on Thursday, remembering how the child had already been identified as advanced by evaluators at the foster organization, and about how she already knew colors, could distinguish between the sounds that a tiger and a bear make, and was learning how to spell.
The other day, the girl had been bouncing in her seat at the kitchen table when she blurted out, seemingly out of nowhere, "I can't take it anymore! I want my bubbles!" The family burst into laughter.
Garcia hopes to eventually adopt her daughter, and to see her attend a gifted and talented program soon, and later, a prestigious university.
Like other very young children, Garcia knows her 2-year-old "absorbs things very quickly," she said. "I don't want her to lose the momentum I've made in helping educate her."
Get stories like these delivered straight to your inbox. Sign up for The 74 Newsletter