Trump Uses State of the Union Address to Push for Tax-Credit Scholarships, Declaring No Child Should Be Forced to Attend 'a Failing Government School'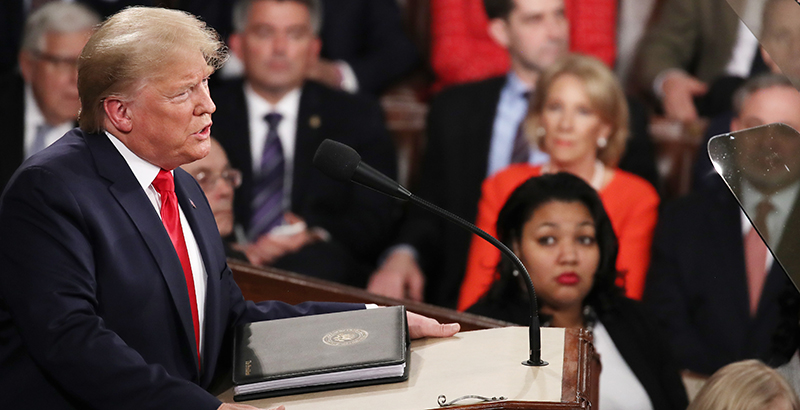 K-12 education received a rare moment in the national spotlight Tuesday night, as President Trump spent part of his third State of the Union address urging Congress to act on a major piece of pending school choice legislation. 
Speaking before the assembled members of the U.S. Senate and House of Representatives, the president prominently endorsed the Education Freedom Scholarships and Opportunity Act, a bill championed by Education Secretary Betsy DeVos that would change the tax code to help subsidize school choice offerings, including private school tuition. 
In the early months of an election year, the speech — from a president who has spent little time or political capital advocating for reforms to elementary and secondary education — suggested a willingness to seize the issue as a potential asset against Democrats this November.
"The next step forward in building an inclusive society is making sure that every young American gets a great education and the opportunity to achieve the American Dream," Trump said, roughly a half-hour into the speech, before entreating Congress: "Pass the Education Freedom Scholarships and Opportunity Act — because no parent should be forced to send their child to a failing government school."
Later in the evening, Gov. Gretchen Whitmer returned fire in the Democratic response, delivered from a Michigan high school, though she did not refer directly to the tax-credit proposal. 
President Trump devoted roughly five minutes to his education-focused remarks, also briefly touching on First Lady Melania Trump's "Be Best" campaign around child safety and proposing that vocational education be offered in all American high schools. Near the end of the evening, he vowed to protect "the Constitutional right to pray in public schools."
News broke last week that the White House intended to showcase the president's support for the legislation during the prime-time address. Delivered annually at the U.S. Capitol, the speech is the president's most visible pitch for his legislative priorities, as well as an opportunity to emphasize policy achievements and give high-profile shout-outs to supporters in the audience.
Every four years, however, the event can also function as free advertising for an incumbent president's re-election. In recent election years, Presidents Clinton, Bush and Obama have sought to advertise their administrations' accomplishments on K-12 education, from passing the No Child Left Behind law to expanding the reach of the Common Core academic standards.
The president highlighted his support for the scholarship bill in a December meeting with conservatives, including co-sponsor Sen. Ted Cruz and DeVos. Lamenting the United States' low rankings in international tests of student achievement, Trump specifically attacked Pennsylvania Gov. Tom Wolf, a Democrat, for vetoing an expansion of the state's tax-credit scheme.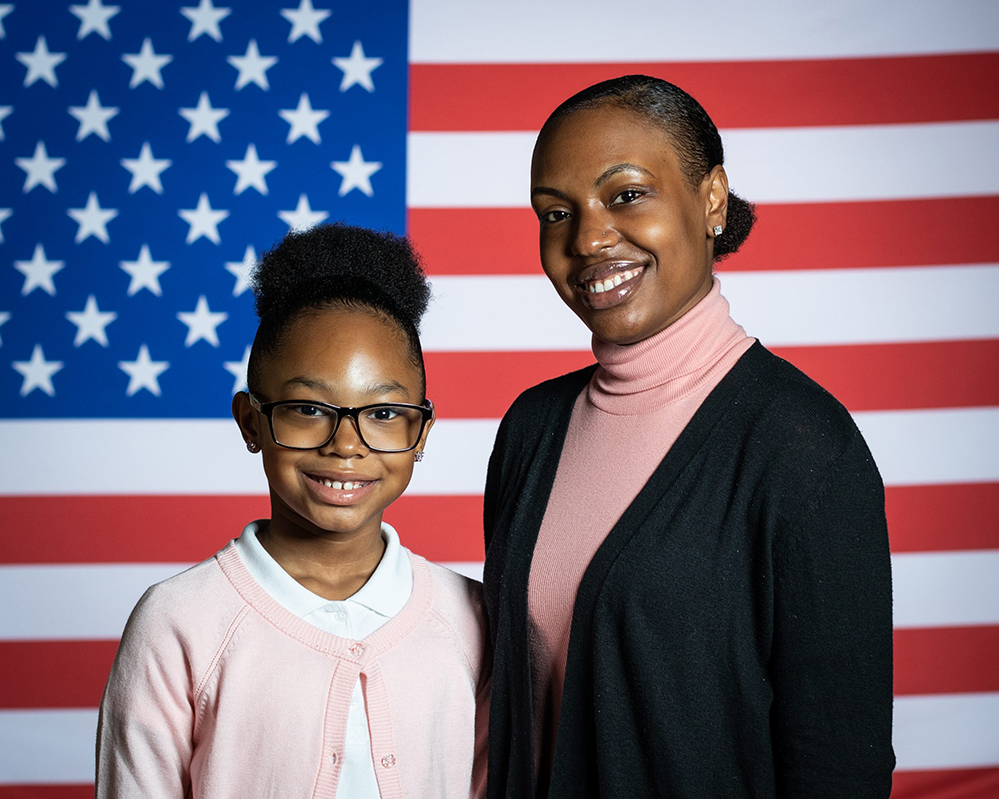 At Tuesday's address, he specifically mentioned the presence of Philadelphia fourth-grader Janiyah Davis, whose family has applied for access to Pennsylvania's Educational Improvement Tax Credit but is now on a waiting list. Asking Janiyah to stand, the president told her that she would soon be receiving an Opportunity Scholarship — it was not specified how this would be arranged, as it is a state program — and publicly asked members of Congress to "give 1 million American children the same opportunity Janiyah has just received" by passing a federal tax credit.
Gov. Whitmer delivered her response from East Lansing High School, which her daughters attend as students. The role of following the State of the Union is often given to an up-and-coming politician tapped by opposition leaders as a potential candidate for higher office. The governor was first elected in 2018 as part of that year's midterm Democratic wave.
Whitmer's first year in office has been marked by education battles. After pledging to stop the expansion of for-profit charter operators in Michigan as a candidate, she vetoed a $35 million funding increase for charters passed last year by the state's Republican-dominated legislature. That move provoked a backlash from local school-choice activists, and the state is now fighting a lawsuit over its constitutional ban on sending public funding to private schools.
In her own 10-minute speech, Whitmer didn't invoke President Trump's proposals around K-12 education, but she did credit Democratic governors in Nevada, North Carolina, Wisconsin and Colorado with enacting teacher pay raises and expanding public pre-K programs. She also expressed her admiration for student activists who have won attention for their protests against gun violence and climate change.
"Sometimes, it feels like they're the adults in the room," she said. "But it shouldn't have to be that way. It's not their mess to clean up. It's ours. The choices we make today create their reality tomorrow."
The president has not made a habit of drawing attention to federal education policy in the first three years of his administration. In his first State of the Union address, in 2018, he spoke briefly about young people enrolled in the DACA program but said little about schools. Last year, he somewhat obliquely recommended that Congress "pass school choice" — a dubious prospect, given that Democrats had only months earlier won control of the House, effectively scuttling Republican hopes of delivering on major legislation before the 2020 presidential election.
Still, a few weeks after that speech, DeVos released the tax-credit scholarship proposal, which has now gained more than 100 Republican co-sponsors. 
The idea is a kind of legacy-maker for DeVos, the nation's most energetic and famous activist for private school choice. Before being appointed to the Trump cabinet, she and her husband, Richard, pushed for the creation of a school voucher program in Michigan, their home state. Though that campaign failed, their activism around charter schools — and willingness to give lavishly to political allies — has made an enormous mark on public education in the state.
In a press release issued after the conclusion of the president's speech, DeVos said she was "grateful to the President for his strong support of this proposal from day one."
"Every student, parent, and teacher should be excited by this bold agenda to free them from a government system that limits their success," she said. "We know all too well that too many students can't read or do basic math at the level they should; in fact, one in four eighth graders is functionally illiterate. President Trump is ensuring these forgotten students are forgotten no more."
The Education Freedom Scholarship bill is similar to laws that have been passed in 18 states granting credits to taxpayers who donate money to entities that, in turn, sponsor private school scholarships. The federal initiative, which would cost roughly $5 billion annually, would also allow funds to be steered toward a wide range of other offerings, including apprenticeships, early-childhood education and homeschooling. 
DeVos had initially hoped that such a program might be included in the Republicans' 2017 tax overhaul, but it faced opposition from powerful conservative groups, including the Heritage Foundation. The bill has languished in Congress for nearly a year as House Democrats have refused to take action.
But even as a purely symbolic measure, the legislation could become a factor in the 2020 presidential race. Trump has long wished to wield school choice as a wedge issue against the Democrats, and intraparty debates around charter schools have only grown louder since he took office. 
If the goal of politics is to elevate issues that unify your own ranks and fracture your opponents', President Trump may have found in school choice a useful cudgel. Surveys clearly indicate that support for charter schools is much higher among black and Hispanic Democrats than their white counterparts. Meanwhile, most of the party's leading presidential candidates have expressly proposed new limits on the nationwide charter sector, and Democrats in several blue states are calling for local charter moratoriums.
It is unlikely that private school voucher programs, such as those proposed nationally by DeVos and other Republicans, command the same allegiance among voters of color that charter schools do. But some dissatisfaction has grown in recent years from parents who wish for a wider range of educational options, and if Trump can siphon off even a small amount of support from typically Democratic constituencies, it could ease his path toward re-election.
Support The 74's year-end campaign. Make a tax-exempt donation now.