The Week in COVID & School: Study Shows Young Children Spread Virus More Easily Than Teens, Measuring the Pandemic's Impact on Cognitive Development & More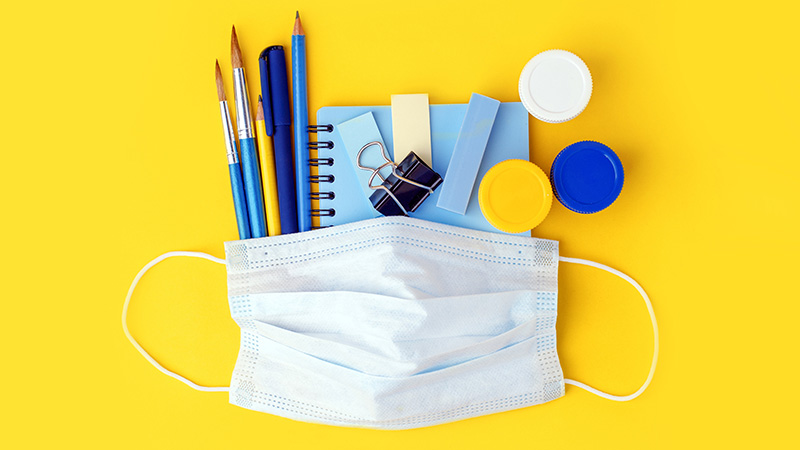 This is our weekly briefing on how the pandemic is shaping schools and education policy, vetted, as always, by AEI Visiting Fellow John Bailey. Click here to see the full archive. Get this weekly roundup, as well as rolling daily updates, delivered straight to your inbox — sign up for The 74 Newsletter.
Babies and Toddlers Spread Virus in Homes More Easily Than Teens: According to a new large study out of Canada. Via The New York Times:
"The study, which was published in the journal JAMA Pediatrics on Monday, does not resolve an ongoing debate over whether infected children are as contagious as adults, and it does not suggest that toddlers are driving the pandemic. But it demonstrates that even very young children can still play a role."
"In most cases, they found, the chain of transmission stopped with the infected child, but in 27.3 percent of households, children passed the virus along to at least one other resident."
ABC News adds: "This study updates experts' understanding of COVID transmission risk, experts said. Earlier in the pandemic, some scientists suggested the risk of transmission declined with age. But this assumption was likely skewed by the fact that lockdowns and social distancing meant young children had very few social encounters."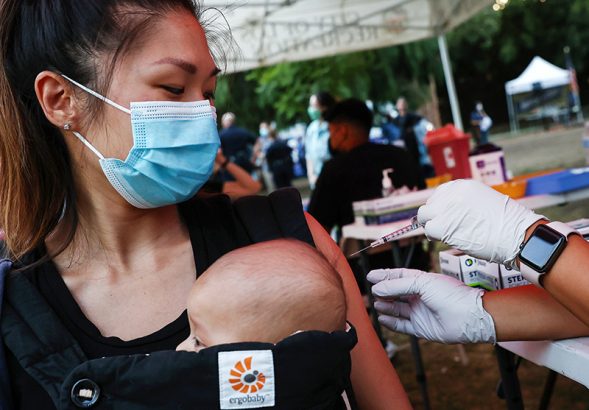 August 20, 2021 — The Big Three
White House: The Biden Administration will use the Education Department's "civil rights enforcement authority to deter states from banning universal masking in classrooms," The New York Times reports.
"The president is appalled, as I am, that there are adults who are blind to their blindness, that there are people who are putting policies in place that are putting students and staff at risk," Education Secretary Miguel Cardona said.
"The department could initiate its own investigations into districts, if state policies and actions rise to potential violation of students' civil rights. It could also review complaints from parents and advocates who make the case that prohibiting masks mandates is, in effect, a civil rights violation because it could deny a student their right to an education by putting them in harm's way in school. Such investigations could result in resolution agreements, as many investigations by the office often do, and in the most extreme cases result in revocation of federal funding."
President Biden issued a memorandum to the Secretary of Education directing him to "use all available tools to ensure that governors and other officials are providing a safe return to in-person learning for the nation's children."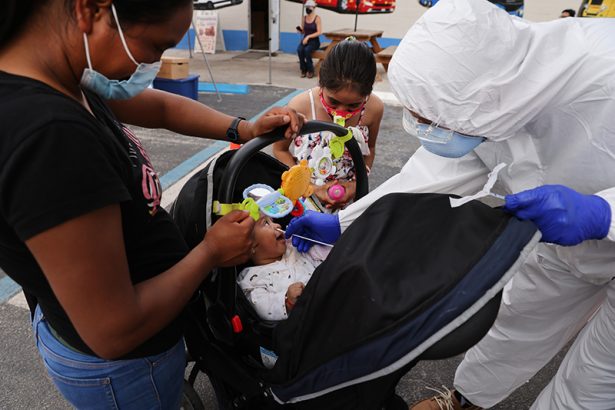 Impact of the COVID-19 Pandemic on Early Child Cognitive Development: The Guardian reports on a new study (which is not yet peer-reviewed).
"Children born during the coronavirus pandemic have significantly reduced verbal, motor and overall cognitive performance compared with children born before."
"In the decade preceding the pandemic, the mean IQ score on standardized tests for children aged between three months and three years of age hovered around 100, but for children born during the pandemic that number tumbled to 78."
"The biggest reason behind the falling scores is likely the lack of stimulation and interaction at home, said [lead study author Sean Deoni, associate professor of pediatrics at Brown University]. "Parents are stressed and frazzled … that interaction the child would normally get has decreased substantially."
Boosters: The White House announced a plan to administer a booster shot eight months after an individual's second dose.
Federal Updates
Education Department:
Congress: New Punchbowl survey of Congressional staff:
Midterms: "For the first time since we started the survey, a majority of Democratic staffers now believe their party will lose their House majority in 2022."

"86 percent of Democrats believe that Democrats will be in control of the Senate after the 2022 elections. 51 percent of Republicans believe that their party will be in control, up 14 points from our last survey."

Infrastructure: "71 percent of respondents say that infrastructure legislation is likely to pass during the current Congress."

"49 percent of staffers believe that the member of Congress they work for will vote for a 'soft' — or 'human,' as Democrats call it — infrastructure bill passed through reconciliation."
SCOTUS: The Supreme Court allowed Indiana University to require students to be vaccinated against the coronavirus.
Eviction Moratorium: Federal judge keeps eviction moratorium alive, but signals it's illegal.
City & State News
Arizona: Gov. Doug Ducey announced $64.9 million in state and federal funding for programs that improve K-12 literacy, support adult education and expand teacher professional development. Includes:
$3.5 million to develop 50 microschools
$10 million to fund transportation solution grants for school initiatives
$6 million for the A for Arizona's Expansion and Innovation Fund to award grants to schools that find innovative ways to best serve their students' unique needs.
$2 million for the Arizona Personalized Learning Network
$10 million for COVID-19 Educational Recovery Benefit that will fund up to $7,000 per student for needs related to child care, transportation, online tutoring and tuition. Eligible families are those whose students are isolating, quarantining due to COVID or those who wish to opt out of masking or vaccination requirements.
California: Inside Los Angeles Unified's virus testing effort: $350 million; 1,000 healthcare workers; 500,000 tests weekly.
"Tests will be conducted at every campus by teams deployed in mobile vans"
"Licensed healthcare workers — nearly a thousand, across all schools — will offer a choice between a nasal swab or a saliva test. Twice a day, test samples will be trucked to a tarmac in Van Nuys, loaded onto a plane and flown to a Palo Alto lab tasked with delivering results to the district in 24 to 36 hours."
Also, LAUSD orders all teachers and staff to be fully vaccinated by Oct. 15.
D.C.: New documents emerge outlining DCPS's strategy to test 10 percent of in-person students.
Illinois: Chicago Public Schools to require COVID-19 vaccinations for all employees.
Kentucky: Kids' COVID-19 cases up 400 percent in a month, along with the highest-ever hospital admissions.
Louisiana: State education department announced the launch of "Louisiana Comeback," a campaign to recover and accelerate learning lost due to the previous year's challenges
Maryland: Waitlist announced for virtual learning option in Prince George's County this fall.
Mississippi: 20,000 students are currently quarantined for COVID-19 exposure — approximately 4.5 percent of the public school population.
Pennsylvania: From the University of Pittsburgh, a new report Learning from Crisis explores policies and practices that support flexibility in providing equitable learning opportunities for all students.
Tennessee: State education department released 2020-21 Spring TCAP District-Level Results. Overview Deck and downloadable spreadsheet of district proficiency rates across student groups.
Texas:
COVID-19 Research
American Academy of Family Physicians Urges the Food and Drug Administration to Approve Vaccines for Children Under 12: Statement from the group, which joins the American Academy of Pediatrics on this.
Teacher Vaccine Mandates:
UK Authorizes Moderna Shot For Ages 12-17: A big deal given UK officials' hesitancy to vaccinate this population. Bloomberg reports.
Children's Upper Airways May Provide Protective Response to COVID-19: Study published in Nature.
"Our data provide clear evidence that the epithelial and immune cells of the upper airways (nose) of children are pre-activated and primed for virus sensing. This is likely a general feature of the children's mucosal immune response, but of particular relevance for SARS-CoV-2."
"Primed virus sensing and a pre-activated innate immune response in children leads to efficient early production of IFNs in the infected airways, likely mediating substantial antiviral effects… Ultimately, this may lead to reduced virus replication and faster clearance in children."
Six Ways Schools Can Promote COVID-19 Vaccination: Public Health Communications Collaborative and the COVID Collaborative have developed a new one-page resource for school administrators, educators, and staff with resources created or curated by the CDC.
Children, Schools, and Vaccines: Communicating to Parents: Messaging tips for talking to parents about school reopening, developed by de Beaumont Foundation and Made to Save.
Pope Francis Joins the Ad Council and COVID Collaborative's "It's Up To You" Campaign: Press release; watch the ad.
6 Answers to Parents' COVID-19 Questions as Kids Return to School: Via ScienceNews
Inside America's COVID-Reporting Breakdown: A must-read piece from Politico — long, but worth your time. A six month investigation which found the U.S. could not adequately contain COVID-19 because state public health departments relied on outdated data systems and struggled to staff enough people to investigate and isolate positive cases. Among the findings:
"There was widespread awareness that state health departments lacked sufficient funding and up-to-date technology, but the federal government continued to rely on state public-health systems to report positive and negative cases and COVID-19 deaths."
"Within the states, dozens of health departments relied on arcane programs, many of which used different technology, to collect case information, investigate cases and contain outbreaks in settings such as businesses, prisons and nursing homes."
"Labs in almost every state did not send electronic data to state officials, who in turn reported to the federal government."
"During COVID-19 surges, health departments in more than 10 states stopped conducting case interviews and issuing quarantine orders for people in close contact with COVID-19 patients because there were simply too many cases to handle."
And more on the COVID data challenge: 
Scott Gottlieb: "In the U.S. we have no firm idea how many kids have already been infected with COVID. We have no idea if hospitalizations in the south are the tip of a huge iceberg of dire infection — or a sign that COVID has become more pathogenic in children. The CDC should gather this data. It isn't."
Emily Oster: "We still do not have the COVID data we need, we need a 'data force.'"
States interested in addressing this should reach out to US Digital Repsonse, Code for America, The Tech Talent Project or the Lincoln Network.
Viewpoints
Zoom's Focus Mode: Zoom's new focus mode could keep students from distracting each other. Teachers can see students, but students can't see each other.
KaiPod Learning: Thinks learning pods are here to stay.
New School Year, Same Old COVID Chaos: Via The New Republic.
Are the Kids All Right? Ask the Camp Directors: Via The New York Times
Parent Confidence in Vaccines and School Reopenings: New polling and deck from Frank Luntz for the de Beaumont Foundation. Download full topline findings by party affiliation and vaccination status. Some highlights:
A large majority of parents say the spread of the Delta variant makes them more likely to get their child vaccinated.
67 percent, including 51 percent of unvaccinated parents, said full approval would make them more likely to get their children vaccinated.
61 percent of parents said individual schools should be allowed to require masks for students, while 39 percent said the decision whether to wear a mask should be the parents' choice.
More Parent Polling: From RAND and the Rockefeller Foundation (press release; deck)
9 out of 10 plan to send their child to school in person
1 in 3 say they don't know their school's safety plans
6 in 10 say they want more information about the specific safety measures their schools are enacting.
Read the full report, which includes racial breakdowns.
Related: A new interactive from McKinsey charts parents' perspectives on schooling amid COVID-19.
Fear of COVID-19 in Kids Is Getting Ahead of the Data: Writes Lucy McBride in The Atlantic.
"A recent peer-reviewed study in Britain of nearly 260,000 children (1,700 of whom showed symptoms) reminds us that for most kids, a coronavirus infection will manifest as the common cold — if anything."
"Also reassuring is that only 4.4 percent of children diagnosed with COVID-19 in this study had symptoms after 28 days (and 1.8 percent after 56 days)."
"Being constantly wired [in fear]… nevertheless carries a cost: Rational thought is hijacked. Our risk tolerance goes down. Our instinct to protect shifts into overdrive. We default to primitive thought patterns including black-and-white thinking (School isn't safe until all kids are vaccinated) and catastrophizing (My child's runny nose will probably land him in the hospital)."
Revealed Preferences for School Reopening: Evidence from Public-School Disenrollment: NBER paper about the 2020-2021 school year.
"We find offering remote-only instead of in-person instruction reduced enrollment by 1.1 percentage points."
"The disenrollment effects of remote instruction are concentrated in kindergarten and, to a lesser extent, elementary schools."
"We do not find consistent evidence that remote instruction influenced middle or high-school enrollment or that hybrid instruction had an impact."
"This implies that the widespread adoption of remote-only instruction explains roughly a quarter of the disenrollment from public schools."
Don't Be a Schmuck. Put on a Mask: "It's up to all of us to recognize that the great privilege we have of being Americans comes with the great responsibility to keep this country No. 1," writes Arnold Schwarzenegger in The Atlantic.
…And on a Reflective Note
Afghanistan's Minister of Education:
"I might face consequences… I guess that's the price we pay for trying to make the world a little better"

Afghanistan's Minister of Education Rangina Hamidi says she is fearful "like every woman in Afghanistan"https://t.co/hHMv4FptLI pic.twitter.com/JzywRPEI1H

— BBC News (World) (@BBCWorld) August 15, 2021
ICYMI @The74
Weekend Reads: In case you missed them, our top five stories of the week:
Disclosure: John Bailey is an adviser to the Walton Family Foundation, which provides financial support to The 74.
Support The 74's year-end campaign. Make a tax-exempt donation now.