The Week in COVID & Education Policy: Why Student Enrollment Keeps Dropping at Top Districts, New Ways to Fight the Pandemic in 2022 & More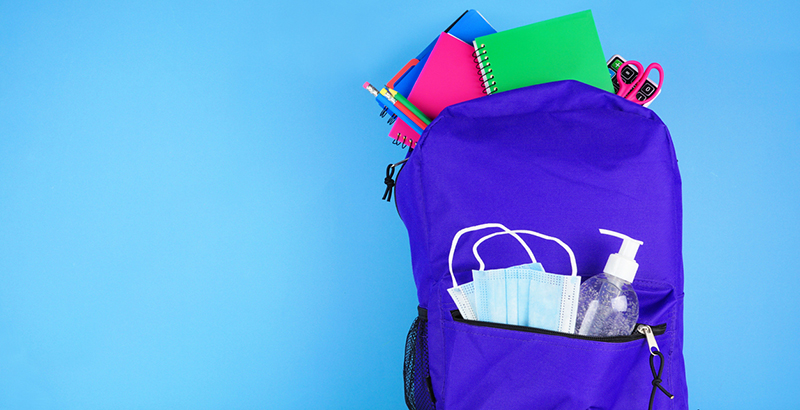 Support The 74's year-end campaign. Make a tax-exempt donation now.
This is our weekly briefing on how the pandemic is shaping schools and education policy, vetted, as always, by AEI Visiting Fellow John Bailey. Click here to see the full archive. Get this weekly roundup, as well as rolling daily updates, delivered straight to your inbox — sign up for The 74 Newsletter.
Where Are the Students?: For a second straight year, school enrollment is dropping, NPR reports. 
"We compiled the latest head count data directly from more than 600 districts in 23 states and Washington, D.C., including statewide data from Massachusetts, Georgia and Alabama."
"New York City's school enrollment dropped by about 38,000 students last school year and another 13,000 this year."
"In Los Angeles, the student population declined by 17,000 students last school year and nearly 9,000 this year."
"In the Chicago public schools, enrollment dropped by 14,000 last year and another 10,000 this year."
"The National Association of Independent Schools comprises private, non-parochial schools. They report a net enrollment growth of 1.7% over the two pandemic years. There's a particularly big rebound in private preschool enrollment in the NAIS sample. That number dropped dramatically between 2019-20 and 2020-21, but then grew 21% this fall for a net growth of 6% over two years."
"In New York City, the KIPP charter school network opened three new schools this fall, fueling an enrollment jump of 11 percent. In fact, KIPP schools in the city grew during both pandemic years, to a total of 7,150 students."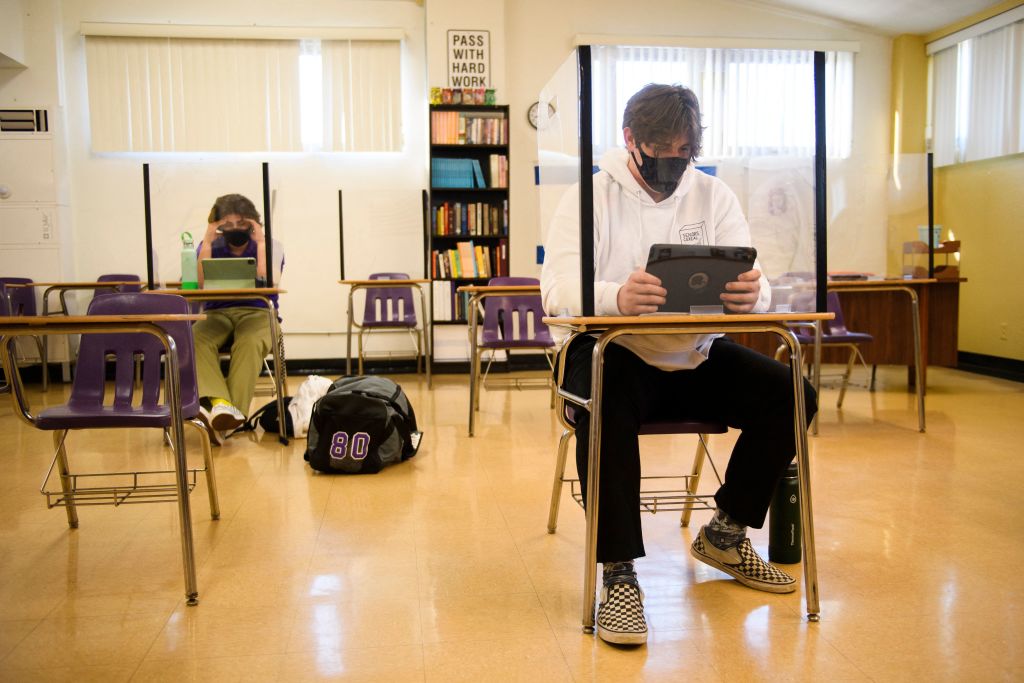 ---
December 17, 2021 — The Big Three
Our Playbook to Fight COVID-19 is Outdated. Here Are 10 Updates for 2022: Joseph Allen in the Washington Post.
"Fully vaccinated" should mean you've received a booster shot.
Stop equating all control strategies.
Where all people are vaccinated, we should do away with mask mandates and distancing requirements.
Yes, ventilation still matters.
The Centers for Disease Control and Prevention must update metrics for when to mask.
One-way masking is fine.
Make rapid antigen tests the gold standard for testing instead of PCR tests.
Isolation periods should be reduced from 10 days to five.
Close contacts should not be sent home for quarantine.
Masks for kids in schools should be optional in the new year.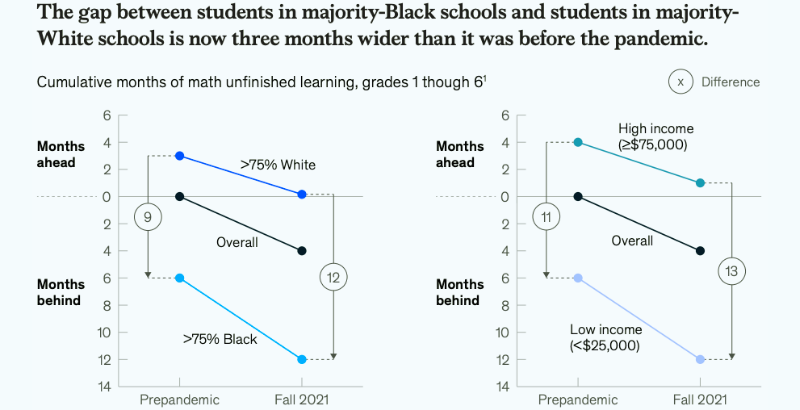 COVID-19 and Education: An Emerging K-shaped Recovery: New analysis from McKinsey
"Students in majority-Black schools remain five months behind their historical levels in both mathematics and reading, while students in majority-white schools are now just two months behind their historical levels." 
"This means that, in math, students in majority-Black schools are now 12 months behind their peers in majority-white schools, having started the pandemic nine months behind."
"While actual closures of whole schools or districts have affected just 9% of students, quarantines and other disruptions have affected 17% of in-person students." 
"On top of school closures, absenteeism rates have risen, with 2.7 times as many students on a path to be chronically absent from school this year compared with before the pandemic."
More from The 74's Beth Hawkins: Students in majority-Black schools had been 9 months behind their white peers. Now, the gap is a full 12 months.
FDA and CDC Expand COVID-19 Booster Recommendations to 16- and-17-year-olds: 
Food and Drug Administration Statement and CDC Statement.
There was some criticism for both agencies going around their advisory committees. More via Stat:

"The FDA made the decision without consulting its independent vaccine advisers, the Vaccines and Related Biological Products Advisory Committee."
"Likewise, [Director Rochelle] Walensky sidestepped CDC's independent vaccine experts … an unusual move that is already drawing criticism."
"Both advisory committees would likely have asked pointed questions about the risks associated with giving booster shoots to 16- and 17-year-olds, given the fact that the messenger RNA vaccines — like the Pfizer product and Moderna's vaccine — have been linked to elevated rates of myocarditis and pericarditis, an inflammation of heart muscle or tissue around the heart, respectively."
---
Omicron 
What We Know, What We Don't Know, Scenarios and Implications: Great executive briefing from Boston Consulting Group
Omicron and Children: "Preliminary data from South Africa suggests that children have a higher risk of hospital admission from Omicron than from previous waves of infection with other variants," says Professor Lawrence Young of Warwick University.
"The research Professor Young pointed to was a new real-world study from the South Africa Medical Research Council, and insurance firm Discovery Health suggested children have a 20% higher risk of hospital admission after infection in this wave than in the first wave."
Mild Omicron Could Still Be Bad: "Mild COVID-19 can still cause a whole lot of illness, a whole lot of economic disruption, a whole lot of strain on health care systems around the world," Politico reports.
"I'm very worried," said Marcus Plescia, chief medical officer at the American Society of State and Territorial Health Officials.
"For instance, if the fatality rate for Omicron turned out to be only one-fourth of that for 'original' COVID, but Omicron infected four times as many people, then the same number of lives would be lost. 'It's the math,' said Celine Gounder, an infectious disease specialist at NYU."
Fauci Says Omicron-Specific Booster Not Needed: "Dr. Anthony Fauci said there is 'no need for a variant-specific booster' at this time because research shows that the current U.S. booster vaccine programs are effective against Omicron," according to Axios.
'Tip of the Spear': As New Variant Spreads, One Campus All But Shuts Down Amid COVID Surge: Via Chronicle of Higher Education
Health and Human Services Secretary Xavier Becerra: "Hinted on Tuesday that the Biden administration may need to ask Congress for more money to fight the coronavirus pandemic, depending on the scope and severity of a potential new wave of infections fueled by the Omicron variant."
Department of Health and Human Services Forecast Shows Omicron Stretching U.S. COVID Test Supply: Via Politico
Study Finds Two Pfizer Vaccine Doses Offer Less Protection Against Omicron Than Against Delta: The Wall Street Journal reports.
"The study, by South Africa's largest private health insurer, Discovery Ltd., found that while Omicron reduced vaccine effectiveness against infection to 33% from 80% for Delta, its effect on protection against hospitalization was less marked, falling to 70% from 93%."
"The study — the largest to provide clues about how the vaccines hold up against Omicron in the real world — suggests that although the new strain can easily infect people who have been fully vaccinated, it is still much less likely to cause serious illness when it does."
But: "Discovery Health's data indicated that children under the age of 18 have a 20% higher risk of admissions for complications when infected with Omicron compared to the other variants."
How One of America's Historically Black Colleges and Universities Used COVID Testing to Keep Campus Open: New study (and press release).
---
Federal Updates
Build Back Better:  
Education Department: Announces $182 million in Education Innovation and Research grants. Grantees are exploring innovations for potential models for how the nation can address the impact of school closures and lost instructional time resulting from the pandemic, including:
Increasing student learning in STEM by providing tools to support a school-based tutoring program with volunteer tutors;
Utilizing a literacy intervention for kindergarten through third grade that delivers research-based one-on-one tutoring and family engagement;
Supporting second-graders' literacy learning recovery among underserved and rural populations;
Increasing the number of students who feel they belong, demonstrate resilience and build positive relationships through social emotional learning instruction and enhanced family therapy and health services.
How Federal Stimulus Funds Have Been Spent: "Nearly two years and six relief bills into the pandemic, the U.S. has spent the majority of its available COVID rescue funding. But billions of dollars across a handful of categories have not gone out the door," CNBC reports.
"Education, health care and disaster relief are among the areas where the government has underspent the funds, according to a CNBC analysis."
"More money is available for education than any other category. Agencies obligated some $263 billion for elementary, secondary and vocational education, and nearly $60 billion has been spent to date, the data show."
"The more than $200 billion in total education funding remains on the table in part because schools have until 2025 to spend it. Congress set aside the cash largely to help restart in-person learning, but schools across the country have reopened their doors while using only a fraction of the funding."
Department of Commerce: Announces 60 finalists for $1 billion "Build Back Better Regional Challenge."
---
City & State News
California: California mask mandates are back amid Omicron's rise. Here's how well they fared against Delta.
"How stringent a county's COVID-19 restrictions were appears to be correlated to the county's vaccination rates, with counties with higher vaccination rates also appearing more willing to enact policies like mask mandates."
"When analyzing that middle portion of the graph, it's difficult to come away with the takeaway that mask mandates led to lower peak case rates."
"Even when comparing neighboring counties with similar vaccination rates, the trend of the county without the mandate having the lower peak case rate continues. Orange County (no mask mandate) had a peak per capita case rate of 24.7, while Los Angeles County (mask mandate) had a peak rate of 32.1. Furthermore, Placer (no mandate) had a peak rate of 48.7, while Nevada (mandate) had a rate of 70.6."
Colorado: Schools are calling in parents to serve as substitute teachers as the labor shortage disrupts public schools. 
Kansas: "During a normal school year, about 1,400 Kansas families newly register to homeschool. Last year, that number more than tripled — to 5,527 — and the trend doesn't seem to be slowing. So far this year, more than 2,250 new families have registered."
Massachusetts: State will distribute 2 million at-home rapid COVID-19 tests.
New York: Supreme Court declines to block state vaccine mandate.
Wisconsin: School district moves to distance learning due to bus driver shortage.
---
COVID-19 Research
Winter 2021 Update on Parents' Views of Vaccines for Kids: Kaiser Family Foundation Vaccine Monitor. A few toplines:
"Three in 10 parents of both teens and younger children say they will 'definitely not' get their child vaccinated for COVID-19."
"Safety and potential side effects continue to be prominent concerns when it comes to parents' views of COVID-19 vaccines for kids. While about 6 in 10 parents (63%) say they are confident that the COVID-19 vaccines are safe for adults, fewer say they are confident the vaccines are safe for children between the ages of 12 and 17 (52%) and for children ages 5 to 11 (43%)."
"Access barriers are also a concern for some parents when it comes to getting their children vaccinated. Hispanic parents, Black parents and those with lower incomes are more likely than other parents to say they are concerned they might have to miss work to get their child vaccinated, that they won't have a trusted place to go or that they'll have difficulty traveling to a vaccination location."
"Notably, not all pediatricians are recommending that parents get their children vaccinated for COVID-19; among the 40% of parents who spoke with their child's health care provider, one-third (16% total parents of teens) say the provider did not recommend the COVID-19 vaccine for their teen and 4 in 10 (15% of total parents of 5-11 year-olds) say the doctor did not recommend it for their child ages 5-11."
"Parents who say their school has encouraged them to get their children vaccinated are more likely to say their child has indeed gotten vaccinated. In fact, parents of 5- to 11-year-olds whose school encouraged vaccination are four times as likely as those whose school did not encourage vaccination to say their younger child has already gotten the COVID-19 vaccine (28% vs. 7%)."
U.S. Hits 800,000 COVID Deaths 22 Months After the First: Statista.  
Children and COVID-19: State Data Report from American Academy of Pediatrics. 
More than 164,000 child cases were added the past week, an increase of nearly 24% over the prior week and a 63% increase since Oct. 28
For the 18th week in a row, child COVID-19 cases are above 100,000. Since the first week of September, there have been over 2.1 million additional child cases.
Since the pandemic began, children represented 17.2% of total accumulated cases but last week made up 23.6% of reported cases.
COVID Is Driving a Children's Mental Health Emergency: Via Scientific American.
1 in 4 Parents Report Their Child Was in Quarantine Last Month: According to a new MorningConsult and EdChoice survey (summary / parent crosstabs / adult crosstabs)
In the crosstabs: 37% of Black families, 36% Hispanic families, 22% white families. 
40% of special-needs parents.

The U.S. COVID-19 Vaccination Program at One Year: How Many Deaths and Hospitalizations Were Averted?: Via The Commonwealth Fund.
"In the absence of a vaccination program, there would have been approximately 1.1 million additional COVID-19 deaths and more than 10.3 million additional COVID-19 hospitalizations in the U.S. by November 2021."
"Without the U.S. vaccination program, COVID-19 deaths would have been approximately 3.2 times higher and COVID-19 hospitalizations approximately 4.9 times higher than the actual toll during 2021."
"If no one had been vaccinated, daily deaths from COVID-19 could have jumped to as high as 21,000 per day — nearly 5.2 times the level of the record peak of more than 4,000 deaths per day recorded in January 2021."
Biden Health Team Ruled Out Free COVID Tests Over Cost, Logistics: Via Politico
Paxlovid: Pfizer's pill to treat COVID-19 retained its 89% efficacy at preventing hospitalization and death in the full results of a study of 2,246 high-risk patients.
Merck's COVID Pill Might Pose Risks for Pregnant Women: Via The New York Times
---
Viewpoints
Hidden Pain: Children Who Lost a Parent or Caregiver to COVID-19, and What the Nation Can Do to Help Them: New COVID Collaborative report and press release 
"There are 167,000 children under 18 who have lost a parent or other in-home caregiver, with the greatest impact on communities of color and children 13 and younger who are the most dependent."
Black and Hispanic children experienced more than twice the rate of loss of white children. 
"70% of caregiver loss (117,948) affected those aged 13 and younger. 50% of caregiver loss (83,798) was among elementary- and middle school-age children (5-13 years old) and 20% (34,150) was among those from birth through 4 years old. More than 29% (49,134) of caregiver loss affected youth who were high school age (14-17 years old)."
Youth in every state experienced loss, but California, Florida, Georgia, New York and Texas accounted for half of total caregiver loss from COVID-19.
The report recommends: concerted efforts within schools, health care and faith-based communities to identify and connect children and families to supports; a COVID-Bereaved Children's Fund; expanding access to high-quality early childhood programming and social and emotional learning in schools; structured mentoring, peer support and grief camps; expansion of mental health care; and executive action from the federal government to support these children now.
Via the NYT, "The collaborative is asking President Biden to initiate a national campaign to identify these children and, with help from the private sector, take steps to improve their emotional and economic well-being. Its recommendations include offering them mental health care and creating a "COVID Bereaved Children's Fund," similar to a fund established after the Sept. 11 attacks, to provide up to $10,000 to families in need."
COVID's Deadly Trade-offs, By the Numbers — How Each State Has Fared in the Pandemic: Via Politico. 
"States that imposed more restrictions such as stay-at-home orders and mask requirements did experience lower rates of death and hospitalizations. But they also tended to have worse economic and educational outcomes."
"States whose economies are heavily dependent on tourism suffered the most economically, with Hawaii and Nevada hit hardest."
"Overall, rural states tended to fare better than more urbanized states on economic and educational outcomes."
Education Data Legislation Review: 2021 state activity, via Data Quality Campaign. The analysis found that 361 bills were introduced in 45 states; 111 bills were passed into law in 38 states.
Top 2021 Education Legislative Trends: Via Education Commission of the States:
ECS "tracked 9,508 introduced bills in state legislatures throughout the country and summarized all 1,771 bills that were either enacted or vetoed." 
Summaries are available via its State Education Policy Tracking tool.
Is It Always Going to Be Like This Now?: Asks Emily Oster.
---
…And on a Lighter Note
British Boy Is Told He's on the Naughty List: But he disagrees.
---
ICYMI @The74
Weekend Reads: In case you missed them, our top five stories of the week:
For even more COVID policy and education news, subscribe to John Bailey's daily briefing via Substack.
Disclosure: John Bailey is an adviser to the Walton Family Foundation, which provides financial support to The 74.
Support The 74's year-end campaign. Make a tax-exempt donation now.