Exclusive: Texas Education Officials Launch First Probe into School District for 'Pornographic' Books Following Gov. Abbott's Directive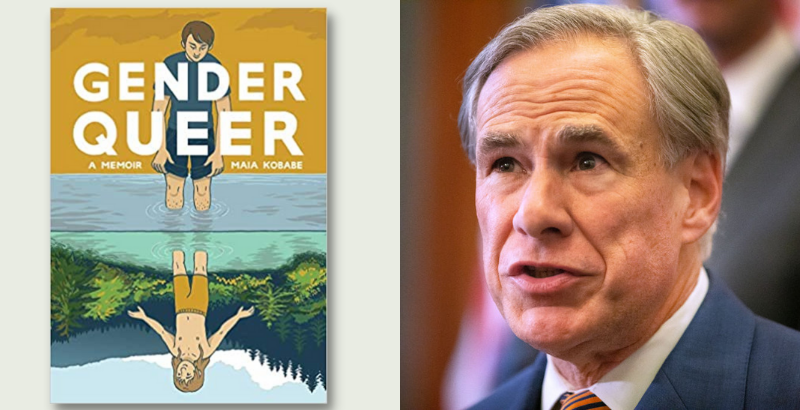 Get stories like these delivered straight to your inbox. Sign up for The 74 Newsletter
Texas state education officials are investigating their first case of "pornographic" books in schools following Governor Greg Abbott's demand that any violators who provide such material to minors be prosecuted "to the fullest extent of the law."
The 74 has learned the Keller Independent School District in the suburbs of Fort Worth is currently under investigation by the Texas Education Agency following Abbott's order last month that school districts be investigated for providing students with "obscene" content.
The probe into Keller is focused on whether state policies were followed in the purchase of school library books.
One of the books Abbott singled out last month is "Gender Queer," a graphic novel by Maia Kobabe that depicts an oral sex scene and was available at one Keller ISD high school library in the 42-school district. Abbott charged that the book contained "pornographic drawings."
A Keller district spokesperson said a librarian immediately retrieved the book and removed it from circulation after parents' complaints surfaced in October. Five more books have also been pulled from library shelves this school year.
The directive from the governor to prosecute anyone who provides "pornography" to minors comes as parents across the state and country have railed against local school boards for having books with sexually explicit passages in their school or classroom libraries, often related to the LGBTQ experience.
One San Antonio school district pulled more than 400 books off its shelves "out of an abundance of caution" to "ensure they did not have any obscene or vulgar material." The district pulled the books after Fort Worth Republican Rep. Matt Krause, who chairs the Texas House General Investigating Committee, released a list in October of nearly 850 titles he suspected would pertain to race, sexuality or "make students feel discomfort" and asked schools to account for how many copies were in their libraries and classrooms.
The TEA can only investigate issues that fall within education law, but such an investigation could provide the agency with enough information to refer the case to law enforcement, an agency spokesperson said.
"The decision to undertake a criminal investigation or pursue criminal charges in any particular instance would rest with law enforcement," the TEA said in a statement to The 74.
The TEA would not comment on what its own investigation would entail, although it will likely include tracing how book-buying decisions were made.
Keller ISD officials told The 74 the district would cooperate with the investigation.
Other than "Gender Queer," a spokesman said five the books have been taken off the shelves this school year amid parent complaints: "Flamer," by Mike Curato, "Infinity Reaper" by Adam Silvera, "Jack of Hearts" by L.C. Rosen, "L8r g8r," by Lauren Myracle; and "Panic" by Sharon Draper.
When a book is challenged as "inappropriate," the complaint is referred to a Book Challenge Committee, made up of parents, teachers and members of the community, a Keller spokesperson said.
Under Texas law, it is illegal to provide "harmful material" to a minor. State law specifies the material must be "utterly without redeeming social value for minors."
The Texas penal code also states, however, that it is a defense that the material was provided by a person having "scientific, educational, governmental, or other similar justification."
Legal and library experts have cast doubt on whether prosecutions are likely to be successful, noting the legal complexity of cases that often rely on whether sexual content is obscene or protected by the First Amendment.
The governor has also publicly pointed to Leander Independent School District, located just north of Austin, as another school system that had books with inappropriate sexual content. Namely, he singled out "In the Dream House" by Carmen Maria Machado, a memoir about domestic abuse within a same-sex relationship that the district removed from its book club. The book is still available in campus and digital libraries, a district spokesman said.
The district has received no notice it is under investigation, said Matt Mitchell, a spokesman for LISD.
"We haven't heard from anyone yet," said Mitchell. "Our district has worked and will continue to work hard with our community and with our parents, and if there are materials that they don't approve of, we welcome those conversations."
Get stories like these delivered straight to your inbox. Sign up for The 74 Newsletter