The Week in COVID & Education Policy: Kids' Hospitalization Rates Plunge, FDA Endorses Pfizer Shot for Youngsters and More Key Updates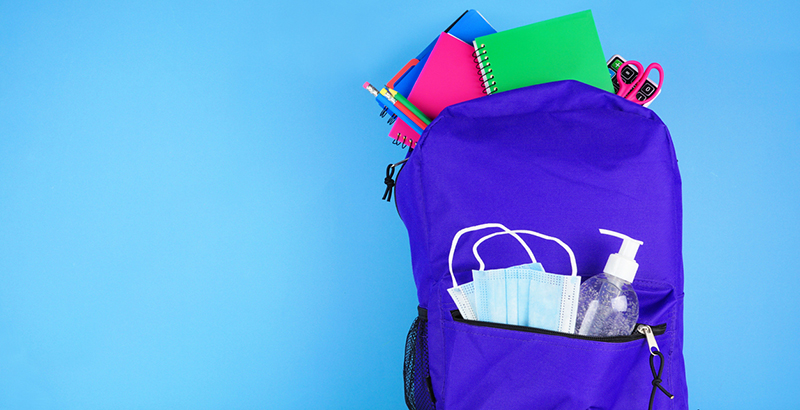 This is our weekly briefing on how the pandemic is shaping schools and education policy, vetted, as always, by AEI Visiting Fellow John Bailey. Click here to see the full archive. Get this weekly roundup, as well as rolling daily updates, delivered straight to your inbox — sign up for The 74 Newsletter.
Pediatric COVID Hospital Visits Plunge in U.S. By More than 50% Since August: Via Bloomberg
"Hospital admissions are declining sharply among U.S. children with COVID-19, even more than adults, quieting concerns for now that the return to school could trigger a major uptick in viral transmission."
"Daily pediatric admissions with confirmed COVID have fallen 56% since the end of August to an average of about 0.2 per 100,000, according to Department of Health and Human Services data. Among adults, new admissions fell 54% to 2.1 per 100,000 in the same period, the data show."
"Some schools dropped mask mandates this year under pressure from Republican governors, adding to public health experts' concerns about returning to classrooms amid high viral transmission from the Delta variant. Instead, the Delta wave has waned over the first two months of school. It's unclear what will happen when the U.S. enters its traditional winter virus season."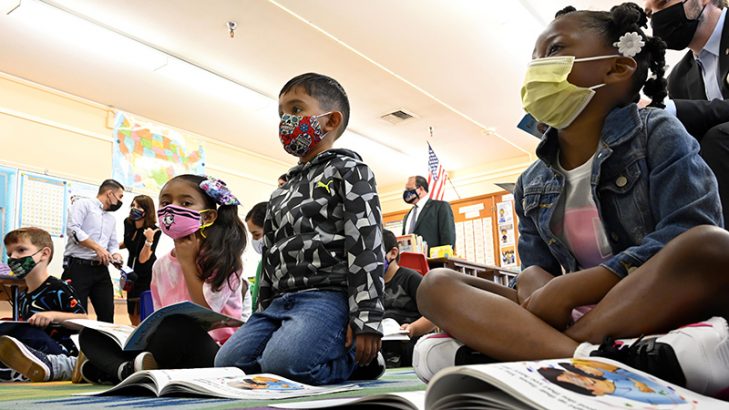 October 28, 2021 — The Big Three
FDA Panel Endorses Pfizer Vaccines for 5- to 11-Year-Olds: There was a lot of drama with the Vaccines and Related Biological Products Advisory Committee meeting, but members eventually voted overwhelmingly to recommend the vaccine, saying the benefits outweigh the risks.
The 74's Asher Lehrer-Small covered the meeting. Epidemiologist Katelyn Jetelina also has a summary.
Members were flooded with email in an organized campaign urging them not to recommend the vaccine.
Some committee members questioned whether every child really needed the vaccine or whether it should be limited to those at high risk of severe COVID-19.  
The Food and Drug Administration's Dr. Peter Marks told the committee COVID-19 is now one of the top 10 causes of death among children 5 to 11.
FDA staff also presented some really interesting data weighing the risks and benefits. Their model showed that at the current rate of infection, the benefits seemed to clearly outweigh the risks. But if the infection rate dropped, it was a closer call. Additional data were presented on myocarditis risk. But committee members expressed concern that the models were too conservative. There was a lot of discussion around myocarditis and why cases occur more often in boys than girls.
Some members expressed concern about school mandates: "I'm just worried that if we say yes, that the states are going to mandate administration of this vaccine to children in order to go to school, and I do not agree with that," committee member Dr. Cody Meissner said. "I think that would be an error at this time until we get more information about the safety."
The committee voted on the question, "Based on the totality of scientific evidence available, do the benefits of the Pfizer- BioNTech COVID-19 vaccine when administered as a two-dose series (10 micrograms each dose, 3 weeks apart) outweigh its risks for use in children 5-11 years of age?" 

Yes: 17, No: 0, Abstain: 1

There have been more than 2,000 COVID-19 related school closures nationwide since August, affecting more than 1 million children and 68,000 teachers, said CDC official Dr. Fiona Havers, citing Google News data.

Sidenote: It's disappointing that our federal government is relying on Google News for data about school closures instead of having a more official, comprehensive source of data.

What's next: The Centers for Disease Control and Prevention will take it up for approval Nov. 2 and 3, and rollout could come as soon as next week.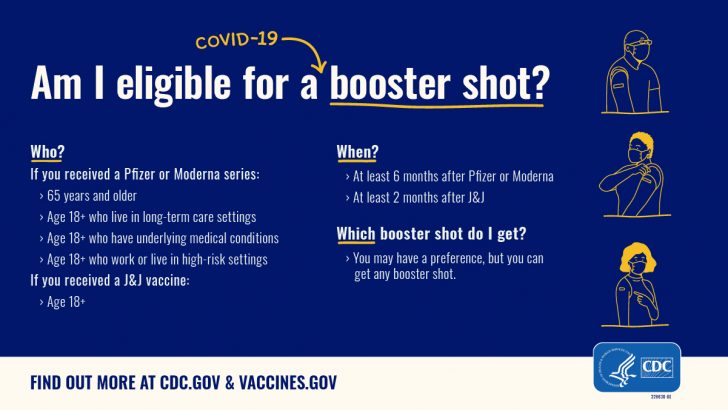 CDC Expands Eligibility for COVID-19 Booster Shots: The CDC approved Pfizer and Moderna boosters. Eligible individuals include those who are:
'It's Madness to Quarantine Schoolchildren': Argue Leslie Bienen and Eric Happel in The Wall Street Journal
"Thirty states have set aside the CDC's guidelines, according to our research, and the agency itself has published studies suggesting that such measures are unnecessary. Yet the CDC has dragged its feet in considering a less-restrictive alternative known as 'test to stay.'"
"Oregon's experience [where thousands of students have had to quarantine] illustrates another major problem with quarantines: their disparate racial and socioeconomic impact. The decision of whom to quarantine when a student turns up positive falls to school principals and local health officials (at the county level, in Oregon's case). … The Portland dashboard indicates that schools serving lower-income students account for a disproportionate share of students quarantined, after adjusting for the number of COVID-19-positive students."
---
City & State News
California: "For months, California private schools have been waiting for 'emergency' COVID aid. Most impacted are urban Catholic schools serving low-income children."
"On Nov. 12, exactly six months after schools were notified they were approved for funding, WestEd, a San Francisco-based research and consulting firm that the [California Department of Education] designated as the project manager, will launch what could be a three- to four-month process to determine each school's needs and match the vendors to serve them."
Colorado: Less than 1% of students are using the state's free COVID testing program in schools. 
Georgia: Atlanta Public Schools offers $3,000 bonus to recruit virtual teachers. 
Illinois: Parents sue 145 school districts over COVID policies.
Massachusetts: The Massachusetts National Guard is helping with COVID testing in several school districts. 
Nevada: Is offering $5,000 grants to help students with disabilities recover from pandemic.
New York: NYC "officials fear that as many 150,000 students may have not yet set foot in city classrooms this year."
Ohio: 
Utah: The Salt Lake County Health Department calculated COVID-19 vaccination rates by zodiac sign. The news is not good for Scorpios.
"The department found that vaccination rates vary dramatically by astrological sign, from 70% of Leos to just 46% of Scorpios, who, if zodiac stereotypes hold true, perhaps hope to contract COVID-19 in order to deliberately infect someone else in retaliation against a perceived slight."
---
Federal Updates
White House: 
The president made three nominations important for broadband policy. More via Axios

Jessica Rosenworcel, Federal Communications Commission
Gigi Sohn, Federal Communications Commission
Alan Davidson, nominee for assistant secretary for communications and information at the National Telecommunications and Information Administration, Department of Commerce


The president issued an executive order on the White House Initiative on Advancing Educational Equity, Excellence and Economic Opportunity for Black Americans. 
U.S. Department of Health and Human Services: Announced $70 million in American Rescue Plan funding to bring more at-home tests onto the market. The National Institute of Health's new Independent Test Assessment Program will establish an accelerated pathway to support FDA evaluation of tests with potential for large-scale manufacturing.
U.S. Department of Agriculture: To provide $1.15 billion for rural broadband expansion.
---
COVID-19 Research
No Causal Effect of School Closures in Japan on the Spread of COVID-19 in Spring 2020: New study in Nature Medicine.
"We do not find any evidence that school closures in Japan reduced the spread of COVID-19. Our null results suggest that policies on school closures should be reexamined given the potential negative consequences for children and parents."
Five Lingering Questions About COVID Vaccines for Kids: Via The Atlantic
"Parents want to make the best decision for their children. And they want to make a very careful decision, and they want to consider all of the information that's available. It is scary to think about: If I choose a vaccination and my child is one that has a rare side effect, how am I going to feel about that? That's definitely going through parents' minds."
"The chance that your child will have a severe COVID infection is rare; the chance that your child will have [multisystem inflammatory syndrome] is also pretty rare. Not a lot of people know someone who's had a child in the hospital with COVID. But what's even more rare is the chance that there will be an ill effect from the vaccine. We have to educate about those numbers."
"Not vaccinating is still a risk, and it's a higher risk than giving your child a vaccine."
"If you were playing the numbers and reading the data, you would give your child the vaccine every time. [The alternative] would be taking an unknown risk, and making that the reason you're not going to protect your child against a known risk that you know how to protect against."
An Expert's Advice to Parents on Preparing Younger Kids for the Vaccine: Via CNN
When Vaccinating Kids, Does Weight Matter? Should an 11-Year-Old Wait to Turn 12 to Get a Bigger Dose?: Good piece from the The New York Times
Moderna Says Its Vaccine Provides a "Robust" Response Among 6- to 11-Year-Olds: Interim data shows that the "vaccine generated antibodies in children in that age group that were up to 1½ times as high as what has been seen in adults."
Large Israeli Study Finds Pfizer Vaccine Kept Teens Safe from Delta: Researchers analyzing data of over 94,000 vaccinated adolescents and the same number of unimmunized finds those who got the shot are 90% less likely to get the coronavirus. More in NEJM.
Scientists Search for Cause of MIS-C: More than 5,200 of the 6.2 million U.S. children diagnosed with COVID have developed multisystem inflammatory syndrome in children.
"About 80% of MIS-C patients are treated in intensive care units, 20% require mechanical ventilation and 46 have died."
The Impact of School Opening Model on SARS-CoV-2 Community Incidence and Mortality: New study in Nature Medicine. 
"After controlling for case rate trends before school start, state-level mitigation measures and community activity level, SARS-CoV-2 incidence rates were not statistically different in counties with in-person learning versus remote school modes in most regions of the United States."
"Although results varied by region, these findings suggest that schools can open for in-person learning during the pandemic with minimal contribution to sustained community incidence of infections, provided other public safety measures are adopted."

Children and COVID-19: State-Level Data Report from the American Academy of Pediatrics.
6.3 million total child COVID-19 cases were reported as of Oct. 21, representing 16.5% of all cases. 
Children made up 11.7%-22.4% of total cumulated state tests, and 5.3%-13.6% of children tested were positive. 
In states reporting, 0.00%-0.03% of all child COVID-19 cases resulted in death. 
Summarizing CDC Guidance to Support COVID-19 Contact Tracing in K-12 Schools: New brief from the Association of State and Territorial Health Officials.
Axios/Ipsos Coronavirus Index: New survey
About 1 in 5 (21%) people polled are confident the Biden administration can persuade skeptics to get the vaccine.
Just over 1 in 4 Americans correctly identify that a vaccinated 80-year-old is at greater risk of dying of COVID-19 than an unvaccinated 30-year-old.
Americans are split on whether unvaccinated people and vaccinated people are equally likely to test positive for COVID-19. Four in ten (40%) correctly identify this as false, while another 38% erroneously believe it to be true and 21% say they don't know.
Muddled Messaging on Boosters: Via Axios
Dr. Anthony Fauci and Surgeon General Vivek Murthy on Friday said people should stick with the same brand of vaccine they got the first time, if it's available as their booster, Reuters reports.
But on the Sunday shows, both Fauci and CDC Director Dr. Rochelle Walensky said it's safe to mix and match brands, depending on the patient.
CDC Says Some Immunocompromised People Can Get Fourth COVID Shot: Via Axios
---
Viewpoints
Learning Challenges in Los Angeles After School Closures: "A first-of-its-kind Los Angeles Times analysis of data offers a particularly alarming assessment of the impact on L.A. students, showing deep drops in assessment scores or below grade-level standing in key areas of learning. Black, Latino and other vulnerable children have been particularly hard hit."
"The gap in grades that existed before the pandemic between Black and Latino students and white and Asian counterparts widened to as much as 21 percentage points."
"Elementary school reading scores dropped 7 percentage points overall, while gaps between Black and Latino students and white and Asian classmates grew to 26 percentage points or more."
"More than 200,000 students are not meeting grade-level goals in math and reading."
"At the elementary school level, about 21% of all students who were assessed toward the end of the 2020-21 school year were meeting grade-level goals. For Black and Latino students, it was fewer than 18%, compared with about 43% of Asian students and 34% of white students."
"During the 2018-19 school year, about 59% of students met University of California and California State University admissions requirements. For the class of 2022, about 46% of students are on track to meet the requirements — with a gap of 17 percentage points or more between Black and Latino students and white and Asian students."
College Enrollment Saw the Largest Two-year Decline in 50 Years: CNBC reported on data from National Student Clearinghouse Research Center. More from The 74.
Digital Promise Research Project to Focus on Digital Learning at Scale: "SEERNet is a five-year program with a model that differs from the traditional approach of research.

Key to Closing Teacher-Student Relationship Gap is 1:1 Connections: New report by Gradient Learning based on a survey of 1,031 students aged 13 and older. Findings include:
Strong relationships with educators correspond with student belonging. Of students surveyed who indicated that they have a strong relationship with a teacher, 70% or more said they pay attention or participate in class more and look forward to and enjoy class. At the same time, 72% of students surveyed said they wish they had an opportunity to share more about what's on their mind with teachers.
Access to strong relationships with teachers is unequal. The findings indicate that more students of color — Asian Pacific Islander (33%), Hispanic (28%) and mixed race (31%) — did not feel they had a strong relationship with a teacher in the past year, compared with white students (20%).
The Pandemic Could Have Unlocked Remote Schooling. It Hasn't: Writes Robin Lake in Education Week.
Equity Lessons Learned from Schools in the Time of COVID-19: EdTrust and other partners released Education Resources for State Leaders.
National School Boards Association: Is walking back its letter asking for the DOJ to intervene with school board disruptions.  
Missing in the Margins 2021: Revisiting the COVID-19 Attendance Crisis: Updated report from Bellwether Education Partners.
Post-Pandemic Schooling Emphasizing Social Emotional Learning: Report from Tyton Partners, CASEL and the Bill & Melinda Gates Foundation.
---
…And on a reflective note
Dads on Duty: After a violent week of fighting at a Louisiana high school, parents knew something had to change. So, a group of dads decided to show up not just for their kids — but for all the students — to help maintain a positive environment.
DADS ON DUTY: After a violent week of fighting at a Louisiana high school, parents knew something had to change. So, a group of dads decided to show up not just for their kids – but for the whole student body – to help maintain a positive environment. @SteveHartmanCBS has more. pic.twitter.com/Uux3qx48sd

— CBS Evening News (@CBSEveningNews) October 22, 2021
*WANT DAILY UPDATES FROM JOHN? This is a weekly summary of John Bailey's daily COVID-19 policy newsletter. Interested in new updates every weeknight? Subscribe here via Substack.
---
ICYMI @The74
Weekend Reads: In case you missed them, our top five stories of the week:
Disclosure: John Bailey is an adviser to the Walton Family Foundation, which provides financial support to The 74.
Support The 74's year-end campaign. Make a tax-exempt donation now.