Just Having Standards Isn't Enough — Study Finds Teachers Use High-Quality Curricula in States That Actively Promote Them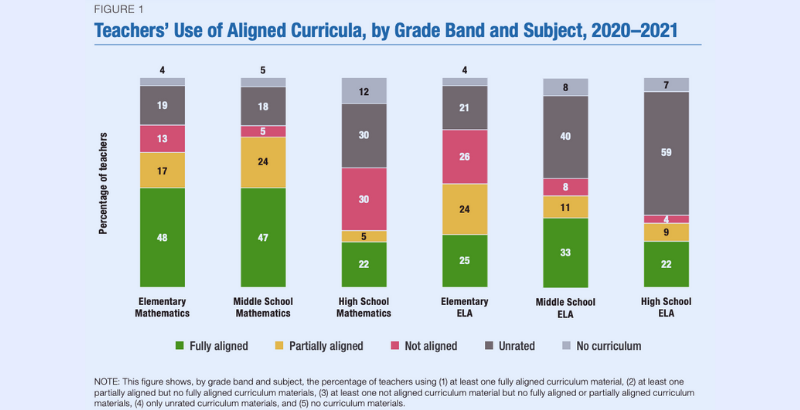 Support The 74's year-end campaign. Make a tax-exempt donation now.
The number of teachers using curriculum aligned to academic standards has ticked up since 2019, rising more quickly in states that have adopted policies incentivizing the use of high-quality materials than in others, according to a new report from the RAND Corp. Teachers are much more likely to use standards-aligned math curriculum than English language arts, and more likely to use it in elementary and middle school grades than high school, researchers found. 
The results buoy a four-year-old effort by 13 states to push teachers to use higher-quality classroom materials. States belonging to the network, organized by the Council of Chief State School Officers, generally saw quicker adoption of curricula vetted for quality by the nonprofit ratings group EdReports. 
By incentivizing the use of better materials, members of the network hope to influence what is taught, by extension increasing students' academic achievement. Past research has shown that the mere existence of academic standards has little effect on what happens in classrooms, but early efforts to promote the use of curriculum that conforms to expectations of what students should know at any particular grade level appear promising. 
Just 22 percent of a nationally representative sample of high school teachers surveyed in spring 2021 as a part of RAND's American Instructional Resources Survey reported using aligned math and reading materials, with more than 70 percent using no curriculum at all or materials that did not conform to state academic standards or were unrated.
Forty-eight percent of elementary teachers reported using a high-quality math curriculum, with 25 percent using aligned materials in English language arts. Among middle school teachers, 47 percent used aligned math curriculum and 33 percent used high-quality reading materials. At the middle and high school levels, 81 percent of those using unrated materials created them themselves or adopted curricula created by their school or district. 
Nationwide, the percentage of teachers regularly using fully aligned materials for mathematics or reading rose from 24 percent in 2018-19 to 35 percent the following year. The rate dropped to 33 percent in 2020-21, however. 
Encouraged by early successes in Louisiana and other places, in 2017 the council formed a network of states that rate curricula, pay for schools to adopt the best and provide ongoing, free teacher training. It currently has 13 participants: Arkansas, Delaware, Kentucky, Louisiana, Massachusetts, Mississippi, Nebraska, New Mexico, Ohio, Rhode Island, Tennessee, Texas and Wisconsin. 
Comparing results from its new teacher survey to the two prior years, the RAND team saw particularly large increases in the use of quality math curricula in some states that have been in the network since its formation. Massachusetts and Mississippi, for example, each saw an increase of 15 points, while in Rhode Island, adoption of the materials jumped 31 points. 
Increases in the use of aligned reading materials during the three years surveyed were even larger, rising 24 points in Delaware, 16 in Mississippi, 20 in Rhode Island and 29 in Tennessee. Curiously, the use of quality materials actually ticked down in Louisiana from the 2018-19 school year to 2020-21, but still far outpaced the rest of the country. 
In 2016, RAND researchers found that most teachers developed or selected their own math and English language arts materials, with 94 percent relying on Google and 87 percent on Pinterest. 
Founded in 2015, EdReports rates how well popular classroom materials conform to academic standards. Because the number of curricula rated by the organization has risen over time, some of the increase in use of high-quality materials picked up in the RAND survey may reflect the more comprehensive list of aligned items.
The researchers cautioned that just because teachers report using better materials, that does not necessarily mean they have changed their instruction accordingly. States should consider creative ways of increasing the amount of time teachers have to work together to master the curriculum, the report suggests. 
Finally, states in the network where adoption of high-quality materials is rising should carefully document which policies may be driving the increases and whether student achievement goes up, the researchers said.
Disclosure: The Bill & Melinda Gates Foundation, the Charles and Lynn Schusterman Family Foundation, the Overdeck Family Foundation and the Walton Family Foundation provided financial support for RAND's research and for EdReports and The 74. The Carnegie Corporation of New York funds EdReports and The 74. 
Support The 74's year-end campaign. Make a tax-exempt donation now.