The Week in COVID & Education Policy: A Looming 'Culture War' Over Vaccinating Young Kids, Evolving Mask Rules at Schools & More Key Updates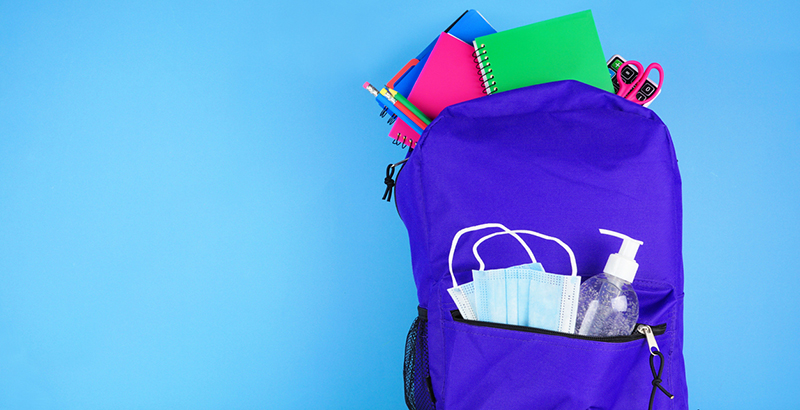 This is our weekly briefing on how the pandemic is shaping schools and education policy, vetted, as always, by AEI Visiting Fellow John Bailey. Click here to see the full archive. Get this weekly roundup, as well as rolling daily updates, delivered straight to your inbox — sign up for The 74 Newsletter.
Updated Feb. 11
"The Next Culture War" Might Be Over Vaccines for Young Kids: Via Axios
"In a Harris poll of 306 parents of kids under 5 provided exclusively to Axios, 73% of vaccinated parents said they're likely to vaccinate their kids under 5, while only 35% of unvaccinated parents would."
"Harris found that more women (47%) said they were unlikely to want their kids to get the shot than men (31%)."
"Almost half of the suburban respondents (49%) said they were unlikely to want the shot for their kids — almost as high as people from rural areas (57%) — compared to just 25% in urban areas."
"More of those identifying as independents (57%) than Republicans (38%) or Democrats (26%) said they were unlikely to want the shot for their kids under 5."
Other polls have had similar results.
Related: Listening to America — Parents Discuss Vaccinating Their Children, via CBS Face the Nation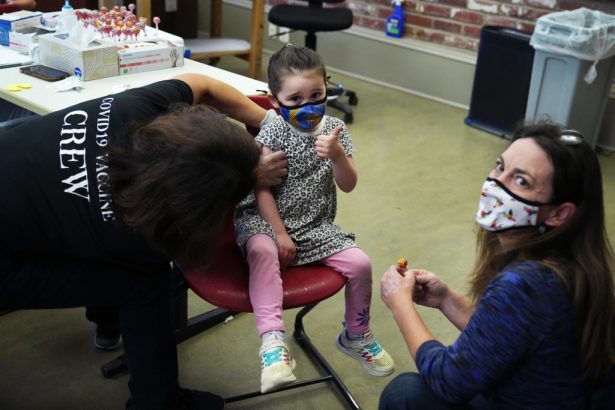 ---
The Big Three — February 11, 2022
Coronavirus vaccine for young children further delayed as FDA says it will wait for data on three doses
"The Food and Drug Administration announced Friday it will not make a decision on whether to authorize a coronavirus vaccine for children younger than 5 until data on a third dose is available, a delay that means it could be mid-April at the earliest before shots are available for that age group," The Washington Post reports.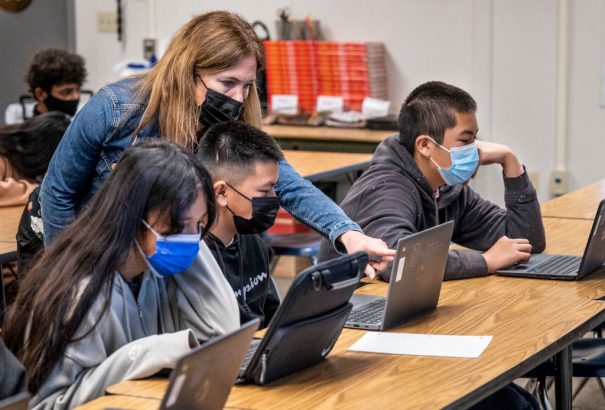 Mask Mandates Are Changing and Disappearing: 
Moderna Receives Full Approval for Adults 
---
City & State News
Arizona: Families use ridesharing service to get kids to and from school in Tolleson. An A for Arizona grant competition allowed the district to run a pilot program with HopSkipDrive, helping kids in specific populations get to school in a new way.
California: Los Angeles school board to discuss launching up to six new online programs next school year for students who can't or who wish not to return to in-person learning.
Illinois: State teachers union urges schools to wait to change their COVID safety plans with respect to masks and quarantines.
Maryland: School districts could each receive millions of dollars for implementing an array of evidence-based practices to help students recover academically from the pandemic. The 74 has more.
South Carolina: Gov. Henry McMaster issued an executive order in January requesting a review of the mental health services programs available at his state's public schools.
Utah: Gov. Spencer Cox signs bill giving legislative leaders control over individual school closings for COVID.
"Under the new procedure, a school that reaches the state's threshold for an outbreak will first have to appeal to the district's local school board, asking that students be allowed to learn remotely."
"The school board will then need to hold a public meeting to vote on whether to take that action. If the members vote in favor, they'll next have to ask for permission from the state."
"Approval to go online will require signoff from all four of the top-ranking leaders in Utah: the governor, the speaker of the House, the president of the Senate and the state superintendent. It's unclear how quickly those leaders can or will respond to a request, but their decision will have to be unanimous."
Virginia:
State Supreme Court dismissed a lawsuit from a group of parents who sued over Gov. Glenn Youngkin's mask-optional executive order in schools, but the justices did not weigh in on whether the order is legal.
Loudoun County Public Schools has suspended 29 students after they refused to follow the schools' mask mandate.
---
COVID-19 Research
New Study on Masks: California Department of Public Health study published by the CDC.
"People who reported always wearing face masks or respirators, such as N95 masks, in public indoor settings were significantly less likely to later test positive for the coronavirus than people who said they never wore masks in such places," according to the NYT.
The study included more than 3,000 California residents who received PCR test results between Feb. 18 and Dec. 1, 2021. Roughly half had tested positive for the virus.
Several limitations are listed, including that this was pre-Omicron and data were self-reported.
Pfizer: European Union regulator reviews extending Pfizer COVID booster for kids aged 12-15.
"The European Centre for Disease Prevention and Control said in a separate report on Tuesday that findings so far suggest an increase of vaccine effectiveness against infection in adolescents who received a booster compared to adolescents who have recently completed the primary vaccination course."
Reinfections Among People With Previous COVID Were Rare Until Omicron: According to new UK data
---
Viewpoints
Open Everything: End COVID Restrictions: Yascha Mounk in The Atlantic
"At the beginning of the pandemic, we were too slow to adapt to changing circumstances. Now we are once again in danger of prolonging the status quo more than is justifiable. It is time to open everything."
"In many parts of the country, children and teachers continue to wear masks in the classroom. Exposure rules keep kids at home for days on end."
"None of these sacrifices is prohibitively onerous on its own. But some, such as the requirement for children to wear masks for much of the day, do significantly decrease the quality of life. And together they create a deep sense of societal malaise."
"Accepting restrictions that weaken our social ties when they seemed temporary was one thing. Putting up with them indefinitely is quite another."
"Some future COVID variant may prove much more dangerous than Omicron to the functioning of society. If a return to social-distancing measures should once again prove necessary, I'll be among the first to say so. But at this point, the restrictions still shaping everyday life in America have become unnecessary. It is time to draw the logical inference — and end our pandemic purgatory."
"Children should be allowed to take off their mask in school. We should get rid of measures such as deep cleaning that are purely performative. Politicians and public health officials should send the message that Americans should no longer limit their social activities, encouraging them to resume playdates and dinner parties without guilt."
Data Shows Potentially Historic Turnover Among Superintendents Since March 2020 and Dramatic Gender Gap: Via ILO Group:
Since March 2020, 186 (37%) of the 500 largest school districts in the country have undergone or are currently undergoing leadership changes.
154 (83%) of those 186 districts have completed their transitions and appointed a new superintendent. The other 32 districts have either appointed an interim superintendent or are in the process of finding a replacement.
In the 154 districts that have completed their transitions:

70% of newly appointed superintendents have been men.
The cumulative proportion of male leaders in these districts increased from 65% to 69%.
Of the 51 female superintendents who left during the pandemic, 39 (76%) were replaced by men. Of the districts where there are outgoing superintendents but no interim or permanent has been named, there are still two women who are outgoing, so this number could increase.
Rebalancing: Children First: New report from AEI-Brookings
"Since 2019, scholars at the American Enterprise Institute and the Brookings Institution have convened a working group of leading experts to study the challenges and opportunities facing children in America."
"The working group found significant agreement for the following proposals: supporting policies to strengthen and encourage marriage; increasing the generosity of the Earned Income Tax Credit — a proven pro-work and antipoverty program; making the Child Tax Credit available to households with no earnings; expanding the Supplemental Nutrition Assistance Program by 20 percent for families with children ages 5 and younger; and providing a broader system of support for child health and education."
Did Public Education Have It Coming?: Asks Checker Finn
"The inertia is profound. And yet, in many ways, the educational failures of the past several years were far worse than they needed to be because of longstanding characteristics of American public education. It's worth recounting three of those."
"The tendency to place employees' interests first. … As David Leonhardt wrote in the New York Times in early January, 'For the past two years … many communities in the U.S. have … tried to minimize the spread of COVID … rather than minimizing the damage that COVID does to society. They have accepted more harm to children in exchange for less harm to adults, often without acknowledging the dilemma or assessing which decisions lead to less overall harm.'"
"The disempowering of parents. … Some parents have been very cautious and want remote schooling or lots of quarantines or masks. Others are the opposite. But school systems, especially the big ones, haven't been able to figure out a way to allow parents to choose schools (and hybrids and pods and other delivery arrangements) that meet their comfort levels."
"The failure to innovate, including sluggish, clumsy deployment of the same technologies that have revolutionized the rest of our lives. … Education could have been 24/7 long before COVID-19 hit, available whenever and wherever one wanted to connect; it could have been year-round; it could have been move-at-your-own-speed and mastery-based; it could have diversified, flexible staffing arrangements; it could have 'just in time' curricular units; it could have been so different. Just imagine how it might have developed if Google, Tesla, Amazon or Apple were in charge instead of big, sluggish public-sector bureaucracies. Then imagine how much less painful would have been the plague-driven adaptations."
How to Use K-12 COVID Relief Funds Strategically: Education Resource Strategies released a set of tools to help districts, schools and states take on ESSER planning and implementation with a "Do Now, Build Toward" approach.
The Importance of Virtual Learning for Families and At-Risk Students: Via Julie Young and William Donovan.
Without Clear Rules, There's No Way to Judge How School Relief Funds Are Being Spent: Marguerite Roza in The 74.
Communities in Schools: Announced a "transformative" $133.5 million gift from philanthropist MacKenzie Scott. The 74 has some background on Communities in Schools.
Still Feeling Pandemic Miserable?: Alex Janin in the Wall Street Journal: "That exhaustion you are feeling is resilience fatigue. Here's how to handle it."
Decision Fatigue: KHN interviews Barry Schwartz, the author of one of my favorite books, The Paradox of Choice.

"Faced with a stream of difficult choices about health and safety during a global pandemic, Schwartz suggests, we may experience a unique kind of burnout that could deeply affect our brains and our mental health."
"When you overwhelm people with options, instead of liberating them, you paralyze them. They can't pull the trigger. Or, if they do pull the trigger, they are less satisfied, because it's so easy to imagine that some alternative that they didn't choose would have been better than the one they did."
"What the pandemic did for a lot of people is to take routine decisions and make them non-routine. And that puts a kind of pressure on us that accumulates over the course of the day, and then here comes tomorrow, and you're faced with them all again."
---
…And on a Reflective Note
Celebrating Becoming a Citizen: Just one day after being sworn in as a new U.S. citizen, a beloved custodian at an elementary school in Plainfield, Illinois, returned to work to find students and teachers lined the halls to celebrate his special milestone.
#ICYMI: SWEET SURPRISE! Just one day after being sworn in as a new U.S. citizen, a beloved custodian at an elementary school in Plainfield returned to work to a sweet surprise! Students and teachers lined the halls to celebrate his special milestone. https://t.co/4S3BRl4q2V pic.twitter.com/osovcIhl0U

— Vi Nguyen (@ViNguyen) February 2, 2022
---
ICYMI @The74
Weekend Reads: In case you missed them, our top five stories of the week:
For even more COVID policy and education news, subscribe to John Bailey's daily briefing via Substack.
Disclosure: John Bailey is an adviser to the Walton Family Foundation, which provides financial support to The 74.
Support The 74's year-end campaign. Make a tax-exempt donation now.