Vax Up, Masks Down: Maryland, Massachusetts Lead Effort to 'Off-Ramp' Face Coverings in School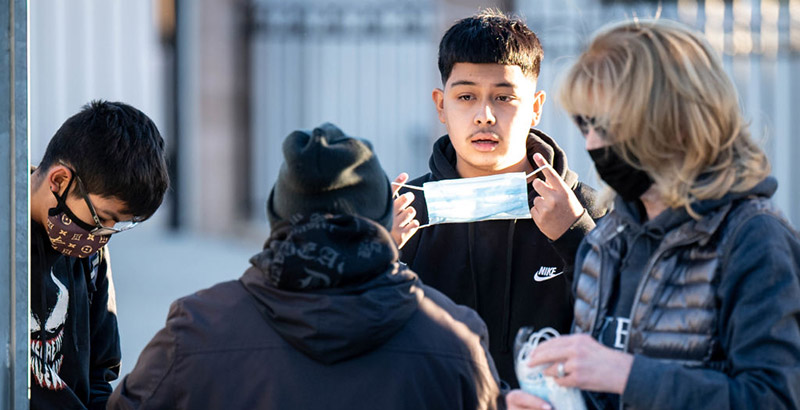 Support The 74's year-end campaign. Make a tax-exempt donation now.
Updated, Feb. 9
Massachusetts officials announced Wednesday morning that students and staff will no longer be required to wear face coverings in school starting Feb. 28, when the current statewide masking mandate expires. "With Massachusetts a national leader in vaccinating kids, combined with our robust testing programs, it is time to lift the mask mandate in schools and give students and staff a sense of normalcy after dealing with enormous challenges over the past two years," Gov. Charlie Baker said.
As Omicron cases recede in most areas of the country and K-12 debate turns to the contentious question of whether students should still be required to wear masks, two Democratic states have charted a middle path that offers highly immunized districts the option to scrap face coverings in school.
Massachusetts and Maryland allow districts to drop mask requirements if more than 80 percent of students and staff are fully vaccinated. In Maryland, school systems also wield the option to change their policies once the surrounding county surpasses 80 percent immunized, regardless of student and staff rates, or when community coronavirus transmission has remained low to moderate for two weeks straight.
"You cannot mask in perpetuity," Maryland State Superintendent Mohammed Choudhury told The 74. "You have to be able to have a responsible off-ramp."
A growing chorus of experts would agree. Scott Gottlieb, former Food and Drug Administration chief, said on Face the Nation Sunday he expected to see more governors lift mask mandates and that we have to "try to at least make sure that students in schools have some semblance of normalcy for this spring term." The Atlantic, The Washington Post and The New York Times all recently published columns to a similar effect. And five Bay Area medical professionals on Tuesday penned an op-ed with the provocative headline "We want all COVID restrictions in schools lifted. No, that's not radical."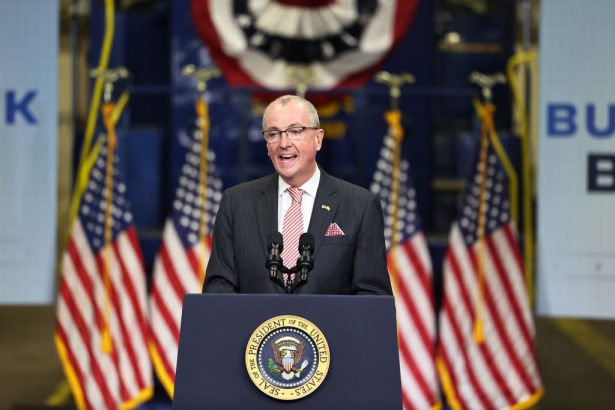 On Monday, New Jersey Gov. Phil Murphy, a Democrat who has enacted some of the strictest statewide COVID mitigation rules in the nation, announced the end of the state's K-12 face-covering mandate, allowing schools to go mask-optional starting March 7. Delaware Gov. John Carney also made a similar move, stipulating that his state's K-12 face-covering mandate would end March 31. And hours later, Connecticut Gov. Ned Lamont followed suit, announcing that the state's school mask mandate would be lifted Feb. 28.
"We can responsibly take the step given the continuing drop in new cases and hospitalizations from Omicron, and the continued growth in vaccinations," Murphy wrote on Twitter..
In New York, where the mandate was already in legal limbo, Gov. Kathy Hochul issued a split decision Wednesday. She announced that she was lifting the indoor masking requirement starting Thurs., Feb. 10 but would wait to make a call on face covering in school until early March, after students' winter break.
"This fight is not over. We're not surrendering, this is not disarmament," Hochul said.
Meanwhile, the Centers for Disease Control and Prevention said Tuesday that with COVID cases still high in parts of the country, its guidance on masking in schools remains unchanged.
As of Feb. 7, about 60 percent of the top 500 school districts required that students and staff wear masks in classrooms, according to the data service Burbio, which has tracked school policy through the pandemic. Face-covering rules still tend to fall along partisan lines, with Democratic districts mostly requiring masks and Republican districts mostly leaving the decision to parents. States such as Florida, Texas and, more recently, Virginia have moved to outlaw mask mandates in school, but have in many cases run into legal struggles.
But in deep blue Maryland, the state superintendent says that it may be time for schools to rethink their status quo, pointing out that not only have COVID vaccines been available to children 5 and up for months, but that even toddlers may now soon access shots.
When Choudhury set out to extend his state's K-12 masking order amid Omicron, he also sought to build in provisions "incentivizing the right set of behaviors to be able to tackle COVID-19," he said.
The state superintendent combed through safety guidelines from states across the country, ultimately pulling from models in Massachusetts and Nevada to allow districts to do away with mask rules when vaccinations are high or when case counts are low.
"We cannot miss this opportunity to return to normal when we have the tools at hand," Choudhury said. "Let's not let fear overcome the ability to come back to normal."
Howard County is the only Maryland county so far to surpass the 80 percent community vaccination threshold, according to state data, and Montgomery County, which has 209 schools and some 160,560 students, is just a few points away at 77 percent immunized. Yet with transmission rates still high in the wake of Omicron, Howard County Public Schools said that it is not yet ready to go mask-optional.
"While COVID cases are continuing to decline rapidly, we continue to have indoor masking in place," Brian Bassett, communications director for the 57,325-student district, wrote in an email to The 74. "We will continue to evaluate all our COVID mitigation strategies for the remainder of this school year and heading into next year and adjust as we're able."
The 80 percent vaccination threshold is what Benjamin Linas, professor of medicine at Boston University, and a team of researchers recommended as a marker at which schools could safely drop masks in a November paper that has not yet been peer reviewed. But that guidance was based on data from the Delta surge, he points out, not Omicron.
"With Omicron, if your goal is really to eliminate transmission, it's about more than just vaccination. It's about how much transmission there is," the Boston doctor told The 74.
That said, serious illness from Omicron in vaccinated individuals has been vanishingly rare, Linas added. His own thinking on the topic, he acknowledged, is shifting to a stance of: "We're going to have to accept that there might be some COVID (in school), and that's OK."
In Linas's Massachusetts, which implemented its mask-optional threshold in late September, at least 28 schools have sought and received permission to drop mask mandates after documenting that they had surpassed the 80 percent student and staff vaccination threshold, according to reporting from The Boston Globe. While the majority have not yet scrapped their policies due to Omicron fears, at least five took the plunge before mid-December and for the most part did not see large increases in COVID cases.
Seventy percent of youth at Hopkinton High School, the first school in the state to do away with universal face coverings, reported that the change in policy improved their school experience, while 8 percent said it made it worse, an early December student survey found. Students reported better class discussions as well as "contagious smiling." Research suggests that masks may hinder youngsters' language and speech development and interfere with emotional recognition for people of all ages.
But even if many students happily anticipate the end of mask requirements, policymakers will have to contend with widespread hesitation from another key constituency: parents.
A Chalkbeat analysis of over a dozen polls since the summer found that most parents wanted to keep kids covered up in school. The most recent survey, conducted in January for The New York Times, found that more than two-thirds of American adults supported universal masking for students to limit Omicron spread.
Teachers unions in major cities like Los Angeles, New York and Chicago have also influenced decisions on COVID mitigation in schools throughout the pandemic, and amid Omicron called for access to higher quality masks. Los Angeles Unified School District has taken the step of banning cloth face masks, instead requiring that students wear surgical masks or respirators like N95s or KN95s. The American Academy of Pediatrics and the Centers for Disease Control and Prevention continue to recommend universal K-12 masking, with a preference for non-cloth face coverings.

Linas acknowledges that pivoting away from universal masking may be understandably scary for many.
"It's not going to be obvious the day when it's safe to go to school without a mask," he said. "It's still going to be controversial and people are still going to protest it and be uncomfortable."
Yet, "'masks forever' is not a solution. 'Masks forever' is a problem," Linas believes. Given that, school leaders must identify benchmarks for when it's safe to drop face coverings.
Those benchmarks, said John Giardina, a PhD student at Harvard University and lead researcher on Linas's study using simulation modeling to predict transmission in classrooms, can work in two directions: Below the case rate threshold it's safe to drop masks and above it, it's time to reinstate mandates.
"[It] would be the same cutoff when masks might need to be added back on in response to a new wave or variant," he told The 74.
Maryland school districts that unmask after two weeks of mild community transmission are required to follow a similar protocol, re-activating their universal face-covering rules if COVID spread remains elevated for 14 straight days.
"There's an on-ramp at the transmission level," explained Choudhury.
In Massachusetts, case counts remain "way off-scale for where we want to be before we start taking off masks (in school)," said Jeremy Luban, professor of medicine at UMass Medical School, who isn't convinced that schools should be unmasking.
"But we're getting there," he added. "I think it'll be pretty soon."
Support The 74's year-end campaign. Make a tax-exempt donation now.