'The Difficult Work Begins': New Chicago Mayor Brandon Johnson Faces Enrollment Crisis, Pension Debt
After years of pushing, the Democratic Party's left flank has won over the nation's third-largest city.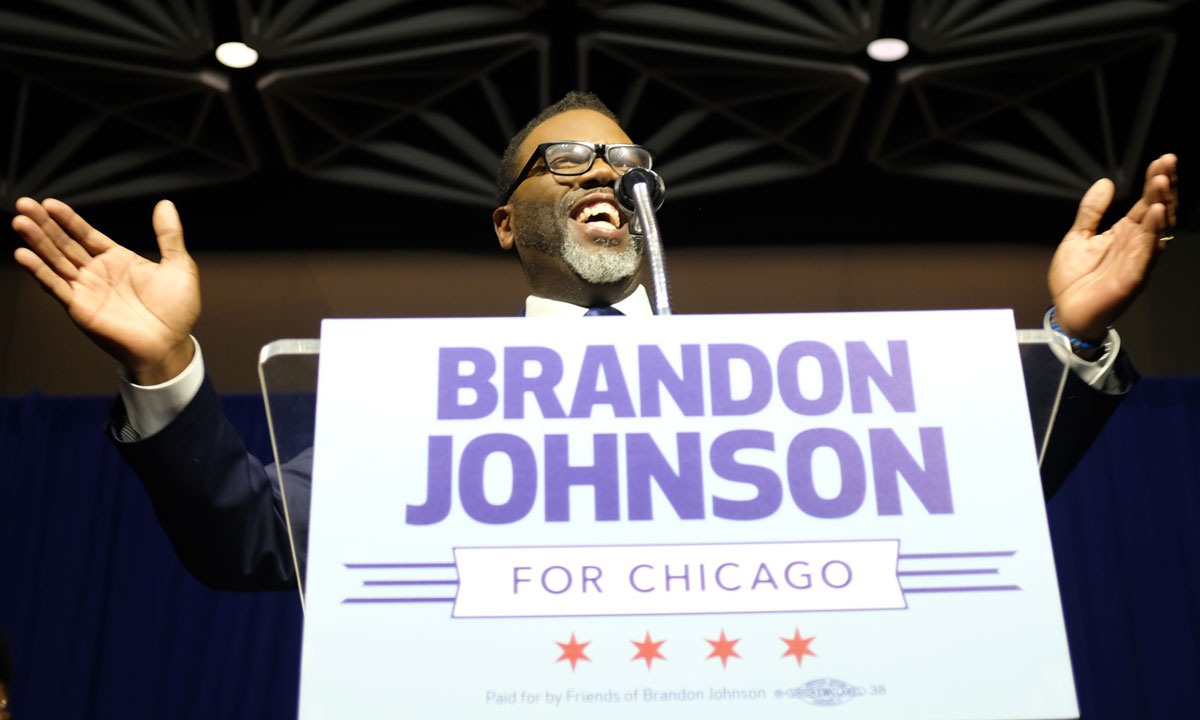 Support The 74's year-end campaign. Make a tax-exempt donation now.
In a generational breakthrough for organized labor and the Democratic Party's left flank, former teachers' union organizer Brandon Johnson was elected mayor of Chicago on Tuesday night.
The progressive Cook County commissioner was declared the winner over his moderate rival, former Chicago Public Schools CEO and school choice advocate Paul Vallas, with 91 percent of ballots counted on Election Night. The six-week runoff campaign, pitting a charismatic K–12 activist against a veteran education reformer, highlighted critical challenges facing the nation's fourth-largest school district.
It also appears to have been the city's closest election in living memory. Local officials will spend the coming days tallying mail-in ballots that are expected to pad Johnson's victory margin, but the candidates were separated by just 2.8 percent of the vote on Wednesday afternoon; by comparison, incumbent Mayor Lori Lightfoot enjoyed a nearly 50-point lead in her 2019 win.
Flanked by Chicago Teachers Union President Stacy Davis Gates, the mayor-elect addressed a crowd of ecstatic supporters after Vallas's concession.
"Make no mistake about it: Chicago is a union town," Johnson announced.
The results delivered an unmistakable triumph to a teachers' union movement that spent much of the last decade marshaling its influence within both the American education policy debate and the institutional levers of the Democratic Party. Even while absorbing setbacks in statehouses and the courts — most notably the Supreme Court's 2018 Janus v. AFSCME decision, which effectively ended public sector unions' powers to raise funds from non-members — educators have led successful drives to increase school funding and improve working conditions.
Brad Marianno, a professor of educational policy and leadership at the University of Nevada, Las Vegas, wrote in an email that Johnson's election was a "capstone victory" for the movement and added that other teachers' unions around the country were likely "taking notes" on the successes achieved in Chicago.
"CTU has been writing the progressive union playbook for a while and now has completed a new chapter on how to expand the reach of progressive teachers' unionism into the highest elected office in one of America's largest cities," he observed.
The race to become the city's next mayor was reset after a February primary that shockingly eliminated Lightfoot, whose popularity had dwindled after four years of often-truculent relations with the CTU and other local heavyweights. With no candidate finishing over 50 percent, Johnson and Vallas advanced to an ideologically supercharged second round.
While Johnson emerged from near-anonymity after Gates declined to make a run herself, Vallas has played a marquee role in Chicago's three-decade municipal drama over school governance. He was appointed to lead CPS in 1995, following years of chronic underperformance and a controversial district takeover spearheaded by then-Mayor Richard M. Daley. His tenure was marked by new academic offerings, tough accountability initiatives, and slowly climbing test scores.
While Vallas followed his six-year stint with similar postings in Philadelphia and New Orleans, Chicago Public Schools kept on the reform track under his successor, future U.S. Education Secretary Arne Duncan. The following decade-plus saw even greater academic gains, but also top-down decisions — including dozens of school closures in 2013 — that alienated families and provoked a teacher-led revolt.
Johnson, a former social studies teacher, became a protegee of then-CTU President Karen Lewis and eventually served as the organization's political director. After a turbulent decade that saw bitter negotiations with city leaders and prolonged work stoppages in 2012, 2019 and 2022, the union has succeeded in placing one of their own in City Hall.
American Federation of Teachers President Randi Weingarten, who rallied for Johnson in the race's closing weeks, said in a statement that his election represented a "transformational moment" in Chicago's education politics.
"On education, the contrast was clear: Johnson wants to ensure parents have a say, teachers can teach and students can learn, without the intrusion of those who measure their success by closing schools rather than strengthening them," Weingarten wrote.
Ironically, however, Johnson will inherit a mayor's office whose power over the district has begun to ebb as a result of the CTU's own success. Nearly three years of mayoral control will come to an end beginning next year, when the city will begin electing members of a 21-seat school board that the union lobbied for in Springfield. By the end of Johnson's first term, major decisions about school finance and policy will be substantially out of his hands.
Those decisions will be crucial to the future of Chicago Public Schools — particularly given an enrollment crisis that has seen the district shrink by more than 100,000 students since Vallas's days as CEO. The resultant decline in state funding, along with significant costs associated with spiraling pension debts, will impose an unenviable fiscal crunch on the next administration.
In just a year, Johnson faces the prospect of negotiations with none other than the CTU after their current contract expires. Although some have projected that the new mayor's close ties will ease future bargaining rounds — "Who better to deliver bad news to friends, than a friend?" Johnson himself has asked — he will also be faced with tough calls like whether to further downsize the district's under-enrolled school campuses.
Michael Hartney, a political scientist at Boston College who has closely studied teachers' unions and public administration, said that the CTU's organizing muscle had given Johnson a "clear advantage" on Tuesday. Now, he added, "the difficult work begins."
"Until the city's school system reverts to an elected school board, Johnson will need to decide whether to select a new school superintendent, and he may have to negotiate a contract with his former employer," Hartney said. "And while the mayor-elect is sure to be sympathetic to the union's priorities, certain fiscal realities loom large for the city's school system."
Support The 74's year-end campaign. Make a tax-exempt donation now.