Analysis: With Vallas and Johnson Headed for Runoff, How Teachers Union Politics Are Shaping the Chicago Mayor's Race
Union Report: It's ironic, that a union employee may become mayor just as control of Chicago's schools transitions back to an elected school board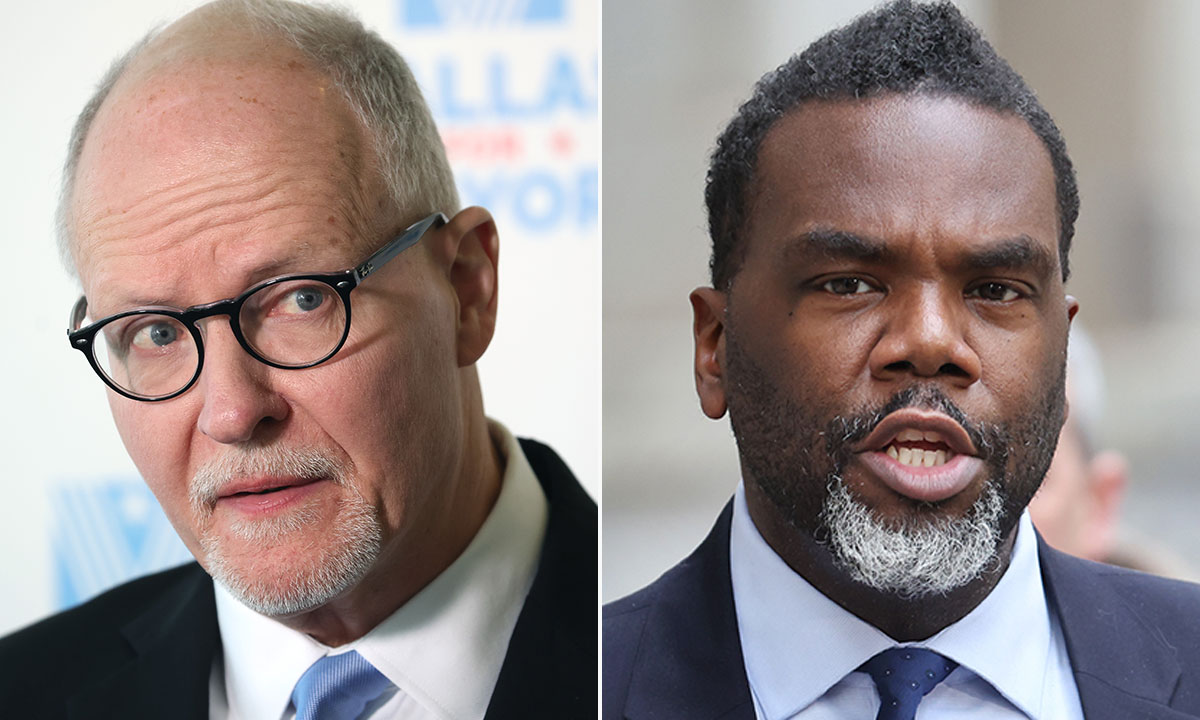 Get stories like these delivered straight to your inbox. Sign up for The 74 Newsletter
Chicago will have a new mayor this year, and the two runoff candidates couldn't be farther apart in virtually every way. They even held jobs on the opposite sides of the public school teacher bargaining table.
Paul Vallas was the CEO of Chicago Public Schools from 1995 to 2001, after the district had been placed under mayoral control. He is supported by the city's Fraternal Order of Police and business interests.
Brandon Johnson is a former middle school teacher who was hired as a Chicago Teachers Union organizer in 2011. He still holds that job and was elected as a Cook County commissioner in 2018 and 2022. The teachers union endorsed Johnson even before he announced his candidacy for mayor, and was the main source of his campaign finances in the first round of voting.
The runoff occurs on April 4, and we can expect four weeks of fireworks until then.
Vallas is a moderate Democrat who has directed school reforms not only in Chicago, but in subsequent positions as superintendent in Philadelphia, New Orleans, and Bridgeport, Connecticut. How this will play out in the campaign is best exemplified by a headline in the left-wing publication In These Times: "Incumbent Mayor Lori Lightfoot is out and voters now face a choice between former public school teacher Brandon Johnson and corporate education reformer Paul Vallas."
Johnson wasted no time attacking Vallas's record. "As head of the Chicago Public Schools, he ran the teachers' pension fund into the ground, closed neighborhood schools and punished students who were in need," he said. "After Hurricane Katrina, Paul went to New Orleans and privatized three quarters of the city's public schools, which caused the largest decline of Black educators. He left similar messes in Philadelphia, Connecticut and, of course, right here in Chicago. This is the truth about Paul Vallas."
The Chicago Sun-Times noted, "No CPS schools were closed while Vallas was in charge."
Johnson was carried into the runoff by a massive union effort. In addition to nearly $4 million in contributions from labor unions, he also benefited from an army of 1,000 paid union staffers and volunteers.
His dedication to the union was evident when he was asked to name one issue on which he disagrees with the Chicago Teachers Union.
"If you're asking me if I do not believe in public education, what kind of question is that?" he replied.
Johnson doesn't see any conflict of interest between being mayor and being a union employee. In an address at the 2018 American Federation of Teachers convention, he encouraged delegates to run for public office.
"Run, until there is an AFT member in every single level of government, from the city, to the county, to the state, to the White House," he said to loud applause.
The key to the race may end up having little to do with education. The focus of the electorate appears to be on the city's crime rate. Vallas's police backing helped propel him to the lead. But the endorsements of the failed candidates in the first round will go a long way in telling us whether the runoff will be close, or a blowout.
Mayor Lightfoot finished third, and her volatile relations with the Chicago Teachers Union make it unlikely she will support its candidate. She doesn't seem a good fit for Vallas, although Vallas did endorse her in 2019 after he lost in the first round.
Fourth-place finisher U.S. Rep. Chuy Garcia might lean Johnson's way, but he lost the teachers union's endorsement to Johnson this year after securing it during his failed mayoral campaign in 2015.
It would be ironic if a union employee captures the mayor's office just as control of the city's schools is transitioning back to an elected school board — something for which the union lobbied for years. Nevertheless, we will soon see if Chicago voters want to give the teachers union even more influence over the city's policies, and whether voters in other large cities will want to follow suit.
Mike Antonucci's Union Report appears most Wednesdays; see the full archive.
Get stories like these delivered straight to your inbox. Sign up for The 74 Newsletter