The 11 Best Education Articles from October: The Search for Missing Students, New Data About COVID Learning Loss and How to Reverse It, History Curriculum as an Election Wedge Issue & More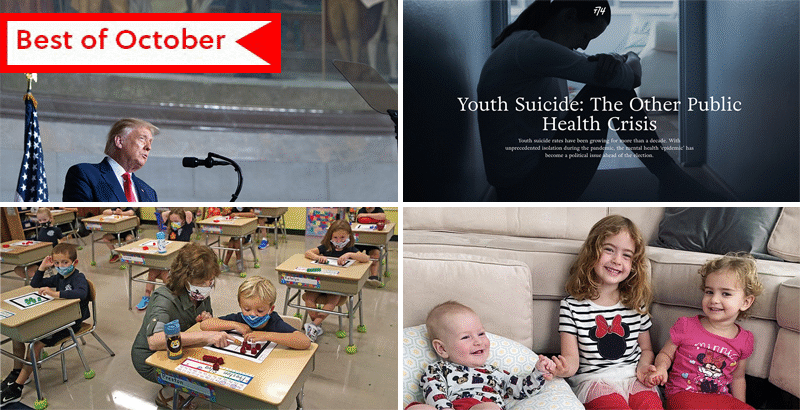 Every month, we round up our most popular and shared articles from the past four weeks. (Go deeper: See our top highlights from September, August and July right here)
As many cities and school districts across the country have announced plans for remote learning to extend through the fall, and likely into 2021, we've started taking a deeper look at the long-run consequences of kids being unable to return to the classroom. Several of our most popular articles this month attempt to better measure the impact: Hundreds of thousands of kindergarteners have yet to enroll in school, researchers estimate that many students may have already lost a year's worth of learning in math, and education experts are noting a widespread surge in families opting out of the public school system entirely to homeschool their children.
Simultaneously, our coverage has framed possible solutions for improving distance learning. One new feature this month examined emerging research that showed even lightly-trained individual tutors can make a profound difference when it comes to reversing learning loss; another profiled a school network that's launching a first-of-its-kind K-12 alumni initiative that will aid graduates in reconnecting with former classmates to aid them through this challenging time.
Here are our 11 most-shared articles from October; follow our ongoing coverage of the pandemic, school reopenings and concerns about student learning loss at The74Million.org/PANDEMIC. (You can also get alerts about our latest exclusives and analysis by signing up for The 74 Newsletter)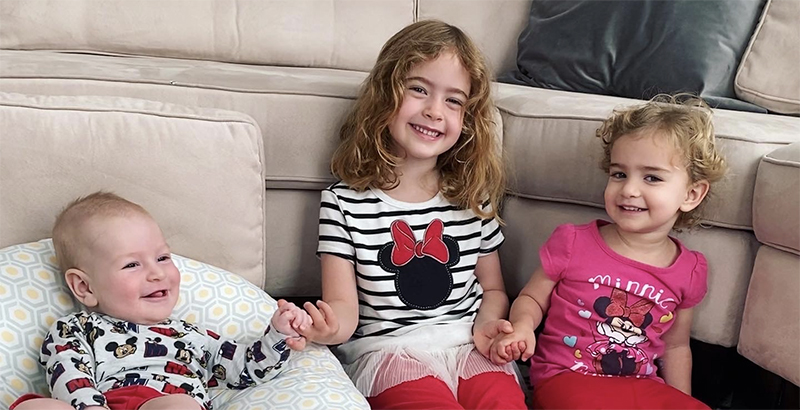 'Where Are the Rest of You?' With as Many as 600,000 Students Skipping Kindergarten During the Pandemic, Districts Plead With Parents Not to Delay
Early Education: "Where are the rest of you?" Superintendent Morcease Beasley of Georgia's Clayton County Public Schools asked last month in a live address to the school community, expressing his dismay that at least 600 students expected in kindergarten this fall had not yen enrolled. In the Los Angeles Unified School District, enrollment in kindergarten is down by almost 10 times that much, even though the district has made multiple attempts to remind parents to register. And some experts predict that nationally, as many as 600,000 5-year-olds might not begin school as scheduled. Those children include Ethan Pena, who would have been starting transitional kindergarten in California this fall but will now spend another year in preschool. "Every day he was like, 'I miss my friends. I miss circle time,'" said his mother, Nereida Pena. Linda Jacobson has the story.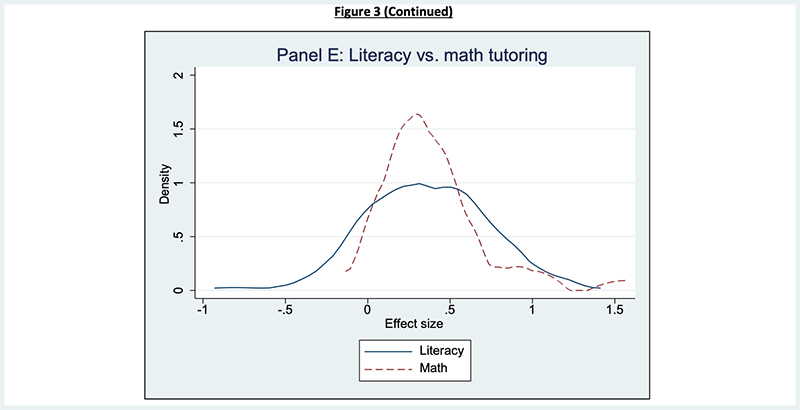 Using Tutors to Combat COVID Learning Loss: New Research Shows That Even Lightly Trained Volunteers Drive Academic Gains
Big Picture: Could tutoring hold the key to COVID learning recovery? With a return to full-time, in-person schooling still weeks away in some areas, families are searching for any solution to deal with their children's COVID-related learning losses. Now, a working paper circulated by the National Bureau of Economic Research suggests that tutoring programs — whether led by certified teachers, paraprofessionals, even parents — could play a significant role in getting students back on track. It's a strategy that has already been embraced by parents blessed with the money and bandwidth to create small-scale learning pods, but experts suggest that supplementary instruction could be scaled up dramatically through the use of lightly trained volunteers and virtual learning platforms. Still, both the cost and the organizational challenges of expanding tutoring are great. "The logistics of setting this up on the kind of scale we need to to address the problem is more complicated than we initially realized," co-author Philip Oreopoulos of the University of Toronto told The 74's Kevin Mahnken. Read the full article.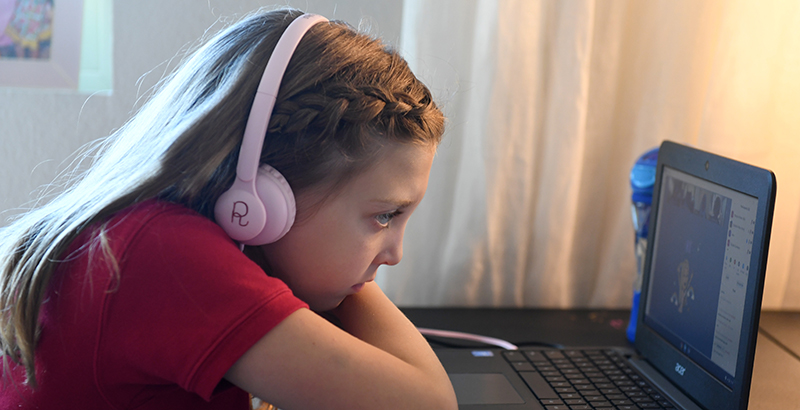 Students Could Have Lost as Much as 183 Days of Learning Time in Reading, 232 Days in Math During First Four Months of Largely Virtual Schooling
Learning Loss: A month into the school year, parents are beginning to question how far behind their children are because of closures last spring. New data from the Center for Research on Education Outcomes at Stanford University estimates that students could be as much as a year off track in reading and well more than a year behind in math. Without 2019-20 assessment data, experts said the results, while upsetting, fill an important gap. Recovery plans, the researchers stressed, will require new approaches across a variety of settings in which students are learning — at school, online, in community spaces and with their families. But others questioned the results, saying it might be a mistake to assume students haven't learned anything since March. The findings, they add, also shouldn't leave teachers and parents with the impression that they now have to double down on literacy and math. Linda Jacobson reports.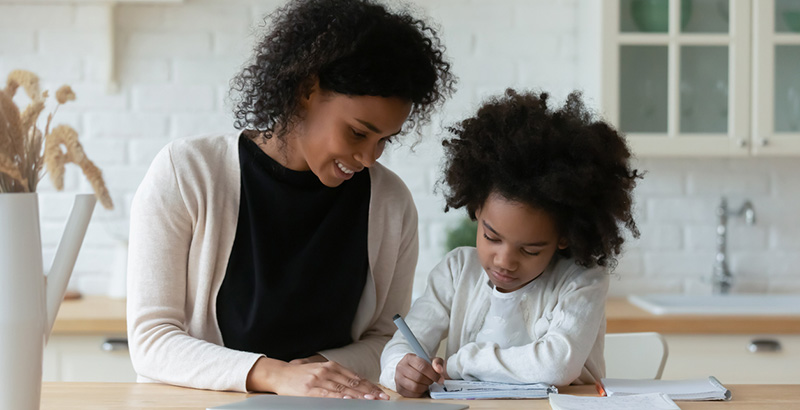 The Kids Are All Right at Home: Texas, North Carolina, Nebraska Seeing Signs of a Pandemic Homeschooling Boom
Homeschooling: Whether they're looking to avoid remote learning or COVID-19 exposure, families around the country appear to be homeschooling in increasing numbers this year. In San Antonio, one organization saw its "new to homeschool" information requests jump from about 20 per month to over 200 in August, and it's not just happening in the Lone Star State, where the Texas Home School Coalition reported a 1,500 percent uptick in families using its online withdrawal form in the days after the state announced its school reopening plans. Nebraska reports a 56 percent increase in families officially registering to homeschool, and North Carolina's numbers have tripled over last year's. Local support groups are hiring staff and increasing offerings to welcome families into their new reality, and their leaders predict that while some will go back to regular school once the pandemic passes, many will opt to continue. Bekah McNeel reports.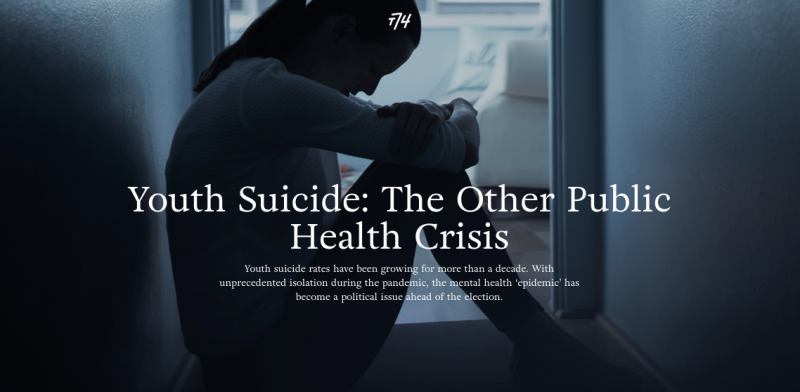 Youth Suicide: The Other Public Health Crisis
Student Health: Brad Hunstable believes his son died of the coronavirus — just not in the way one might expect. As COVID-19 shuttered schools nationwide and put students' social lives on pause, Hayden committed suicide just days before his 13th birthday. His father blames that pandemic-induced social isolation — and a fit of rage — for his son's death. Though the national youth suicide rate has been on the rise for years, students say the unprecedented disruption of the last few months has taken a toll on their emotional well-being. Researchers worry that a surge in depression and anxiety could drive a spike in youth suicide. Sandy Hook Promise, which runs an anonymous reporting tool, has seen a 12 percent increase in suicide-related reports since March. The issue has become a political football ahead of the election next month, with President Donald Trump — who tested positive for the virus late last week — and others citing rising rates of depression and suicide as reasons to relax COVID-19-related restrictions on in-person classes. Read more by The 74's Mark Keierleber.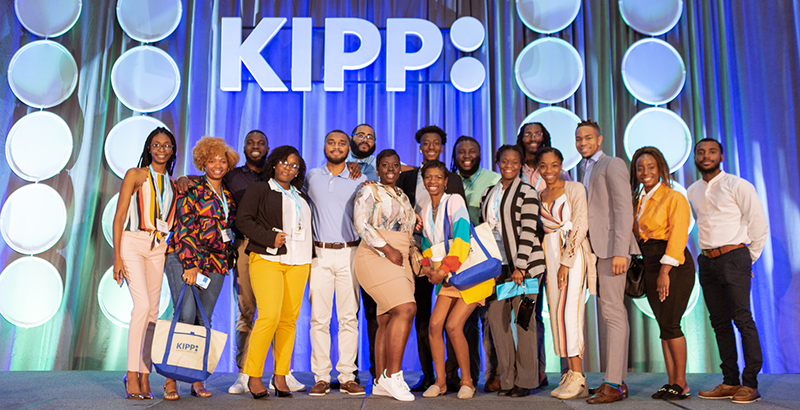 KIPP Launches First-Of-Its-Kind Alumni Network to Help Its 30K Graduates With Careers, Mental Health and Finances
College Persistence: The KIPP charter school network began in Houston in 1994 and has since grown to 255 schools serving more than 100,000 students across the country. During that time, some 30,000 students have graduated from the K-12 schools, which were created to ensure that low-income children of color got into college. As KIPP evolved over the years, its focus has shifted beyond college acceptance to graduation, and now, with today's announcement of the National KIPP Alumni Network, to life after college. The KIPP network will offer alum-to-alum support, as well as access to three external partners providing career guidance; job placement and coaching for historically underrepresented talent; and mental health services. Those services will be designed to assist alumni suffering from the impacts of COVID-19 and the fatal police shootings of Black men and women. 74 contributor and author Richard Whitmire reports that the network will give KIPP's first-generation college grads the kind of boost that their more well-off peers derive from well-established family and friend connections. KIPP expects its alumni ranks to swell to 80,000 by 2025. Read the full feature.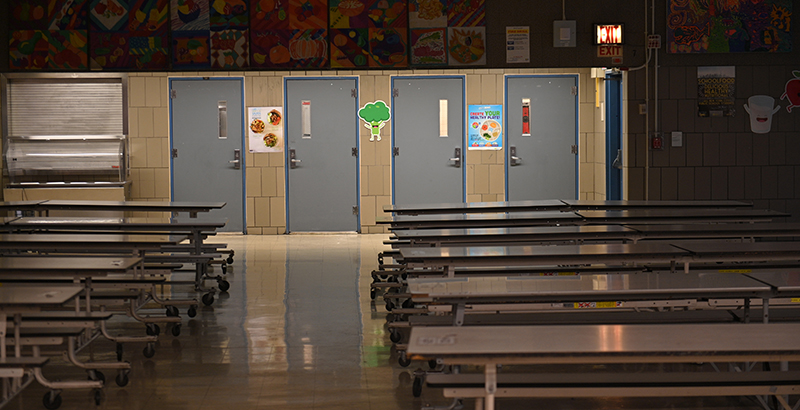 Shut Out of Schools Due to Pandemic, Many Education Researchers Say Their Work Is 'In Shambles
Education Research: While it may seem wonkish and esoteric to outsiders, the multi-million-dollar world of scholastic research would typically be humming in a school near you by now, quietly attempting to resolve many of the most vexing riddles in education: How do we close the achievement gap between white students and students of color? How do we isolate what makes teachers effective? How do we turn around chronically low-performing schools? But the pandemic has changed all that. As 74 contributor Greg Toppo reports, researchers find themselves closed out of the classrooms, and data, they need to do their jobs. Ongoing long-term studies "are now kind of in shambles," said Douglas Harris of Tulane University. But the crisis also offers researchers the opportunity to follow topics, such as online teaching and homeschooling, that got short shrift before the pandemic. "Anybody who's frustrated that their data collection protocol on one more study on [professional development] that none of us will trust is being disrupted, I think it shows just a profound failure of imagination," said Rick Hess of the American Enterprise Institute. Read the full article.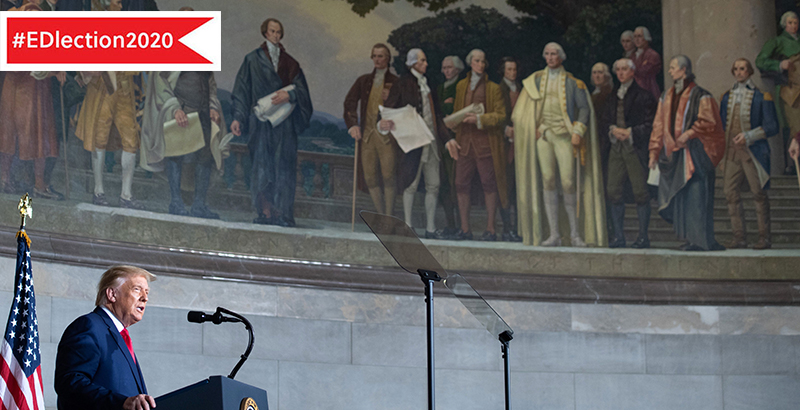 Race, Trump & History: Weeks Before Election, President Leaps Into Culture War Skirmish Over Teaching 1619 Project
EDlection 2020: When it was published last year, The New York Times's 1619 Project won almost immediate adulation. The blockbuster package — combining historical analysis, photography, fiction and poetry to examine the legacy of slavery and racial prejudice in the present-day United States — spawned a podcast and a history curriculum used in thousands of American classrooms, and won a Pulitzer Prize for Times journalist Nikole Hannah-Jones. But some historians say it overreached in its assessments and inaccurately depicted key events like the American Revolution, and the president soon joined in, folding the 1619 Project into a wider culture-war strategy to win reelection. Jonathan Zimmerman, a professor at the University of Pennsylvania, told The 74's Kevin Mahnken that while the controversy mirrors earlier disputes over American history in the classroom, our current tumultuous racial politics set this one apart: "There is something different about this moment." Read the full feature.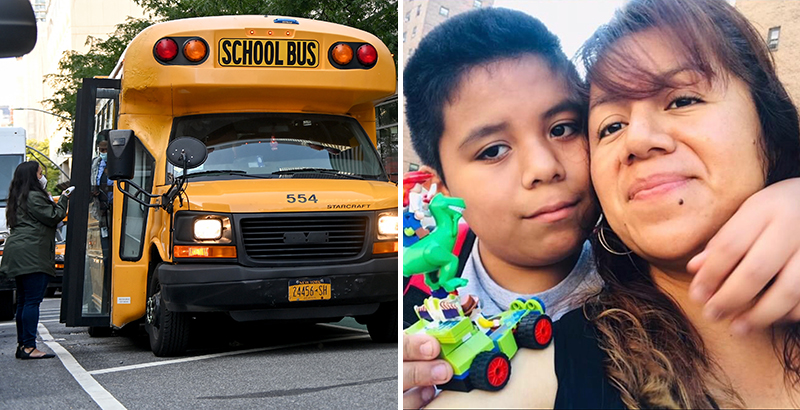 The First Day of School Came and Went for NYC Special Needs Students Stranded Without a Nurse or Other Adult Required to Ride the Bus With Them
New York City: Benjamín Miranda should have been among the first New York City public school students to return to in-person learning, but he couldn't board the bus to get there. Eleven-year-old Benjamín, who was supposed to start sixth grade, is a student in District 75, a network of 57 specialized schools serving some 25,000 NYC students with significant disabilities. Their reopening was prioritized by Mayor Bill de Blasio in recognition that special education students were among those most harmed when schools were shuttered by the pandemic, and that they remain among the most in need of in-person learning. But Benjamín's disabilities require that a paraprofessional ride the bus with him, and last Monday there was none to accompany him. That sent his mother, a single mom from Mexico who works two jobs, on a familiar quest to scale the obstacles standing between her son and his education. The 74's Zoë Kirsch spoke with her and with city advocates, who say other special ed students are also being left stranded without a "bus para" or "bus nurse" because of delayed planning and communication. "Buses are a priority for District 75," said one parent. "For most families — families in poor neighborhoods, parents working three jobs — busing is access. For a lot of parents, if the para or nurse doesn't show up, the child will be stuck at home." Read the full article.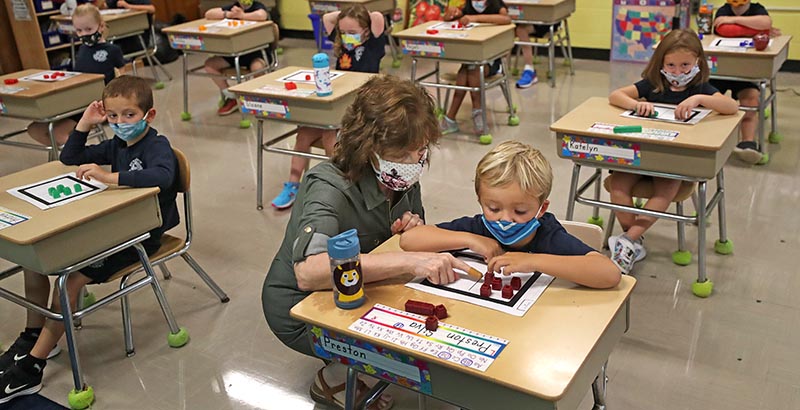 As Schools Impose Mask Rules to Slow Pandemic's Spread, Disability-Rights Advocates Caution Against Strict Enforcement
Special Education: Long before the pandemic closed schools, students with disabilities were subjected to harsh discipline far more frequently than their peers without special needs. But now, as districts return to in-person learning with a long list of public health rules like face mask mandates, disability-rights advocates fear the situation could become worse. In a new white paper, the National Center for Special Education in Charter Schools urges educators to commit to more progressive discipline approaches and eschew punitive measures, like suspensions, expulsions and seclusion. Schools should also be transparent with parents about new rules and expectations and recognize that many children are suffering from trauma because of the pandemic. "Given the disproportionate discipline of students with disabilities pre-pandemic, raising the bar on student expectations feels like a recipe for disaster," the paper argues. But there are creative workarounds — like using masks with fun designs and slowly getting special needs children accustomed to wearing them — that can keep schools safe while defusing disciplinary showdowns. Read more from The 74's Mark Keierleber.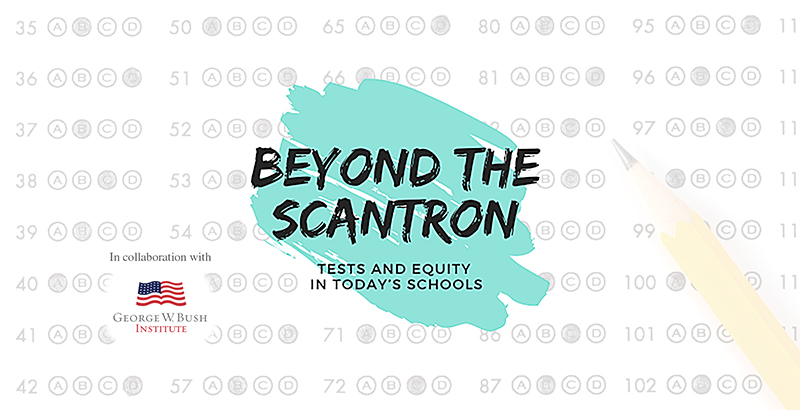 Beyond the Scantron: Inside Our New Series on Why We Test Students, How Testing Can Lead to More Equitable Schools Amid the Pandemic & the Push to Build Better Assessments
Accountability & Equity: The role of testing dominates many education policy conversations, from classroom practice to state accountability systems to college admissions. It's easy to get lost just thinking about the types of tests and the science behind their design. What makes an assessment high quality? What tests should be used for what purpose? Why do they matter — and to whom? And how has COVID-19 complicated it all? In a new three-week series, in partnership with the George W. Bush Institute, expert parents, educators, researchers and policymakers discuss how assessments are built, how they are used, how they can be improved and the critical role they play for students during the pandemic and beyond. Scan and share the full series at The74Million.org/BeyondTheScantron.
Support The 74's year-end campaign. Make a tax-exempt donation now.