Supreme Court Won't Hear Post-Trinity Lutheran Case, but Conservative Justices Anticipate Needing to Settle the Issue of State Support of Religious Organizations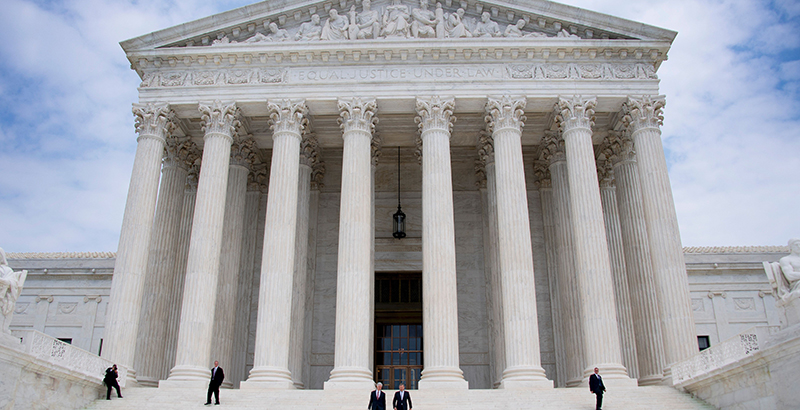 The Supreme Court decided not to hear two cases that could have expanded the scope of public support of religious organizations, but several members of the court's conservative wing took the opportunity to say that justices will have to settle the matter eventually — and it won't be a tough call.
Justices said Monday they will not hear the cases challenging a New Jersey court's ruling banning the inclusion of churches in a publicly funded historic building preservation program. The cases followed the high court's 2017 Trinity Lutheran decision, in which they ruled that a church-affiliated preschool could not be barred from receiving a playground resurfacing grant simply because of its religious association.
School choice advocates have watched post-Trinity Lutheran cases on public support of religious institutions closely, particularly as several cases regarding the legality of tax-credit scholarships and other private school choice programs progress through the courts.
According to advocates for separation of church and state, the decision not to take the New Jersey cases means the impact of the Trinity Lutheran case will be limited.
"The court's decision not to take this up signals that Trinity Lutheran will be construed narrowly," Annie Laurie Gaylor, co-president of the Freedom From Religion Foundation, told The 74. The foundation defended the ban in the two cases, one brought by local lawmakers and one by a church.
After the appointment of Justice Brett Kavanaugh, group's like Gaylor's have increasingly looked to state courts and constitutions to uphold bans on public funding of religious institutions, she said. (Kavanaugh, before his appointment to a lower federal court, worked to defend Florida's voucher program, for instance, and wrote a brief in support of student-led prayer at football games.)
"This will sort of solidify that strategy," and many state constitutions bar taxes from going to religious education, she added.
Advocates on the other side of the issue, who say that banning state support of religious institutions for secular purposes amounts to unconstitutional discrimination against religion, argue that a statement authored by Kavanaugh, included with the court's denial of the New Jersey cases, means the issue is far from settled.
Kavanaugh's statement "shows this issue is not going away," Eric Baxter, an attorney with the Becket Fund for Religious Liberty, said in an email. "The Court stated it is hesitant to take another case on this issue so soon after its Trinity Lutheran decision in 2017, but it has sent a strong signal that religious discrimination has no place in our society."
Kavanaugh, joined by Justices Samuel Alito and Neil Gorsuch, wrote that the court was right not to take the cases because the facts were not entirely clear, and there is an insufficient body of post-Trinity Lutheran case law.
At some point, however, the court will need to decide whether governments that distribute historic preservation funds may deny grants to religious organizations, Kavanaugh wrote.
This kind of case "should not be as difficult: Barring religious organizations because they are religious from a general historic preservation grants program is pure discrimination against religion," Kavanaugh wrote.
A ruling on this issue should follow the same logic as the Trinity Lutheran case, he added.
"In this case, New Jersey's 'No religious organizations need apply' for historic preservation grants appears similar to, for example, Missouri's 'No religious schools need apply' for school playground grants," he wrote.
The New Jersey cases are the second time this year the court has declined to hear a church-state separation case but in which conservative justices argued that the larger constitutional issues at play deserved further consideration.
In January, the court declined to hear the appeal of a Washington state high school football coach fired for praying after football games. The court was right to decline the case because the factual issues were not clear, but the issue of a school employee's free speech rights remained, Alito wrote in that case.
Get stories like these delivered straight to your inbox. Sign up for The 74 Newsletter