Supreme Court Won't Hear Case of Praying Football Coach, but Conservatives Open Door for New Challenge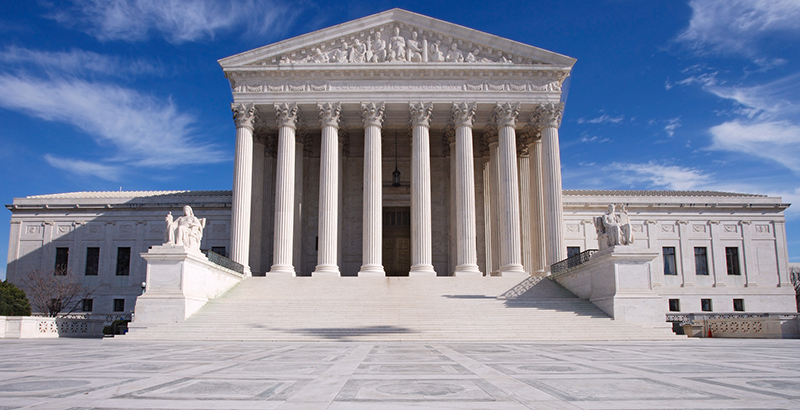 The Supreme Court announced Tuesday that it will not hear the case of a Washington state football coach who was fired for praying on the field after games — but seemed to open the door to further challenges seeking to expand educators' on-the-job religious rights.
Joseph Kennedy was fired from his coaching job at Bremerton High School in 2015 after ignoring a warning from school district officials not to pray on the 50-yard line after football games. Lower courts upheld the district's decision; Kennedy asked the Supreme Court to consider whether his firing amounted to a violation of his First Amendment free speech rights.
The decision not to hear the case "does not signify that the Court necessarily agrees with the decision … In this case, important unresolved factual questions would make it very difficult if not impossible at this stage to decide the free speech question," Justice Samuel A. Alito wrote in a statement joined by three of the court's other conservative justices.
Although the court declined to consider the free speech issue, Kennedy "still has live claims" under the First Amendment's free exercise of religion guarantee and the Civil Rights Act of 1964's ban on discrimination in employment on the basis of religion, Alito wrote.
The case "was rejected based on technicalities, but I don't think based on the argument," said Brett Geier, an assistant professor at Western Michigan University who studies legal issues surrounding religion and public schools.
"I have no doubt that they're just looking for the appropriate case" and that new justices Brett Kavanaugh and Neil Gorsuch, along with the conservatives already on the court, "will actively seek some case to return prayer in public schools, both for students as well as employees," he added.
The opinion is "an open invitation to squarely present the question" of whether to uphold a key precedent that allows employers to curtail employees' religious practices in certain instances, Douglas Laycock, a professor at the University of Virginia Law School, wrote in an email to a legal listserv that he shared with The 74.
Teachers' religious expression rights have been significantly curtailed in recent decades on the theory that such beliefs could inappropriately influence students, who may have different religious beliefs but are required by law to go to school, Geier said. In recent years, bans on teachers' religious exercise, including teacher-led prayer, have been expanded to football games, he added.
School district officials said that Kennedy was fired both because he was neglecting his duty to supervise football players and because his prayer could be seen as a school-endorsed religious activity.
Lower courts should have more precisely defined why Kennedy was fired, a question that would be key in a final decision, Alito wrote.
If Kennedy was fired for neglecting his duty at the time he was praying, "his free speech claim likely would fail," Alito wrote. But if Kennedy established that he was "not really on duty," or on duty but able to conduct other personal activities, like making a phone call home, at the time of the prayer, "his free speech claim would have far greater weight."
"Although petitioner's free speech claim may ultimately implicate important constitutional issues, we cannot reach those issues until the factual question of the likely reason for the school district's conduct is resolved," Alito wrote.
Alito went on to argue that the Ninth Circuit, generally believed to be the country's most liberal, took an overly broad view of a ban on teachers' and coaches' religious expression. If the court continues to wrongly apply precedents, "review by this court may be appropriate," Alito wrote.
It is notable that Chief Justice John Roberts did not join the opinion with the other conservatives, Laycock wrote.
"Maybe he doesn't agree; maybe he is just being prudent. Five calling for an invitation to overrule would be significantly different from four, and the lineup would highlight the partisan divide that he is trying to reduce. Time will presumably tell what he really thinks," he added.
Four of the court's nine justices must agree to hear a case.
Get stories like these delivered straight to your inbox. Sign up for The 74 Newsletter