Ed Tech Founder Sonny Thadani on Training All Frontline Workers at Schools to Aid Students Struggling With Mental Health
In a new 74 Interview, Robin CEO talks student mental health & how everyone from bus drivers to cafeteria workers can play a part in helping kids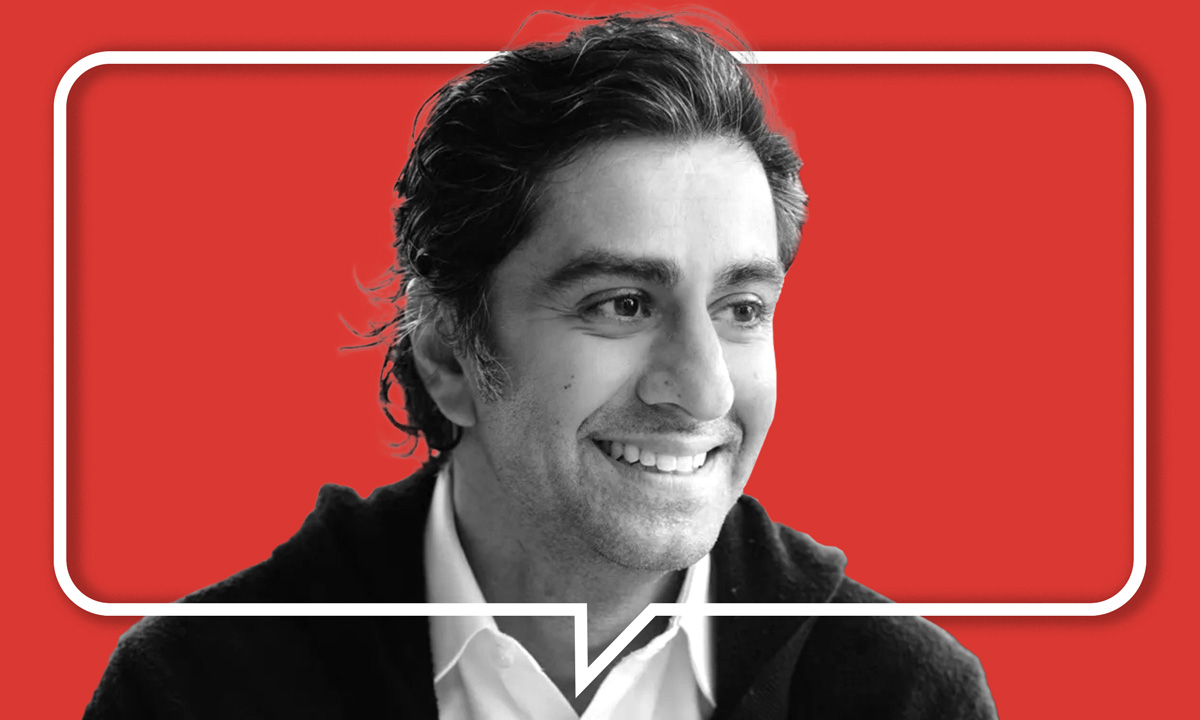 Get stories like these delivered straight to your inbox. Sign up for The 74 Newsletter
As the pandemic exacerbated mental health challenges for schools nationwide, Sonny Thadani realized students and teachers weren't the only ones in need of support.
As the co-founder of Robin, an educational technology startup focused on improving the mental health outcomes of school communities, Thadani expanded the coaching and curriculum offered to all frontline members — from bus drivers to cafeteria workers to sanitation staff.
"Part of Robin's platform is coaching, developing connections, building resilience and really understanding the skillsets you need to deal with life's challenges," Thadani told The 74. "So if we're going to do a great job with students, we have to do an unbelievable job with all the adults in their lives."
For Thadani, destigmatizing conversations around mental health hits home.
As a young parent, Thadani met a father from Newtown, Connecticut who opened up to him about losing his 7-year-old son in a school shooting.
That father was Mark Barden, the co-founder and CEO of the Sandy Hook Promise Action Fund, a nonprofit organization dedicated to preventing gun violence in schools.
Touched by Barden's passion to protect children, Thadani began volunteering for the organization — which later served as the catalyst for co-founding Robin.
"As I learned more about what they're doing, I took a look at how mental health has affected my own family and close friends," Thadani said. "I took that as a sign and inspiration to say I'm going to do something about it."
This interview has been edited for length and clarity.
The 74: I understand that your affiliation with Sandy Hook Promise played a large role in the creation of Robin. Walk me through how your volunteer work led to starting an educational technology startup.
I'm so proud and feel very fortunate to the team I met over at Sandy Hook Promise. It was a couple years ago and I just so happened to have a conversation with Mark Barden. I didn't really know who he was at that very moment, but later found out as he shared his story with me that he's not only a parent who lost his 7-year-old that day, but also happened to be one of the co-founders of Sandy Hook Promise.
We took a liking to each other and had a lovely conversation. He shared some of his goals, ambitions, and the story of that day with me. As a young parent at the time, it really shook me to my core. I asked him how I can help and he shared with me some of the things that I could do. So I became a Promise Leader and started helping them in any way I could from volunteering to fundraising.
A lot of people talk about the gun violence prevention policy work they do, which is absolutely incredible, but a bulk of what they do that really makes a large impact is the mental health programs for kids. They have two very well known programs called Start With Hello and Knowing the Signs. When I learned more about these programs, and talked to Mark and Nicole and the rest of the team, I thought wow this is incredible and I wish this was everywhere. We started talking about how much of a challenge it is to reach every school in America and get this program out there. Sandy Hook Promise is a nonprofit doing wonderful things but they only have so much reach.
As I learned more about what they're doing, I took a look at how mental health has affected my own family and close friends. I took that as a sign and inspiration to say I'm going to do something about it. What I've learned is that there aren't a lot of preventive and proactive programs out there that are making an impact. So that's just some of the genesis on why myself and Scott and now a larger team started Robin.
I understand that Robin extends resources to all frontline members of school communities, such as bus drivers, cafeteria workers and sanitation staff. Tell me more about this initiative.
As any young company, you can only do so much right out of the gates. We started creating this digital online curriculum for students starting with middle school and high school and then eventually elementary. As we were out there talking to principals and superintendents and counselors, I started learning that not only was there not much for educators but they also weren't really thinking about it in a more broad frame.
As we started to talk to more people, we realized, wait a minute, it's not just teachers who are interacting every day with students. It's the cafeteria worker, it's the bus driver, it's the crossing guard. If you think about it, the bus driver is the first person to see our kids and the last person to drop them off. They have the potential to set the tone for the day based on how they're doing.
With one school in upstate New York, we had the opportunity to talk to their leadership team at a conference. They talked about some of the challenges that their transportation team was facing. It's tough being a driver and having a group of students screaming or yelling or being rambunctious on the bus. In addition to administrators, unions and parents that can be challenging at times. Who's supporting and allowing them the space and opportunity to talk to someone? Part of Robin's platform is coaching, developing connections, building resilience and really understanding the skillsets you need to deal with life's challenges. So if we're going to do a great job with students, we have to do an unbelievable job with all the adults in their lives.
So we began this journey to support all frontline members starting with this one school in upstate New York who gave us the opportunity to talk to their transportation team. We did a six part coaching series with all 18 of them and asked them about the challenges they face in day-to-day work. I'm proud to report that after we finished, everybody retained their jobs, came back to school and walked in with their heads held high. This is something we're doing now all over the country, from upstate New York to South Carolina to our backyard here in New York City. We're supporting school communities and I think this is really critical in order to create something sustainable and have long-term impact.
Oftentimes these frontline members of school communities come from diverse and low-income backgrounds. How does Robin ensure the coaching and resources provided to them are not only accessible but also culturally relevant?
It starts with where the content and curriculum comes from. Robin comes from a diverse set of coaches, teachers, counselors and social workers that are not only mental health experts but are also from those communities and have worked in those schools we serve. The largest community we serve is in our backyard in New York City — the Bronx. A lot of students and families in the Bronx come from lower income communities. They also happen to be from Black and Brown communities where a lot of them don't speak English. So starting with some of the basics, we have all of our content up in Spanish with closed captions available. Especially for our older students, we make sure that when they see our content not only do they see someone that looks like them or has been through similar challenges, but also in a language they can understand.
The other thing that Robin does is really listen to the school communities we serve. No school is, of course, the same, even within New York City. The school down the street might have a separate set of challenges, opportunities and needs then the next. I think part of the reason schools are not only coming to us but coming back to us is because we are a reflection of who they are. And again, while we can't be everything to everyone, we are pulling from a lot of different types of communities and trying to really understand what those communities are asking for. In turn, we can address them with the right sets of curriculum or coaches that they not only want to hear from, but based on the data and some of our surveys and some of our processes, is the right fit for their particular community. So it's a little bit of a combination of using technology and data and good old fashioned listening skills to really understand the communities we serve and what they're particularly going through.
In the wake of the Nashville school shooting, what is something about gun violence prevention more school communities need to talk about?
I happened to be in Tennessee about an hour southeast of Nashville visiting one of the schools we work with when this occurred. So I'm with the superintendent of this district and we, of course, talked about it. There are signs out there for these particular students, whether they were posting on social media or showing signs that they were stressed or angry. These students or graduates had no outlet or connection and felt an element of loneliness. And again, these are all studies that have been proven and shown out there in terms of who decides to do these horrific things.
I think one thing schools all ought to do is understand what those things are so they could be on the lookout. How can we all be armed with information and knowledge on how to notice these signs and then know what to do? How do we get involved sooner and understand what the challenges or issues that a particular student or set of students are facing right now? I think all schools want to do that but they don't know how to do that. They're not trained, for example, to know the science. They're not trained in mental health first aid.
You bring up a valuable point in regards to mental health training. Tell me more about why it's important for school communities to destigmatize conversations around mental health.
When we heard back from schools, they're looking for this training. Not specifically training tailored to know how to identify a school shooter. That is very targeted and there are things out there for that. But how to better understand when you see a student of yours that might be going through a mental health challenge and how to help that student in the moment — from a simple panic attack to an anxiety attack. We do a course around test anxiety. March was SATs and ACTs in a large part of the country, and many students, and parents frankly, get really anxious and nervous.
There are things we could do to support them in advance of that. That's sort of the preventative nature of what we're talking about at Robin. How do we get ahead of these things because we don't know what life's challenges or what mental health challenges a student may or may not face. We do know that there are skill sets to put in place today at a young age, even starting in elementary school, that will give them the ability to use those skills if and when a challenge large or small arises.
How have conversations today around gun violence prevention and mental health shaped your own views on the matter?
I look at this from the lens of a parent first and foremost. That's my number one job and my number one responsibility. It's made me hyper aware of the possibility that this could happen anywhere and anytime. So what does that mean for young kids growing up? It means we need to make sure they're okay talking about it. My daughter came home, she's in second grade, and she had her first formal active shooter drill. For me, I'm 43 and I grew up in the 80s and 90s. We had fire drills and "stop, drop and roll" and how to evacuate the building and things of that nature. But our kids are only going to know this world. Having an open conversation with them as a parent so they can understand why we do these things is important. Whether I like to or want to, this is what we have to do.
It's also made me want to change this. Whether it's through Robin or through supporting Sandy Hook or through just me as an individual doing interviews and podcasts and having these conversations. I know people turn it into a political and divided commentary, but it shouldn't be. We don't have all the answers. I don't have the magic answer in my pocket right now. I have elements of the answer that I think will help, but we need a lot of people to come to the table from all walks of life to solve this. Because you can't tell me one person who doesn't want to solve it. We need to come to the table and realize that our kids are literally dying through suicide, gun violence and other medical and mental health issues that lead to some scary things.
Again, as a parent of young kids going through school for the next decade, this is something I always think about. I don't necessarily think about it daily or act like this is the last time I'll see my kids. But for the parents who lost their child, that's what happened to them.
For now, I'm so proud of this generation of students and leaders that are bringing this to the forefront of their schools, principals, superintendents and mental health clubs. I do believe this is changing because of the students in this generation that are raising their hands and saying we need to solve this problem.
Get stories like these delivered straight to your inbox. Sign up for The 74 Newsletter