Sandy Hook Promise CEO: Help Save Children From Gun Violence By Making the Promise This Week to 'Say Something'
This week, Sandy Hook Promise is asking that school communities make the commitment to protect children from gun violence.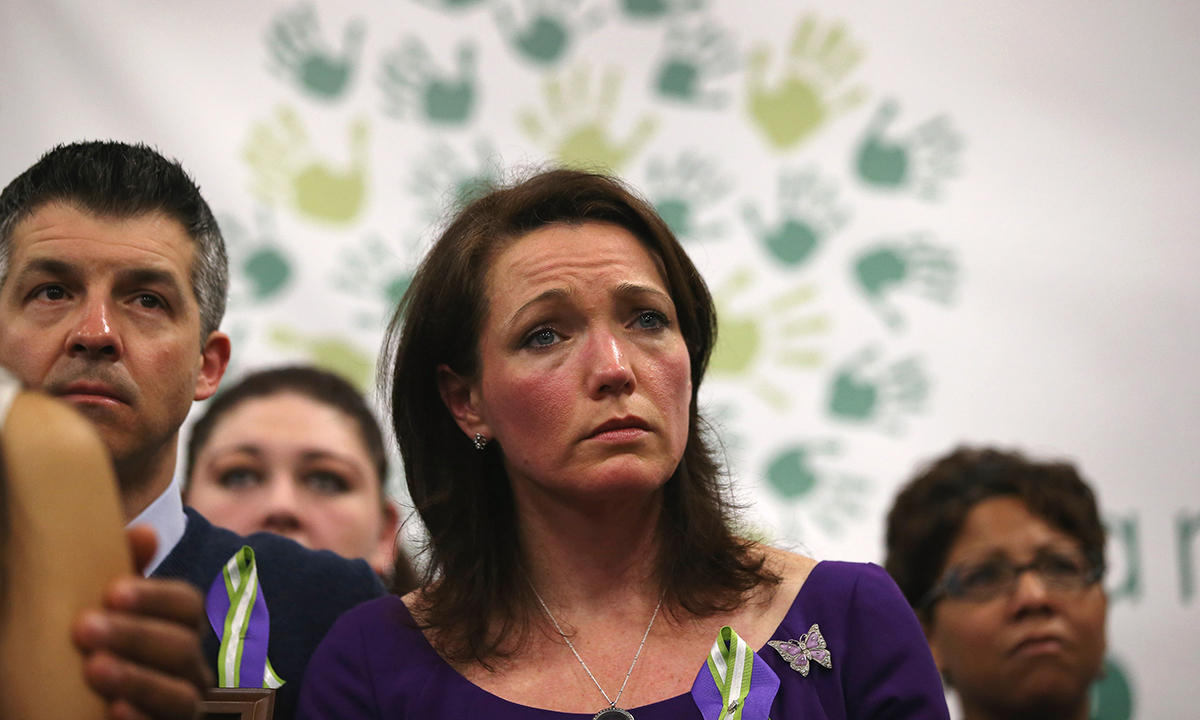 Get stories like these delivered straight to your inbox. Sign up for The 74 Newsletter
Ten years ago on December 14, 2012, my life forever changed. A troubled young man entered Sandy Hook Elementary School, and fired 154 bullets in less than five minutes. My six-year-old son Dylan was dead, alongside 19 other first-grade students and six educators.
Five minutes to take 26 innocent lives. Five minutes to tear apart families. Five minutes to traumatize a community and shock a nation. Five minutes to create irrevocable, lifelong pain — and ultimately, catalyze a movement to stop gun violence.
In the months following the tragedy, parents of Sandy Hook students worked to pass a gun violence prevention law in Congress. Despite our extensive efforts — from rallying the public to lobbying in Congress and at the White House, the proposed law failed. Rather than give up, we embarked on a new path, promoting a more holistic, education-based approach to ending school shootings and protecting kids from gun violence everywhere.
Sandy Hook Promise's national "Say Something" Week is in full swing now until March 17. We will do all we can to make 2023 the year that the escalating trends of violence in schools finally begins to reverse — but we're off to a bad start with seven shootings on school grounds already in 2023. Our annual rallying call for the American people to come together to prevent gun violence and save lives starts with you. This week, we're asking that school communities come together to talk about what the warning signs of potential violence are and when and how to get help. You can start by joining us in making the promise here to help protect children from senseless gun violence.
All of this is why we founded Sandy Hook Promise in the first place — to take a public health, evidence-informed approach to address the epidemic of gun violence, combining awareness of warning signs and education on how to effectively intervene and prevent gun violence.
After the Sandy Hook Elementary School shooting, authorities said the shooter demonstrated many of the warning signs that mass shooters often exhibit prior to an attack, like extreme social isolation, being excessively bullied, fascination with mass violence and unfettered access to firearms.
An analysis of every major school shooting by the U.S. Secret Service shows that, in nearly every case, students observed warning signs before an act of violence took place. We realized that we needed to figure out how to spread awareness of the warning signs and, even more importantly, to equip schools and communities with the knowledge and resources they need to take action.
So we developed Sandy Hook Promise's "Know the Signs" programs to train students and adults to know the signs of gun violence so that no parent experiences the tragic, preventable loss of their child as we did. They are available at no cost to schools, and the initial training can be delivered in a single class period. Since their development, more than 18 million students and educators have participated in the programs, which are proven to have effectively prevented at least 14 credible, planned attacks at schools — as accounted for by first-alerts to our National Crisis Center and later confirmed averted by district officials and local law enforcement. This has saved countless lives and communities from being affected by this public health epidemic, and we hope that with your help and commitment to spreading awareness of these programs, they will continue to do so for years to come.
A component of one of our Know the Signs programs is Sandy Hook Promise's "Say Something" Anonymous Reporting System. The National Crisis Center for the SS-ARS recently fielded a call about a student who made violent threats to carry out mass shootings in the elementary, middle, and high school. Our Crisis Center team worked through the night with school and other local officials to locate the student. After an assessment of the student's home and computer, police retrieved weapons and confirmed the threats were credible. The reported student was determined to be at risk of self-harm and a danger to themselves and others. That student was then taken to a hospital for a mental health evaluation and later taken into custody. From Florida to California, West Virginia to Ohio, we have witnessed similar interventions as an impact of our Know the Signs programs.
In addition to our proven programmatic approach, we also write and advocate for evidence-based, common sense school safety policies, working with elected officials on both sides of the aisle every step of the way. When our children were viciously murdered, we pledged that we would do whatever we could to prevent more children from being killed in schools, homes, and communities. Now, 10 years later, we have made great progress. We wrote and passed the STOP School Violence Act to further ensure that budget is never a barrier to preventing violence and suicide in our nation's schools. But there is so much more to do, so many more lives to be saved, and we cannot do it alone.We need your help. Make the promise this week to protect students and educators by joining with us to turn tragedy into permanent transformation. Make sure that you "know the signs" and take action to get help. Violence is not inevitable; it is preventable. But only if all of us work together to stop it.
Get stories like these delivered straight to your inbox. Sign up for The 74 Newsletter