Nashville Shooter Owned 7 Weapons, Was Being Treated for 'Emotional Disorder'
The violence wrought Monday inside an elementary school is Nashville's third mass shooting in six years.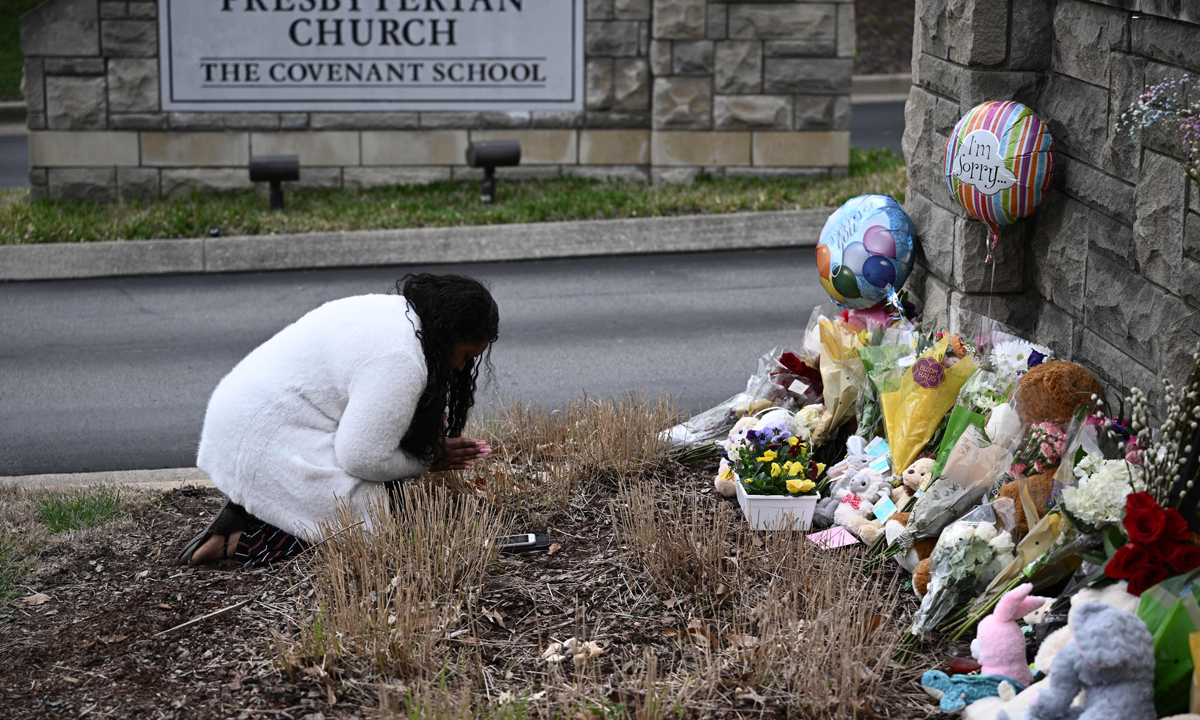 A day after an armed shooter stalked the hallways of The Covenant School in Nashville, killing three children and three adults, the investigation continues.
Among the victims were three 9-year-old children: Evelyn Dieckhaus, Hallie Scruggs, and William Kinney. The adults were Cynthia Peak, 61, a substitute teacher; Mike Hill, age 61, a custodian; and Covenant Head of Schools Katherine Koonce, 60.
The shooter was identified as a former student Audrey Elizabeth Hale, 28, killed by two of the Metro Nashville Police Officers who responded to the scene. Hale was armed with at least two assault rifles and a handgun, police said.
People gathered Monday night in vigils across the city to mourn the tragic losses, and more public gatherings are planned this week. President Joe Biden ordered U.S. flags at half staff until sunset on Friday.
The Tennessee Legislature paused floor debates after the shooting and reconvened Tuesday morning.
The Metro Nashville Police Department began releasing new details of the events, with more to come.
Police: Shooter legally bought seven weapons; had 'emotional disorder'
The shooter who killed three children and three adults at The Covenant School was "under a doctor's care for an emotional disorder," Nashville Police Chief John Drake said in a news conference Tuesday morning.
Drake said that 28-year-old Audrey Elizabeth Hale nevertheless purchased seven firearms legally from five different local gun stores; three of those weapons were used in the mass shooting Monday.
Drake said that Hale's parents were "under the impression" Hale owned a single firearm but sold it.
Hale's parents felt "she should not own a weapon," Drake said. "As it turns out, she had been hiding several weapons in the house."
And on Monday, when Hale left the family's home carrying a red bag, Hale's mother asked "what was in the bag," Drake said. Hale dismissed the question, and Hale's mother did not pursue it further. She didn't know Hale had any weapons at the time, he said.
"Again, she lost a child, so this is very traumatic," he said.
Drake said there is no known motive for the shooting yet. The students shot "were randomly targeted," according to police.
Drake also revealed more details about the shooting.
One of the victims, Covenant Head of Schools Katherine Koonce, 60, was found dead in a hallway, Drake said. Mike Hill, a 61-year-old custodian, is believed to have been shot through a door, Drake said.
Law enforcement officials were unaware of Hale before yesterday's shooting, he said.
"As it stands, we had absolutely no idea who this person was or that she even existed," Drake said.
Citywide vigil announced for Wednesday
Nashville Mayor John Cooper and Council Member Russ Pulley have announced plans for a candlelight vigil on Wednesday to honor victims and support survivors of The Covenant School shooting.
The citywide vigil will take place Wednesday at 5:30 p.m. outside City Hall at One Public Square Park.
Nashville Police release body cam footage
On Tuesday, Metro Police released body camera footage from officers Rex Engelbert and Michael Collazo, who killed the shooter inside Covenant School. We advise caution when viewing.
Monday marks Nashville's third mass shooting in six years
The violence wrought Monday inside an elementary school is Nashville's third mass shooting in six years.
In 2018, four people were killed when an armed gunman entered a south Nashville Waffle House restaurant in the early hours of a Sunday morning.
The victims were Joe Perez Jr., Taurean Sanderlin, Akilah Dasilva and DeEbony Groves.
Travis Reinking, the shooter, was sentenced to life in prison for the murders last year.
In 2017, an armed gunman opened fire at the Burnette Chapel Church of Christ in Nashville, killing one person and injuring six others who had gathered their for Sunday services.
The shooter, Emanuel Kidega Samson, was sentenced to life in prison in 2019.
On Monday, the Burnette Chapel Church of Christ posted a message of sorrow on Facebook.
Police release surveillance video
Police on Monday night released a portion of school surveillance video showing Hale driving a Honda Fit through the school's parking, past a playground of children on swing sets, before parking, shooting down a double door into the schools and roaming empty hallways.
Police reported that Hall fired through a window at arriving police officers. Two members of an officer team fired on Hale in a second-floor common area. Those officers were identified as Officer Rex Englebert, a four-year Metro Nashville Police Department veteran, and Officer Michael Collazo, a nine-year-veteran.
Police said they have also found writings from Hale, including a manifesto and detailed maps of the building housing the school, in searches of a home and car connected to Hale.
'Our community is heartbroken'
Late Monday, the school also released a statement expressing heartbreak and asking for privacy:
"Our community is heartbroken. We are grieving tremendous loss and are in shock coming out of the terror that shattered our school and church. We are focused on loving our students, our families, our faculty and staff, and beginning the process of healing.
"Law enforcement is conducting its investigation, and while we understand there is a lot of interest and there will be a lot of discussion about and speculation surrounding what happened, we will continue to prioritize the well-being of our community.
"We appreciate the outpouring of support we have received, and we are tremendously grateful to the first responders who acted quickly to protect our students, faculty and staff.
"We ask for privacy as our community grapples with this horrible tragedy — for our students, parents, faculty and staff."
Report: Shooter texted friend shortly before shooting
Channel 5 also reported late on Monday that the shooter had texted a former basketball teammate in the minutes before the shooting.
Tennessee Lookout is part of States Newsroom, a network of news bureaus supported by grants and a coalition of donors as a 501c(3) public charity. Tennessee Lookout maintains editorial independence. Contact Editor Holly McCall for questions: info@tennesseelookout.com. Follow Tennessee Lookout on Facebook and Twitter.
Support The 74's year-end campaign. Make a tax-exempt donation now.