Ohio COVID-19 Spike Blocks Cleveland's Hybrid Hopes For 'Academically Vulnerable' Students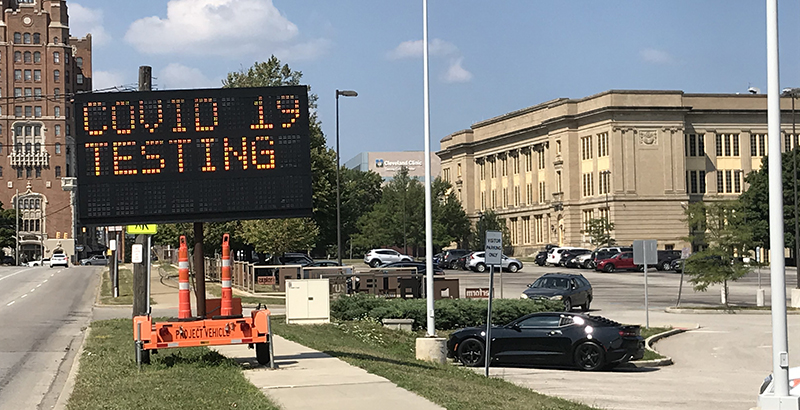 A dramatic spike in COVID-19 cases across Ohio has forced the Cleveland school district to scrap plans to bring its most "academically vulnerable" students back to school buildings next month, opting instead for online classes for all students until January at the earliest.
Cleveland on Friday joined a wave of urban school districts like Atlanta, Boston, Denver and Louisville, delaying or halting plans to bring students back to school, often in phases and often with neediest students first, because of a fall surge in COVID-19 cases.
Cleveland, which has been offering online-only classes all fall, had targeted the Nov. 9 start of the second grading quarter as a possible start of a "hybrid" mix of online and in-person classes.
Though district CEO Eric Gordon considered bringing early grades back first and leaving older students online, he focused in recent weeks on kids with special needs. He said Friday he had hoped for a phased re-opening next month for students with disabilities, English Language Learners who need extra support, seniors who are off-track for graduation and Career Technical Education students who need on-site training to earn career certifications.
Gordon said Friday that return would have been voluntary for students, who would have the option of sticking with online classes.
That plan would have been similar to other districts in the Chicago, San Antonio and Seattle areas, who have prioritized students with special needs, or the youngest ones.
But Ohio's record-breaking wave of COVID-19 cases halted those plans. Ohio has broken its record for new COVID-19 cases four times since Oct. 9, setting it higher and higher each time. Ohio's 2,234 new cases in a single day last week is now well over its summer peak of 1,733 and its spring peak of 1,380.
"What really is at stake is all the things we value," Ohio Gov. Mike DeWine said in a briefing last week. "It's not going to be whether I shut the state down or don't shut the state down…If the outbreak is so bad that you can't put teachers in a classroom, then you can't put students in the classroom [then] these kids will be learning remotely."
Cleveland's county, Cuyahoga, going from orange on Ohio's COVID risk rating system to red on Thursday convinced Gordon to change his plan. Schools will stay closed until after the holiday break.
Gordon had also hoped to allow some athletic teams to play against other schools in the district, but that plan is also delayed.
Gordon said he could revisit bringing some students back to school after the holidays if health conditions improve. But, there's only a short window – January 4 to January 22 – between the end of the holiday break and the end of the second quarter.
"I want to stress though that this will be solely dependent upon the public health data as the health and safety of our children, parents and caregivers, and our educators continues to be the Board of Education's and my top priority," Gordon added.
The plan still needs school board approval at its Oct. 27 meeting, but board members last week were cautious about any return to school, even before the county shifted from orange to red.
"Whatever we do, my concerns are the health and safety of students, family and staff," said Robert Heard, board's vice chairman.
Board member Sara Elaqad worried that if students returned to school, a rise in cases might force remote learning again and disrupt the year.
"That is a very real likelihood, especially as the temperatures change and people are indoors with each other more," she said last Tuesday. "I almost feel like it would be better to plan for a little bit longer remote time and be able to do it better and better."
Parents were also split on whether they were comfortable with students returning to school. Gordon said a district survey the first week of October, before the record COVID-19 case numbers were announced, showed that 68 percent of parents were not comfortable or only slightly comfortable sending students back.
The survey showed similar results among school staff, with 64 percent not comfortable or only slightly comfortable working in school buildings. Less than 20 percent were "extremely" or "quite" comfortable.
Gordon told the board that he did not want to set a plan that parents and staff wouldn't want to follow.
"People will vote with their feet," he said. "If we move to a hybrid model but nearly half of the kids don't come back, we will not be able to effectively service our kids."
Get stories like these delivered straight to your inbox. Sign up for The 74 Newsletter