Bringing Back The Neediest Students First: Cleveland Considers Joining Emerging Trend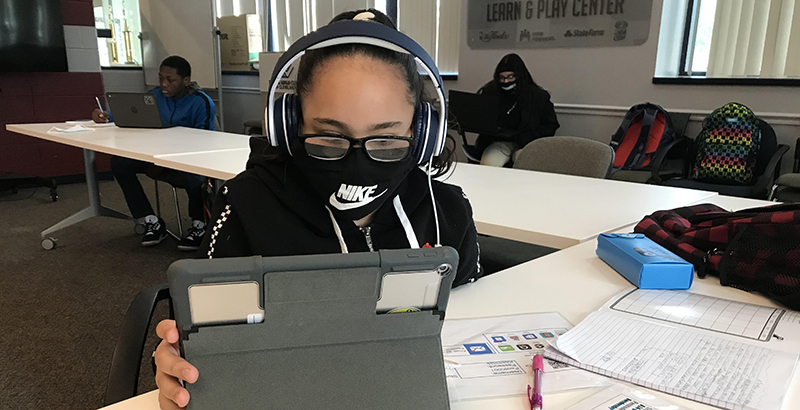 The Cleveland school district is considering joining the growing number of districts across the country bringing back just the youngest and neediest students when school buildings re-open.
District CEO Eric Gordon said he and his staff are debating limiting in-person learning to elementary students and those with special needs if schools are able to shift Nov. 9 to a "hybrid" plan — a mix of in-person and online classes. Whether any in-person classes resume, or if lessons remain online for the second quarter of the school year, depends on the city and county's COVID-19 case counts over the next few weeks.
High school students would keep taking classes online under that plan, which is similar to how districts in the Chicago, San Antonio and Seattle areas are phasing in a return to school.
"High school students largely can be much more independent." Gordon said. "Maybe we have office hours and such, class supports for science on a Monday and math supports on a Tuesday, things like that."
"Middle schoolers have a different kind of need," he added. "The youngest kids or kids with disabilities maybe need more time, so I imagine we're going to have a more differentiated approach to hybrid when we get there."
Though his full plan will not be released until Oct. 16, Gordon said parents should not assume every student would be in school two days a week and taking online classes the other days. A combination of health, technology and staffing concerns limit what the district can do, he said.
A major issue is how to have teachers present lessons both online and in-person. The Cleveland Teachers Union's objects to having teachers give lessons in the classroom but also broadcast them online to students at home.
"Hybrid worries me, and I know we have to figure it out," Gordon said during an online talk with the Cleveland Press Club late last week. He's concerned that if teachers split their time between teaching both online and in-person, the students working online will have less attention from teachers than when classes are just online.
"We're actively pushing this question around," he said. "I'm actually a bit concerned that hybrid could actually be a less productive learning environment for kids and educators if we don't really figure this out well."
Right now, he said, he and staff are leaning towards allowing students who need in-person classes the most to return, while keeping the others online.
Like most city school districts, all Cleveland students are taking their classes only online for the first nine weeks of the school year, after Gordon and the school board decided this summer that COVID-19 risks were too high to open schools.
But Cuyahoga County's COVID-19 case numbers have fallen and the state has upgraded the county from a red risk level to orange in its public health advisory system. That has the district looking at case numbers in detail to see if schools can reopen, at least partially.
Gordon said he is also watching to see if fall or the usual flu season creates a spike that would make reopening too dangerous.
The district also plans to survey parents next week to see what they prefer.
Several other challenges remain for the district to shift to a hybrid plan, a major one being who will teach the classes.
Some schools have separate teachers teaching online classes and in-person ones, but that can often mean having to hire new teachers. Schools can have students work independently on days they are not in the classroom, but that means students lose contact with teachers three days a week, one of Gordon's big concerns.
Or schools can have teachers livestream lessons from the classroom, a practice some call "concurrent" or "simultaneous" teaching, so students keep the same teacher and have some contact with the classroom on days they are not there.
But that approach has drawn criticism from teachers and parents in New York City and the Tampa area, among others, who say it puts too many demands on teachers and divides their attention.
The Cleveland Teachers Union opposes having teachers broadcast their classroom lessons too. Union President Shari Obrenski said asking teachers to teach to a classroom and camera at the same time, along with adjusting to new health restrictions, is too much.
"I can't even imagine trying to teach 12 students in front of me and then having another 12 students on the computer, particularly when you're dealing with all the health and safety protocols," Obrenski said. "It's an impossible situation. I would not be in favor of that at all."
While teachers in other districts are doing both at the same time, Obrenski said they are overburdened.
"I don't know how long teachers are going to be able to keep up that pace," she said. "What I'm hearing from colleagues around the country is it's an unsustainable pace."
Obrenski said she does not believe school WiFi systems can handle every teacher broadcasting a class, as well as students being online at the same time. And both she and Gordon said there's a shortage of webcams and it would be hard for the district to buy enough.
"It's just like every other computer technology," Gordon said. "You can't get it."
Gordon agreed that simultaneous teaching is "not a short-term solution," so he is weighing other ideas, like possibly pairing teachers up to share online and in-person duties.
He just cautions parents that any shift to hybrid won't be as simple as most have assumed.
"It's not, certainly, going to be as clean cut as it sounded in theory… in June or July when we were all thinking about what to do," he said.
Get stories like these delivered straight to your inbox. Sign up for The 74 Newsletter