Cleveland's 'Mastery' Hopes Fade as COVID-19 Surges and Classes Are Forced Online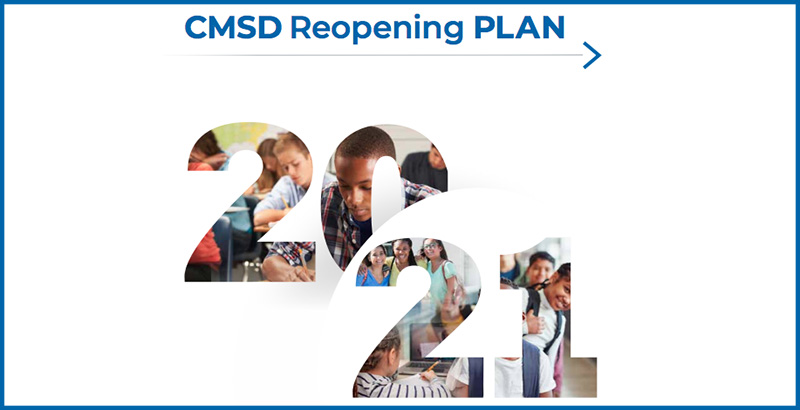 Cleveland schools CEO Eric Gordon hoped the turmoil of the pandemic could provide a chance to reinvent schools and bring "mastery" learning practices or a longer academic year to more schools in the district.
"How do we finally abandon longtime antiquated constructs, like the agrarian calendar or the notion of 'second grade' as a construct?" he asked during an online forum in May. "In an ideal world, we would finally move toward mastery being what we focus on."
But the pandemic has proved to offer anything but an "ideal world."
With the city seeing a spike in COVID-19 cases and the risks of reopening school changing by the day, the Cleveland schools last week gave up any hopes of returning to in-person classes to start this school year. It is joining cities such as Los Angeles, Atlanta and Houston that will start the school year online-only.
The district's restart plan released Friday calls for remote-only classes for all grades for the first nine weeks of the school year. The district will bring students back to classrooms part time or full time only if the pandemic eases in Cleveland and its county, Cuyahoga.
And the plan leaves out aspirations Gordon had floated in May, like possibly putting students in multi-age classrooms, having more students attend school year-round, or expanding "mastery" learning — a system in which students keep working on lessons until they learn them, not just move along with the whole class.
Gordon did not respond to questions from The 74 this week about whether he hopes to use these strategies when schools can resume in-person classes.
Cleveland Teachers Union President Shari Obrenski, who was part of preparing the plan, said those shifts were too much to take on because the district, teachers and parents must adapt to classes moving online.
"With everything that is going to be different and new, taking that to scale districtwide is something we can't do right now," she said.
Shifting to a "mastery" model would be a large task on its own, said Scott Looney, the head of the private Hawken School in Greater Cleveland and a national leader on mastery learning.
"Just managing the COVID response and the changes that brings right now is already a lot," said Looney, who is the founder and chairman of the Mastery Transcript Consortium, a national organization of schools aiming to skip traditional A-F grades and rate students on whether they have mastered different academic and social skills. "Delaying introducing mastery into new schools sounds like a prudent adjustment given all the pandemic-related work that has to happen."
As of last week, Gordon was unsure whether to start classes online or use a hybrid plan that would put students in classrooms two days per week and learn online the other three. But Cleveland has seen a resurgence of COVID cases since June, and the state has placed the county in the second-highest of four health risk tiers — one that indicates "very high exposure and spread" of the virus.
Teachers have also raised concerns about risks to themselves and family members if schools reopen, even partially. That has been a major issue across Ohio and nationally, with the American Federation of Teachers on Tuesday authorizing "safety strikes" if schools reopen without proper safety measures.
Then a phone and email survey by the district, with more than 3,000 families responding, found that 41 percent wanted online-only classes — the top preference out of three options. A quarter of families preferred the hybrid plan, and 34 percent wanted school to resume full time.
Though board members said last week they want students back in school, where teaching and learning work more smoothly than online, they said protecting health is more important.
"Academics is going to be a challenge," conceded Robert Heard, the board's vice chairman. "I realize that. We're just going to have to deal with that over the next year."
Gordon promises, however, that online lessons this fall, with some time to prepare, will improve over the ungraded enrichment plan with little new learning from the spring.
"The enrichment we provided during the emergency closure is insufficient," he said.
The district's 37-page plan centers on the criteria and logistics of teaching classes online, in the hybrid scenario or with students brought back to schools full time.
Highlights include:
Adding a "1 to 1" technology plan: Gordon has wanted every student to have their own internet device since 2012 but hasn't been able to make it happen until now. The new plan calls for every student to have a device — iPads for younger students and Chromebooks for older students.
The district says it distributed 16,000 devices to students in the spring, hoping to make sure each family had at least one. It will need more this fall, but Gordon has not said how many or when the district would buy or distribute them.
Internet access: The district will provide each student a portable hotspot if they need internet access, or connect them when possible to a new internet network being built by local nonprofit DigitalC.
Buying new online learning systems: Online learning this spring depended on what programs a teacher knew how to use, so students often had to use multiple ones. The district is fixing that now, adding two online systems to handle classes for the fall — Schoology for all students and Seesaw for preschool through sixth grade — and will train students and teachers how to use them.
Focused curriculum: Classes will focus on English, math, social studies and science, though Gordon told the board he is still sorting out how art and music classes could be taught online.
Returning to school: If the state safety ratings improve, PreK-2 students, English language learners and other special needs students could return to school four days a week, while other students return for two. If the region is rated at the lowest-risk level, in-person classes would resume full time.
But several key issues are still to be decided. There's no requirement for how often or for many hours teachers must interact with students online, what classes students must view on a schedule versus those recorded for viewing at any time, how many hours per day students should spend on classes, and whether the district will hold more students back after missing so many classes in the spring.
The district will grade students, Gordon said, after not grading fourth-quarter work in the spring.
Victor Ruiz, who heads Esperanza, a nonprofit providing academic and social support to Hispanic families, said he wants to see more details of how classes will work — both to understand what his high school daughter will see when school resumes and to make sure English language learners he works with have proper support.
"There seems to be too many unanswered questions this close to reopening," he said.
School board members also want to see clearer expectations than in the spring of what parents need to do to help their children and how often teachers should be contacting each student.
"We do have to step up with what we're doing if we're going remote," said board member Sara Elaqad. "Our students may learn a bit less, and hopefully we catch up on that later, but we have to be perhaps a bit more involved in their lives."
The district said it will be providing more details over the next few weeks, well before school resumes Sept. 8, three weeks after the district originally planned.
In the meantime, teachers will start training in Schoology and Seesaw, as well as in how to teach online during those three weeks.
Support The 74's year-end campaign. Make a tax-exempt donation now.