Buoyed by State GOP Takeover, Kentucky May Be Next School Choice Battleground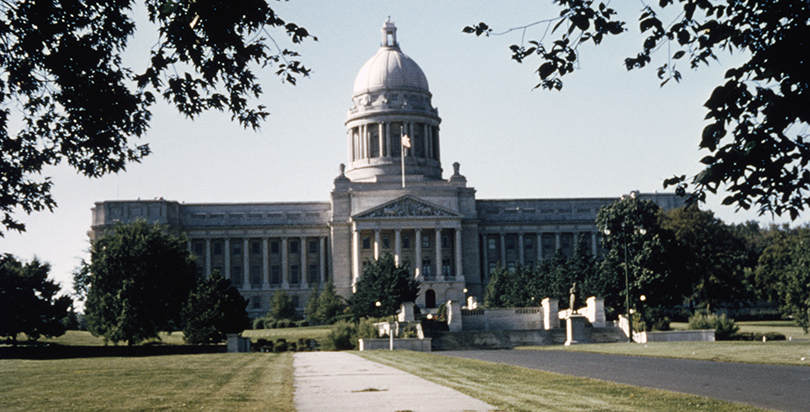 After winning a supermajority in the General Assembly in November, Kentucky Republicans are flexing their new political muscle with bills that propose introducing charter schools and creating a voucher-like $25 million tax credit scholarship program that would enable students to attend private schools.
The proposals are expected to get hearings between February 7, when the legislature reconvenes, and March 30, the end of its session.
School choice advocates rallied at the state capitol in Frankfort last week, led by Sen. Ralph Alvarado and Rep. John "Bam" Carney; recently, the Republican lawmakers introduced bills to the Senate and House, respectively, that would channel millions in taxpayer-funded donations through nonprofits, which would distribute the funds as private school scholarships for low-income students.
The proposals would also provide for families of students with disabilities seeking special services, who could receive anywhere from $5,000 to $10,000 for tuition at a private school or for services separate from a scholarship.
Unlike similar programs in other states, the proposal doesn't require that the public schools that students would seek to leave are low-performing.
Under the proposal, an estimated 7,143 students could receive scholarships of about $3,500 each, based on an analysis by the Indianapolis-based education reform group EDChoice, formerly the Friedman Foundation for Educational Choice. (These figures aren't included in the House and Senate bills or the legislature's financial impact statement.)
Andrew Vandiver, associate director for the Catholic Conference of Kentucky, part of the EdChoice KY coalition, said that if the bills passed, he expects two of the largest scholarship-granting organizations in the state — the Catholic Education Foundation and School Choice Scholarships — to expand their contributions to children enrolling in private schools.
"We do have the framework set up where we can get a scholarship tax credit program up and running," Vandiver said.
A financial impact statement on the proposal caps the total tax credit in the first year, 2018–19, at $25 million. Assuming legislators extend it, the credit could increase to as much as $95 million in the next five years, meaning the state would have to make up the lost tax revenue. Kentucky requires a supermajority vote to approve any proposal that affects the budget, as the tax credit program would.
Charter bills
Also at the Frankfort rally was Republican Rep. Phil Moffett, whose bill, introduced January 3, would allow for the creation of nonprofit charter schools statewide. The proposal would allow various entities — including local districts, universities and the mayors of Louisville and Lexington — to seek authorizing power by applying to the state Board of Education.
The bill doesn't put a limit on the number of charters that can be granted. It also would allow parents to petition to convert their local district school to a charter or an "opportunity school," which would be similarly unrestricted by most state regulations in exchange for improving student performance.
A separate bill, pre-filed December 9 by Sen. Gerald Neal, Democratic caucus chair, would create a five-year pilot program to allow school boards in Louisville and Lexington to authorize up to two charter schools per year, starting in 2018–19.
Kentucky is one of six states that does not have a law permitting charters, which are publicly funded but independently run. Previous attempts to pass a charter law failed in the state House when they were blocked by Democrats, who are largely allied with teachers unions.
Republican Gov. Matt Bevin, elected in 2015, supports charters, and his secretary for education, Hal Heiner, has been outspoken in support; at his request, the state's Board of Education met to discuss the issue, but it has not taken a definitive stance.
Education Commissioner Stephen Pruitt has said that charters are "one of the options districts can use to assist in the turnaround of low-performing schools, with the stipulation that local boards have charter authority with an appeal to the state board," an Education Department spokeswoman said.
State board member Mary Gwen Wheeler noted "enormous interest" in the charter school discussion, as evidenced by the many superintendents, community groups and others who attended the board's hours-long study session the Monday after Thanksgiving.
"This is the largest group of people who have ever come to a board meeting in my six years on the board," she said, according to the Courier-Journal. "Is it excitement? Is it fear? I think it's a little bit of both."
The debate expected in coming weeks could hinge on competing rural and urban priorities.
Matt Wyatt, of the anti–charter school coalition Save Our Schools Kentucky, says charters and vouchers could hurt smaller, more rural school systems by siphoning students and per-pupil funding from districts that are also often the largest employer in their counties.
"All you need is a few students [leaving] here or there, and it would affect us [smaller districts] financially," said Wyatt, who is chairman of the Board of Education of the 2,500-student Elizabethtown Independent School District.
The district in Elizabethtown, a small city south of Louisville, is the only one he knows of that has passed a resolution opposing charter schools, he said. But he and his colleagues are pressuring their representatives in and around the region to fight any charter or voucher proposals that may make their way out of committee and onto the floor this winter.
Carolyn Phenicie contributed reporting.
Support The 74's year-end campaign. Make a tax-exempt donation now.