New Data: 27 States Abandon Universal Masking in School, Representing 51% of U.S. Students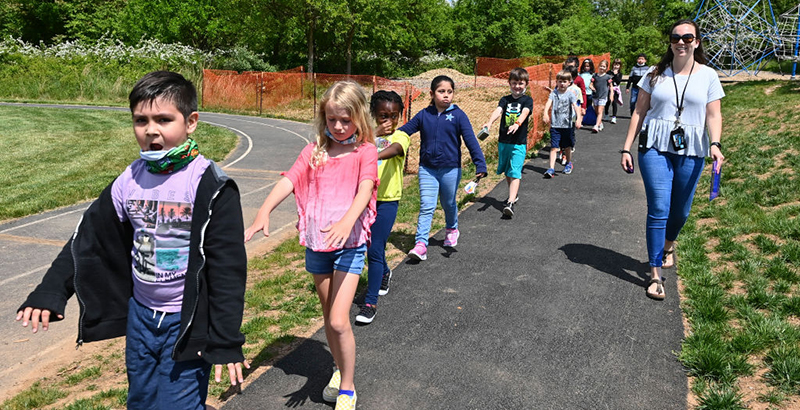 Get essential education news and commentary delivered straight to your inbox. Sign up here for The 74's daily newsletter.
As debates over masks in schools reach a fever pitch — with Texas, Iowa and Utah late last week banning face covering mandates outright — over half of all U.S. students now attend school in states that do not require universal masking in the classroom.
Four states have switched to a vaccine-contingent policy in which individuals can go maskless only if they have been immunized, 17 states have lifted mask mandates but allow local districts to set their own policies and six states have explicitly banned masking requirements.
Meanwhile 23 states, accounting for 49 percent of American learners, have maintained their requirement that all students and staff wear face coverings in school.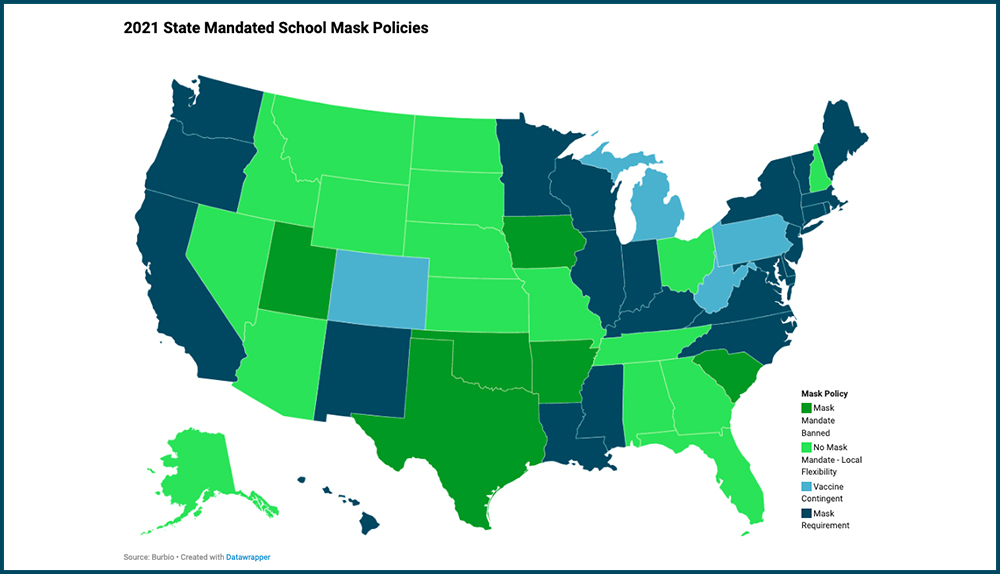 The new numbers were released Monday by Burbio, a website that has tracked school reopening policies throughout the pandemic. Except for a handful of states that never enacted school mask mandates at any point during the last year, the scrapping of face covering requirements has come almost exclusively in the past three weeks, said Burbio co-founder Dennis Roche.
"We don't have a record of any districts saying 'no need for masks' [before early May]," he told The 74.
The dramatic shift away from universal masking in school reflects broader changes across the country as neighbors, retail outlets, community organizations and many others struggle to navigate updated guidance from the Centers for Disease Control and Prevention. In mid-May, the federal agency revised its recommendations, stipulating that vaccinated individuals could forgo masks in most indoor settings.
The recent moves to do away with face coverings in schools, however, go against guidance from the CDC, which clarified that universal masking and physical distancing are still recommended in schools, even for vaccinated teachers and students.
"Our school guidance to complete the school year will not change," said CDC Director Dr. Rochelle P. Walensky on Fox News Sunday, adding that the federal agency will work this summer to update its COVID-19 school safety recommendations before the fall.
While 130 million Americans have been fully vaccinated against COVID-19, including over 2 million educators, youth aged 12 to 15 only recently received clearance for vaccines, and younger students likely will not gain eligibility until the end of the year.
Some 600,000 12- to 15-year-olds were immunized last week after being approved for shots the Wednesday prior. And overall, more than 4 million U.S. youth under 17 have been vaccinated, to date.
But while the race is on to inoculate young people, the vast majority have yet to receive shots. While 12- to 15-year-olds make up 5 percent of the total population, they make up only 0.9 percent of individuals with at least one vaccine dose. Sixteen and 17-year-olds, who have had access to vaccines for a longer period of time, represent 2.5 percent of the total population, but only 1.6 percent of immunized individuals. Many parents across the country remain reluctant to get their children — especially younger ones — vaccinated, with only 30 percent reporting that they would allow their children to get shots right away.
That means schools, at least for the time being, continue to serve large percentages of students lacking immunity to COVID-19.
In light of still-low youth vaccination rates, states' moves last week to drop masks in schools prompted Randi Weingarten, president of the 1.7 million-member American Federation of Teachers, to send a May 20 letter to Walensky and Education Secretary Miguel Cardona seeking clarification and guidance on 10 separate points related to COVID-19 school safety protocols for next school year.
"For those entrusted with the welfare of children — and those already navigating other aspects of recovery from this pandemic, including its effects on mental health, school readiness, and social and emotional well-being — any change or ambiguity in guidance triggers a significant impact on planning and classroom management," Weingarten writes.
On the other side of the issue, some parents expressed appreciation for the opportunity to send their kids to school bare-faced.
Teresa Ridenhour, a mother of two from Dripping Springs, Texas, 20 miles outside of Austin, told CNN that her children jumped for joy when they heard the news that schools in the Lone Star State would no longer require face coverings.
"I think we are to a point in this pandemic where everyone has to take control of their own health," Ridenhour said.
Meanwhile, the evidence continues to mount that mask-wearing is an effective measure to prevent spread of the virus. A study released Friday from the CDC found that infection rates were 37 percent lower in schools where teachers and staff members were required to wear masks (though the results weren't statistically significant due to wide variation). Better ventilation was also associated with large reductions in case numbers.
In contrast to states that have done away with mask mandates, New York City, the biggest school district in the country, announced Monday that all learners would return to schools in person next fall clad with face coverings and abiding by other COVID-19 safety protocols.
The decision, from a city that voted overwhelmingly Democratic in the 2020 presidential election, represents a political divide in masking policy that, in recent weeks, has only deepened.
"It's happened over and over again that there is this division in responses to COVID… [that] is highly correlated with the politics of the area," Brookings Institution Senior Fellow Jon Valant told The 74 last week. "The latest case of that may be these school-masking rules."
As schools were returning last fall, Valant's research found that districts' decisions about whether to open their doors to students for in-person learning were predicted not by rates of coronavirus spread in the community, but by the share of residents who had voted for Donald Trump in the 2016 election.
Bearing striking resemblance to the 2020 electoral maps, the states that have maintained their mask mandates in school are clustered on the West Coast, in the Northeast and in the Great Lakes region. New Hampshire, whose motto reads "Live Free or Die," is the one New England state to leave the decision on masking to local officials, while West Virginia, an early leader in vaccine rollout, has opted to make masking rules contingent on immunization status.
Four out of six states to ban mask mandates outright — Texas, Oklahoma, Arkansas and South Carolina — are in the conservative and heavily Republican South. And while Mississippi and Kentucky have yet to announce changes to classroom face covering policy this year, each state's governor has expressed plans to ditch masks in the fall.
Get stories like these delivered straight to your inbox. Sign up for The 74 Newsletter