New York City Will Not Offer Remote Learning in the Fall: Why Mayor De Blasio Says America's Largest School District Must Prioritize In-Person Learning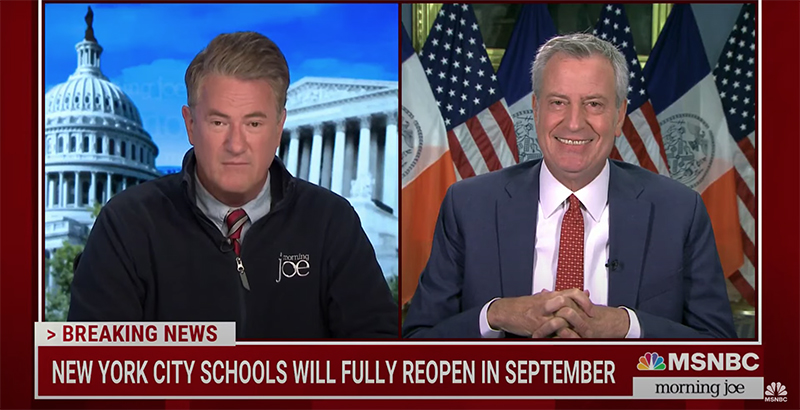 Get essential education news and commentary delivered straight to your inbox. Sign up here for The 74's daily newsletter.
In a surprise move Monday morning Mayor Bill De Blasio announced that New York City will offer no remote learning option for public school students in the fall, clearing the way for the return to in-person learning at America's largest school district come Sept. 13.
"One million kids will be back in their classroom in September — all in person, no remote," De Blasio said Monday on MSNBC's Morning Joe. "COVID is plummeting in this city I'm happy to say … it's just amazing, to see the forward motion right now [and] the recovery that's happening in NYC.
"But you can't have a full recovery without full-strength schools: Everyone back, sitting in those classrooms, kids learning again."
Watch his full Morning Joe segment:
Other key details, from De Blasio's announcement:
—Parent Hesitancy: To address and ease safety fears, parents will be able to visit their child's classrooms in June to see the safety measures being implemented.
—Distancing: De Blasio said he expects the Centers for Disease Control and Prevention to be soon adjusting the guidance on students requiring three feet of distance. (Though he also said the city's classrooms can accommodate that distance if required)
—Masks: In a later news briefing, Schools Chancellor Meisha Porter said face masks will still be required for all students come fall.
—Medical Exemptions: Porter also said there will be no "COVID-related accommodations" in the fall, suggesting all school staff will be required to come to campus to work.
Watch the full video from Monday's news briefing, featuring both Mayor De Blasio and Chancellor Porter:
Soon after the mayor's announcement, the city sent a mass text message to citizens indicating "All NYC public schools will be back full-time and in person in September with no remote option."
Chancellor Porter also distributed the below letter to all district families:
Support The 74's year-end campaign. Make a tax-exempt donation now.