Antonucci: Has Teachers Union Pressure on CDC Turned the Government's Best Scientific Guidelines into a Bargaining Chip?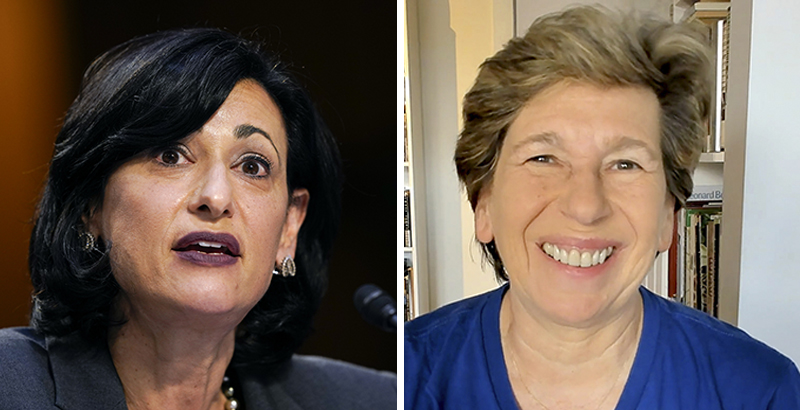 Mike Antonucci's Union Report appears most Wednesdays; see the full archive.
The New York Post this week published details of email exchanges between officials of the American Federation of Teachers and the Centers for Disease Control and Prevention regarding the CDC's school reopening guidelines, which were released in February. The emails were obtained by a conservative policy group through the Freedom of Information Act and provided to the Post.
"We were able to review a copy of the draft guidance document over the weekend and were able to provide some initial feedback to several staff this morning about possible ways to strengthen the document," wrote Kelly Trautner, AFT's senior director for health issues, in a Feb. 1 email cited by the Post. She referred to the union as the CDC's "thought partner."
At least two AFT recommendations were included nearly verbatim in the finished guidelines, according to the Post.
AFT President Randi Weingarten headed to Twitter with her reaction to the Post story.
"Once again the @NYPost has a hit piece out on AFT — this time that is trying to make everyday advocacy look nefarious," she wrote. "This article describes basic advocacy. It's not mysterious or clandestine. It's routine."
Once again the @NYPost has a hit piece out on AFT – this time that is trying to make everyday advocacy look nefarious. I'm not linking to the article, because they don't deserve clicks for this, but I do want to say a few things about it. pic.twitter.com/D8iG0e8eYD

— Randi Weingarten (@rweingarten) May 2, 2021
The problem is that it's routine.
In December, unions lobbied the CDC to prioritize access to COVID vaccines for public school employees. Weingarten had suggestions for the CDC on "how to decide which school districts have access first," according to U.S. News & World Report.
After President Joe Biden was inaugurated, the CDC began meeting with more than 70 organizations, including the two national teachers unions, as it drafted its school reopening guidelines. But when CDC Director Rochelle Walensky said during a briefing that vaccines were "not a prerequisite for safe reopening of schools," the White House immediately tried to walk it back, apparently for fear of alienating the unions.
Reason editor Matt Welch called this "stakeholder science."
"In a sign of how carefully the administration is tending to the many stakeholders, the CDC met with more than 70 organizations as they crafted the upcoming guidelines"

Looking forward to the new Stakeholder Science. https://t.co/R6JR4aqP15

— Matt Welch (@MattWelch) February 11, 2021
Weingarten wasn't always so supportive of efforts to influence the CDC. She often appeared in the media to criticize the Trump administration's interference in the center's policies.
"We know what will prevent a virus spread in a school, we've done a lot of research, and frankly the president trying to ignore research and science or trying to pressure the CDC to change that science is not OK with parents or with teachers," she said on NBC's Today show last summer.
She accused Trump in July of pressuring the CDC to "water down its guidance" and in December asserted that the CDC had actually done so due to his insistence.
Her faith in the CDC was restored when the negotiated February guidelines were released. "Today, the CDC met fear of the pandemic with facts and evidence," she stated in a press release. "For the first time since the start of this pandemic, we have a rigorous road map, based on science, that our members can use to fight for a safe reopening."
Her elation only lasted a few weeks, however, because the CDC soon decided that the 6-foot distancing rule was obsolete for classrooms and reduced the required separation to 3 feet.
Weingarten's reaction was immediate. "They are compromising the one enduring public health missive that we've gotten from the beginning of this pandemic in order to squeeze more kids into schools," she said. "I think that is problematic until we have real evidence in these harder-to-open places about what the effect is."
She sent a letter to Walensky and Secretary of Education Miguel Cardona. "We are not convinced that the evidence supports changing physical distancing requirements at this time," Weingarten wrote. "Our concern is that the cited studies do not identify the baseline mitigation strategies needed to support 3 feet of physical distancing."
In Reason, Welch listed some institutions that did not share Weingarten's doubts: "The American Academy of Pediatrics, the World Health Organization, UNICEF, Walensky herself (prior to joining the Biden administration), most of the 50 states, the vast majority of school districts in the industrialized world, plus one of the research teams whose work the CDC had erroneously sourced when formulating guidance for the agency's controversial February 12 recommendation to keep the 6-foot rule intact."
Weingarten ultimately reversed herself and accepted the 3-foot rule, then tried to explain why she had been reluctant.
"And so we said to the CDC, 'We want to read the studies before you change this.' And they did not release them until after they made the change," she said.
Sounds reasonable, except it is CDC policy not to release studies ahead of time. "Scientific documents (manuscripts, reports, guidelines, recommendations, etc.) are reviewed through a clearance process that captures discussions, deliberations, iterations, and approvals conducted prior to releasing information to the public," states the center's Guidance on Scientific Integrity.
Even after bowing to the inevitable, Weingarten was still apprehensive.
"Does it mean after you've gotten either your J. & J. shot or after you've gotten your double from Moderna or Pfizer, are you going to be safe in school right now for the rest of the semester?" she asked The New Yorker. "The answer I believe is yes, but I'm hedging right now because I don't think anybody knows what this means in a year from now, or six months from now. That's why I'm hesitant, because I'm not the scientist, you know?"
Weingarten is not a scientist, so her input on CDC guidelines should reflect her status as the president of a major American labor union and not as an expert on the relative health merits and risks of conducting in-person schooling.
One thing Weingarten has said cannot be denied. "Teachers and parents know that another year of purely remote learning would be catastrophic," she wrote in a USA Today editorial. Unfortunately, she wrote that in July 2020, and now, 10 months later, we are still far from getting all students back into classrooms.
The CDC has a "Pledge to the American People" on its website that includes its promise to "base all public health decisions on the highest-quality scientific data that is derived openly and objectively."
If that is actually the case, teachers unions should have no role in drafting CDC guidelines. Instead, they should be working hand-in-hand with school districts to implement the best science and health policies the CDC can generate.
If, instead, the CDC is a government agency susceptible to the ebb and flow of influence by politicians and interest groups of any stripe, the American people should know that, too, so they can assess CDC guidelines as the outcome of a collective bargaining process and treat them accordingly.
Get stories like these delivered straight to your inbox. Sign up for The 74 Newsletter