Midterm Postmortem: Was the Election a Repudiation of Ed Reform? Or Just a Sign That It's Going 'Under the Radar'?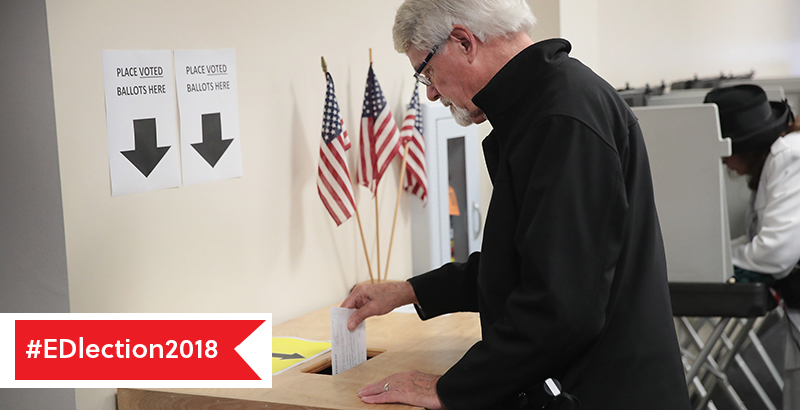 Education reform, at least its most contentious elements, didn't have a great night Tuesday.
In Arizona, nearly two-thirds of voters rejected a bid by lawmakers to provide education savings accounts to all students.
In Wisconsin, Gov. Scott Walker, a villain of teachers unions, lost his bid for a third term to state Superintendent Tony Evers, who wants to overturn limits on collective bargaining and the state's voucher program.
In Michigan, Gretchen Whitmer won the governor's contest pledging to "end the DeVos agenda in Michigan."
But are those losses truly caused by voters rejecting specific education reform proposals, or are they the collateral damage of other political trends, including a repudiation of President Trump?
Rick Hess, director of education policy studies at the conservative American Enterprise Institute, said that while very few people cited education as their top electoral concern, some of the results stand as a rejection of what he called "the hard-edged definitions of school reform."
"Voters showed, and policymakers showed, a massive distaste for a lot of where school reform has brought us," Hess said at a panel Wednesday.
An analysis he conducted this spring of gubernatorial primary candidates' education platforms, in fact, showed that most concentrated on a far more bipartisan issue: career and technical education. Few mentioned testing or accountability, and almost none did so positively.
There was a movement away from the reforms that have been "bitter and hostile and frustrating," he added. "Folks in the education space would be well served by taking a big deep breath."
Others, however, cautioned not to be too myopic about the importance of education. All elections are local, particularly when it comes to education, and to the extent the midterms were about any larger national themes, they centered on issues like health care and immigration.
And, in fairness, education reform did have some wins in the midterms, like Jared Polis's primary win for Colorado governor, when he fended off a union-backed candidate on his way to winning the general election Tuesday.
"I think we have to be careful not to over-interpret any of this in terms of education, because it was such a peripheral issue," said Mike Petrilli, president of the Thomas B. Fordham Institute, a conservative think tank.
Ed reform policies like tough standards and rigorous teacher evaluation, once considered more centrist and bipartisan, have lost some magic in our increasingly polarized political era.
"We are at a very low point in education policy. There hasn't been this little activity — sort of new, big ideas — for 20 years. I think that period started two years ago, and we're still in the middle of it, and there's just not an appetite," he said.
The bipartisan coalition that supported education reform through the George W. Bush and Barack Obama presidencies has weakened, said Tom Loveless, an education researcher formerly with the Brookings Institution. He blamed that faltering coalition on disappointing results.
"I do think we're at some kind of turning point, or we have already turned, and school reform does not have the same kind of political firepower that it had five, 10, 15 years ago," he said.
That distaste for, or disinterest in, education reform may have some real consequences.
The void of voter and policymaker interest in the middle leaves a "titanic battle at the top among the extremes," said Sandy Kress, a senior education policy adviser to President George W. Bush. With no center, the combatants are teachers unions and their allies on the left, and extreme anti-tax and government control advocates on the right, he said.
New Mexico has been one of the exemplars of education reform, with well-known state chiefs driving hard on issues like test-based teacher evaluations, A-F school grades, and rigorous standards. Voters Tuesday elected Democrat Michelle Lujan Grisham, who campaigned on overturning those reforms, particularly teacher evaluations.
What once was "one of the states that was really holding firm" to those initiatives now "seems very likely it will not be in that camp in two years' time," Hess said.
In Nevada, the Democratic sweep of state government, the first time the party has held the governor's mansion and state Assembly and Senate since 1992, almost assuredly means lawmakers won't move to find a new funding source for their universal education savings account program, and could jeopardize the future of its state takeover district.
Rather than pushing for more big reforms, education advocates should build on initiatives already in the works, like implementing the Common Core or improving charter quality, Petrilli said.
"We've got to wait. To some degree, we've got to hunker down and wait for the politics to hopefully return to normal," he said.
Several advocates interviewed said the lack of political attention may actually be a good thing, allowing the work to continue out of the political fray.
If voters care more about issues like health care, the economy, and LGBTQ rights, "if you can bring together a platform that does all those things as a Democrat, and education isn't the top issue, you may be able to go farther than you could have otherwise" on education reforms, said Charles Barone, chief policy officer at Democrats for Education Reform.
He pointed to candidates like Polis and Sen. Chris Murphy of Connecticut, who was easily re-elected Tuesday after pushing hard to put accountability provisions in the Every Student Succeeds Act.
Looking ahead, the results of this election could continue to impact whether and how campaigns deal with education in 2020.
Because white suburban voters were so key to Democrats' big wins, they'll be an important bloc in the 2020 presidential elections, said Joanne Weiss, former chief of staff to then-Education Secretary Arne Duncan. Those are the very voters who believe education is working and more reforms aren't needed, setting up a counterweight to the black and Latino voters who traditionally vote Democrat and care a great deal about the issues, she said.
"That means that education reform … issues are going to be problematic because they're going to play to black and Latino voters, but they're not going to play well to the suburban white voters," she said.
Trying to attract two groups of voters with competing priorities might mean the Democratic candidates for president just ignore it, she said: "It's probably going to make it so that education is just going to fly under the radar and not matter at all."
Support The 74's year-end campaign. Make a tax-exempt donation now.