EDlection2018: Democrat Gretchen Whitmer Is Elected Governor in Michigan, Opening the Door to Possible Charter Sector Reforms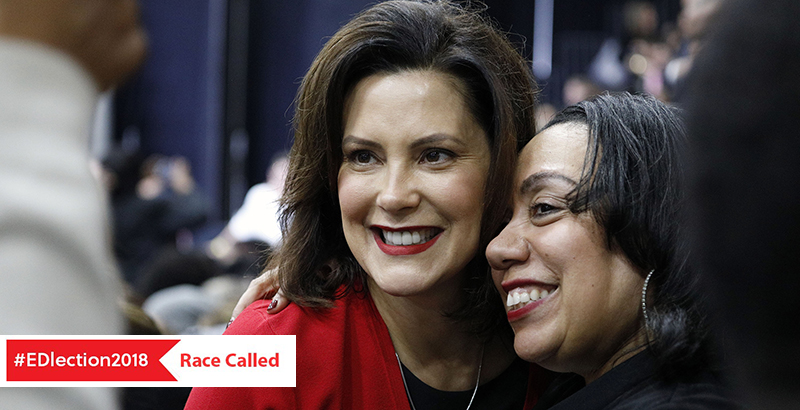 With 22 percent of districts reporting, the Associated Press has projected that Democrat Gretchen Whitmer will be the next governor of Michigan. The former state senator defeated Republican Attorney General Bill Schuette by a margin of 50-47 as of 10:06 p.m.
The race was considered one of the Democrats' best pickup opportunities this cycle. With incumbent Republican Gov. Rick Snyder suffering from low approval ratings following the Flint water crisis, and the state GOP divided over Schuette's staunchly conservative views, Whitmer had led in the polls for several weeks.
With her party controlling the governor's mansion for the first time since 2011, Whitmer will attempt to act on an ambitious education agenda. She has called for the establishment of universal, full-day preschool across the state, along with an overhaul of Michigan's education funding formula to send more dollars to educate at-risk students and English language learners.
That will be a challenge in a state where Republicans have historically held sway in the state legislature. Though both chambers were seen as potentially in play for Democrats this cycle, the state Senate, with its 27-11 Republican majority, would be extremely difficult to flip. Results were still pending early Wednesday morning.
A particularly tough battle will be joined over the question of charter schools, an object of debate in Michigan for decades. Education Secretary Betsy DeVos, a Michigan native, has spearheaded a costly effort to expand schools of choice in the state, which now boasts the highest percentage of for-profit charter schools in the country. Governor-elect Whitmer has pledged to halt the opening of new for-profit charters, gaining the support of the 140,000-member Michigan Education Association.
The race is just one of a host of elections in the Midwest that could make Democrats happy tonight. The party will also be watching contests in Wisconsin and Iowa, both of which flipped to Republican control during the Republican wave in 2010.
Let's get it done. pic.twitter.com/lmaPBOddXp

— Gretchen Whitmer (@gretchenwhitmer) November 7, 2018
Reached for comment Tuesday night, prominent local pollster Bernie Porn observed that Whitmer would likely set to work enacting her schools agenda.
"Based on [Whitmer's] promises and messages during the campaign, she will push the legislature to increase investments in education, at both the K-12 and higher education levels," he wrote in an email to The 74. "It looks like Democrats will also be in charge of the attorney general's office and secretary of state's office, giving Democrats control of the executive branch and the ability to implement policy changes promised during the campaign. What is unknown at this moment is whether Democrats will earn control of either chamber of the legislature."
EDlection2018: This is one of several dozen races we've analyzed for the 2018 midterms that could go on to influence state or federal education policy. Get the latest headlines delivered straight to your inbox; sign up for The 74 Newsletter.
Support The 74's year-end campaign. Make a tax-exempt donation now.