Reform-Aligned Jared Polis Wins Democratic Primary for Colorado Governor, Beating Union-Backed Candidate in Race That Focused on Education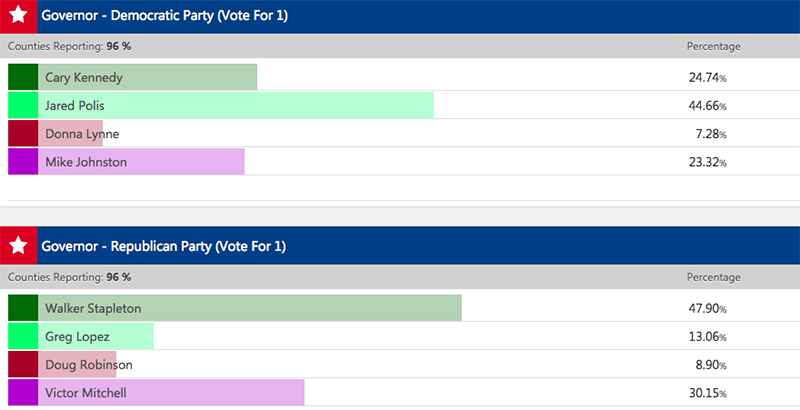 Rep. Jared Polis easily won the Democratic primary for Colorado governor Tuesday, besting the teachers-union-backed Cary Kennedy, a former state treasurer.
Polis, who won with 45 percent of the vote in a four-way race, will face Republican Walker Stapleton, the current state treasurer, in the general election in November. Stapleton got 48 percent of the GOP vote against three opponents. Independent handicappers have rated the race as "lean Democratic."
Colorado in recent years has been a model of progressive education reform, encouraging high-quality charter schools and launching teacher evaluations based in part on student test scores. Much of the Democratic primary had centered on that record, both as substantive issues and because education became the focus of negative campaigning in a contest where candidates had pledged to avoid it.
Kennedy, who got about 25 percent of the vote, and former state Sen. Mike Johnston, who had big financial backing from education reformers, endorsed Polis and urged the party to back him. Johnston took 23 percent of the vote, and Lt. Gov. Donna Lynne got 7 percent.
Though unions spent $2 million against Polis, they'll likely rally behind him, both because they tend to back Democrats and because Stapleton put forward a pension overhaul system unfavorable to teachers and suggested the compromise measure that did pass needs to be revisited, Chalkbeat Colorado reported.
There was little substantive space between the Democrats' positions on education, but Polis and Stapleton have vastly different priorities, with Stapleton pushing for expanded choice options and Polis for increased funding and more early education.
Polis and Stapleton Tuesday night quickly took aim at each other, already highlighting issues that will be central to the remainder of the campaign.
Polis accused Stapleton of coming out "on the wrong side" of issues like immigration and honesty. Stapleton embraced President Donald Trump's hard-line immigration policies, though his Republican rivals accused him of doing so only for political expediency, and the issue could hinder him in the general election, The Denver Post reported.
Stapleton, for his part, said Polis will "raise every tax and fee" he can find. Polis ran on platforms of full-day preschool and kindergarten for every child and single-payer, Medicare-for-all health care, both proposals that Colorado voters have rejected on ballot initiatives, the Post reported.
Unaffiliated voters, a plurality in Colorado, could cast ballots in primaries for the first time this year; as of Wednesday morning, with about 94 percent of counties reporting, there were about 15,000 more Democratic ballots cast than Republican.
Polis, the first gay parent to serve in Congress, would become the first openly gay person elected governor. A tech industry multimillionaire, Polis spent roughly $11 million of his own money to win the primary.
Get stories like these delivered straight to your inbox. Sign up for The 74 Newsletter