N.M. Ed Chief Hanna Skandera Leaves Office and Shares Tenure Highlights; Still 'a Lot of Work to Do'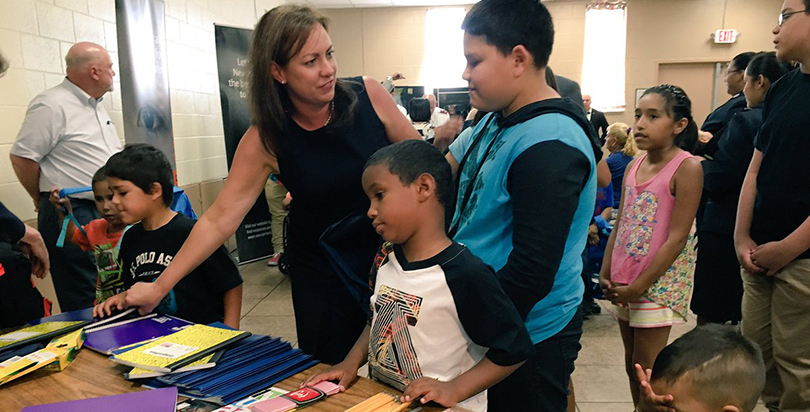 After 6½ years on the job, Hanna Skandera has some final reflections as she leaves her New Mexico Secretary of Education office for the last time Tuesday.
"This has been the most challenging and most rewarding profession I've ever had," she told The 74.
The acting New Mexico secretary of education will be Deputy Secretary Christopher Ruszkowski, Gov. Susana Martinez announced in a statement earlier this month. Ruszkowski used to teach middle school and worked for six years in the Delaware Department of Education under then-Gov. Jack Markell, a Democrat.
In an interview with The 74, Skandera shared why she felt now was the appropriate moment to step down: The state's plan under the Every Student Succeeds Act had been submitted, and New Mexico's student performance had improved significantly since the start of her time in office. Here are some of the accomplishments Skandera said she's most proud of:
Graduation rates — Although New Mexico's 2016 graduation rate of 71 percent is still below the national average of 83 percent, the state saw huge gains from 2011, when just 63 percent of high school seniors graduated on time. "I want to be clear, even though the graduation rate improved, we still have work to do, a lot of work to do," Skandera said. "But I believe teachers and students across the state are owning the work."
High expectations — Skandera has set rigorous standards for New Mexico students, a move that has been praised and criticized. But she's certainly seen results, with a 17 percent increase in 2016 in the number of students who take Advanced Placement exams, the second-highest growth rate in the nation. Additionally, student scores have jumped in 19 of the 21 areas on the national PARCC exam that aligns with the Common Core State Standards. Still, Skandera said there is room for improvement, as just 27 percent of the state's students are proficient in reading and 19 percent are proficient in math.
Educator support — Many of New Mexico's accomplishments have to do with the supports provided to principals and teachers, Skandera said. For example, the program Principals Pursuing Excellence is a two-year mentoring program for principals in schools where 84 percent of students are from low-income households. Skandera said schools participating in the program saw major gains on state school grades and statewide tests. She also pointed to a teacher advisory and summit the department launched to elevate teacher voices in education.
Listening tours — Skandera held several statewide listening tours, which she said are the reason behind several recent policy changes. Teacher sick days, for example, were limited to three before absences would negatively affect evaluations. The cap has since been raised to six days, a contentious issue that is at the center of a class-action lawsuit. In addition, the weight of student test scores in evaluations will be reduced to 35 percent from 50 percent. Students will also spend less time each school year taking PARCC tests.
Many have been critical of the education reforms under Skandera and Gov. Martinez. Democratic lawmakers refused to confirm Skandera's appointment for four years. The teachers union also lamented her strict policies in evaluations as well as the use of A–F grades to measure schools. In a statement earlier this month published by KOB 4, New Mexico National Education Association President Betty Patterson decried Skandera's tenure for its "very bad public policy decisions."
"During her six-plus years in office, Secretary Skandera established a new 'status quo' for education policy and direction in New Mexico: tarnishing the enormous value of local teachers and other school employees who work tirelessly to increase student academic and life success," Patterson said.
Skandera declined to share her future plans, but her New Mexico tenure makes up just part of her lengthy education résumé. At 43 years old, she has worked in the state education departments of Florida and California under governors Jeb Bush and Arnold Schwarzenegger, respectively, as well as in President George W. Bush's U.S. Department of Education.
"It's so easy to claim a victory or change a policy and think you're done, but when it comes to our kids, we're never done," Skandera said. "Reforming education is not a moment in time; it is a lifetime commitment."
---
---
Get stories like these delivered straight to your inbox. Sign up for The 74 Newsletter