Maryland Students Want Excused Absences for Protests — and a Year After They Were Dinged for Post-Parkland Marches, Their School Board Is Poised to Agree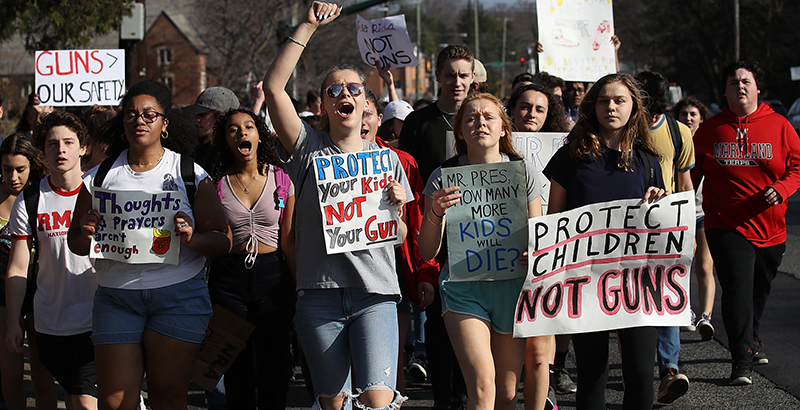 Updated Feb.13: This resolution came before the board at a Feb. 12 meeting; the board voted to send the proposal back to the policy committee for language revisions.
A year ago this week, thousands of students across America suddenly became activists, transformed by the deadly shooting at Marjory Stoneman Douglas High School in Parkland, Florida.
In the weeks following the Feb. 14, 2018, tragedy, students walked out of class, marched on Washington and in every state, and developed a nationwide network of young activists calling for gun control and violence prevention.
On the outskirts of the country's capital, high school students from Montgomery County, Maryland, poured out of their schools to join the protests. But when many were dinged with unexcused absences — and they found out that neighboring schools held vastly different policies — they used their newfound activism skills to lobby their school board for a change to the rules countywide.
This week they could see their efforts pay off. Members of the Montgomery County school board are slated to vote Tuesday on a policy that would give students in the county's 25 high schools three unexcused absences a year if they can show they were participating in an official protest, hearing, or other civic engagement.
Dani Miller, 18, is one of the students who brought the idea for the excused absences to the board.
A senior at Churchill High School in Potomac, Maryland, Miller is co-president of Montgomery County Students for Change, a student group that formed after the Parkland shooting to organize student walkouts for gun control. She told The 74 she is thankful to see the board even considering this idea.
"In our most formative years of our lives, the fact that the school district is giving us a space to be able to fight for these issues and shape our values to make a change, I just think that that's so important," Miller said. "We're so grateful that they would even consider that and that they would listen to the students."
Montgomery County officials allowed middle and high school students to participate in protests last March 14, when thousands of students nationwide walked out of class to mourn students killed by gun violence and show support for stronger gun laws. Schools required the students to stay on campus and walk out only during a designated time, but about 2,500 students from the county did leave their campuses to go to Washington, D.C., and got unexcused absences as a result.
The vote comes as school districts are increasingly paying attention to civics education.
After the Parkland shooting, an annual Gallup poll showed that the percentage of district superintendents nationwide who said preparing students to be citizens is a challenge for schools spiked 24 percentage points, to 74 percent.
"I think superintendents are more acutely aware of students' desire or potential to organize in ways that maybe we haven't seen since Vietnam," Tim Hodges, director of research at Gallup Education, told The 74 last fall.
The students' proposal gained unanimous support in September from the eight-member board in Montgomery County, which moved it forward and opened a period of public comment that ended in mid-January.
Board member Patricia O'Neill said the surge in student activism inspired the board to consider giving students time to participate in protests, hearings, and other civic events. She told The 74 she expects that the board will approve the new rule, which would go into effect immediately after the vote.
"I think there is a lot of spirit among young people to make some changes, and I believe that public education in the U.S. was established to prepare students for active participation in our democracy," O'Neill said. "Early civic participation is one way to establish a lifelong pattern of caring about the democracy."
For safety reasons, the district will not excuse students for participating in spontaneous walkouts during the school day, Turner said. Rather, students would be required to submit a note from a parent or guardian ahead of the absence letting administrators know of their plans and providing information about where they will be.
Ananya Tadikonda, the school board's student member, said the proposal shows that the school board sees civic engagement as "a part of learning, just like a college visit is and just like making sure you maintain your health by going to the doctor is."
Miller's co-president at Montgomery County Students for Change wants the school board to go further.
Michael Solomon, a junior at Springbrook High School in Silver Spring, said the proposal is a step forward but the board could do more to promote civic participation.
"Honestly, I'd rather see the county implementing more effective policies if their real goal is to encourage civic engagement," such as requiring voter registration drives in high schools and improving the civics curriculum, he told The 74.
"These excused absences, they might be a good step, they might be a show of good faith, but I don't believe that they're really doing anything to help us," Solomon said.
Miller said she expects that the board will approve the policy change because it allows the board to show support for students getting involved in the political process, which she thinks students will be doing whether their absences are excused or not.
"At the end of the day," she said, "we're going to be walking out anyway and we're going to be participating in civil disobedience and even missing school for this sometimes anyway."
Get stories like these delivered straight to your inbox. Sign up for The 74 Newsletter