Los Angeles's First School Board Election After Teacher Strike Is Headed to a May Runoff, With Only 35 Votes Currently Separating Second-Place Candidates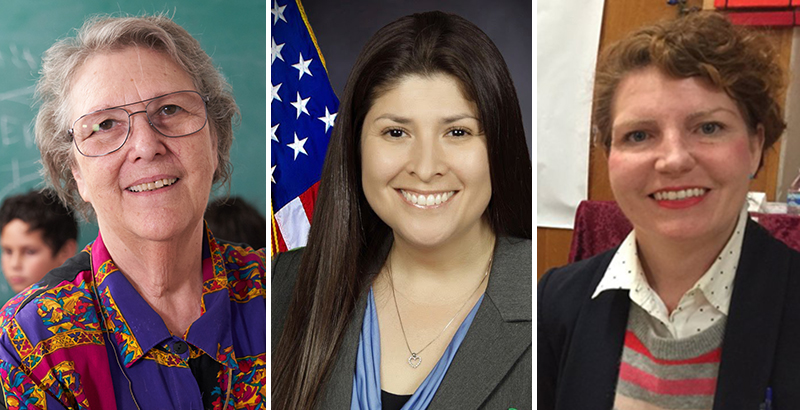 Updated March 13
The top three finishers in L.A. Unified's Board District 5 election retained their positions after Tuesday's vote count, though the race for second place narrowed to only 35 votes.
A runoff election is now certain, as Jackie Goldberg is 596 votes shy of a majority and there are fewer than 100 votes left to count from the March 5 primary. Tuesday's updated vote tallies show the union-backed Goldberg with 48.2 percent, a slight dip from the last vote total on Friday that gave her 48.45 percent. As a former school board member and vocal charter critic who became a prominent face of the January teacher strike, Goldberg's name recognition catapulted her past the other nine candidates in this year's packed special election in the predominantly Latino student board district.
The real race now is for the second runoff slot. Former L.A. City official Heather Repenning has held onto second place ahead of Huntington Park councilwoman Graciela Ortíz since Friday, though her 133-vote lead shrunk on Tuesday to a mere 35-vote margin after Ortíz picked up 288 votes in the latest count. Repenning had picked up 190.
On election night, Ortíz had an initial 53-vote lead over Repenning. Both are far behind Goldberg.
"We don't anticipate any recount," Repenning's campaign manager, Derek Mazzeo, told LA School Report after watching Tuesday's vote counting at the county registrar's office.
"These results show how critical every last vote is," her campaign said in a statement.
There are fewer than 100 votes left to count, according to Repenning's campaign, and the next county update is slated for Friday, with another set for Monday and another Tuesday, March 19, if necessary. The runoff election is May 14.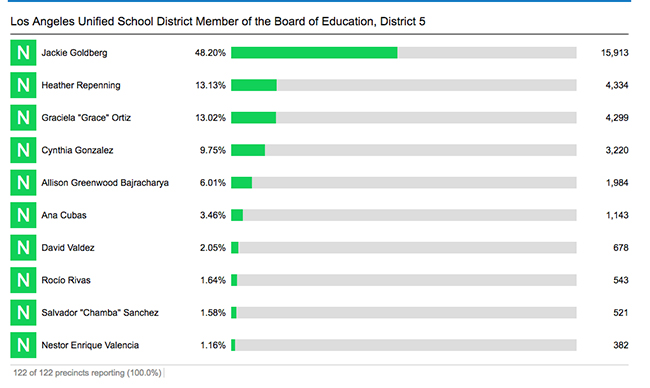 Goldberg told LA School Report last Thursday that she hadn't expected the "distance between me and the next highest person." If Goldberg had pulled off a primary win, she would have assumed office "when the county certifies the election," board secretariat Jefferson Crain wrote in an email Friday. The county registrar is scheduled to certify the election results on March 22.
The board district, where nearly 90 percent of the more than 81,000 students are Latino, has been without a representative for more than seven months. The seat has been vacant since late July, when former board member Ref Rodríguez resigned after pleading guilty to money laundering charges.
The board member for BD5 represents students enrolled in 177 district schools located in parts of the southeast of Los Angeles, including the cities of Huntington Park, Maywood, South Gate and Bell, and in neighborhoods northeast of downtown, including Highland Park, Echo Park, Silver Lake, Eagle Rock and Los Feliz.
This article has been updated to reflect Tuesday's updated vote count.
● For more on the election:
Pro-Union Candidate Dominates in First Los Angeles School Board Election Since Teacher Strike — but Will Likely Face a Runoff
A Special School Board Election in L.A. Raises Questions of Fair Representation and Improving Schools for Low-Income Latinos
The Swing Issues in the Pivotal L.A. School Board Race: Parents Use Candidate Forums to Talk Safety & Quality Teaching as Students Emphasize College Preparedness
On the Heels of the L.A. Teacher Strike, a Firebrand and Charter Critic Looks to Return to the School Board After Nearly 30 Years
Survey in L.A. Special Election District Shows Sharp Schism Between English- and Spanish-Speaking Parents
Support The 74's year-end campaign. Make a tax-exempt donation now.