Pro-Union Candidate Dominates in First Los Angeles School Board Election Since Teacher Strike — but Will Likely Face a Runoff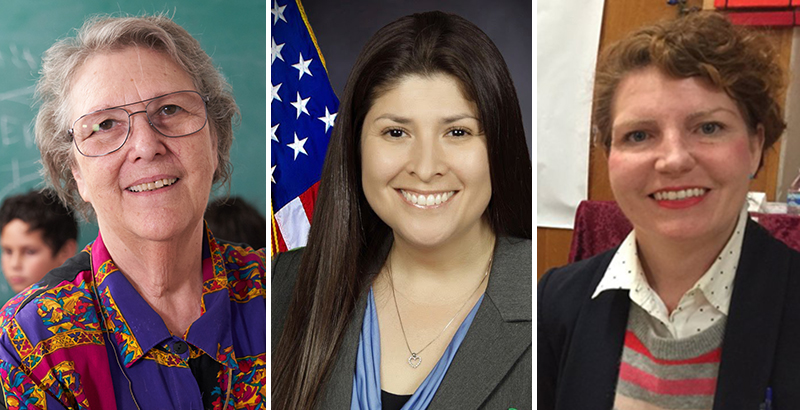 Updated March 7
A special election in Los Angeles to appoint a new school board member is almost certainly headed to a runoff, with teachers union favorite Jackie Goldberg clinching just shy of half the votes while her future opponent remains undetermined.
Goldberg, a former school board member and vocal charter critic who was a prominent face of the January teacher strike, received 48.26 percent of the vote in Tuesday's Board District 5 election. In a May 14 runoff, she would likely face either Huntington Park councilwoman Graciela Ortíz, who's claimed 13.3 percent of the vote so far, or former L.A. City official and L.A. Unified parent Heather Repenning, who trails Ortíz by 53 votes.
One of the 10 candidates would have to receive more than 50 percent of the vote to avoid a runoff in the predominantly Latino board district, also known as BD5.
There were 25,332 BD5 votes reported on the county registrar's site as of late Tuesday, which includes polling place ballots and vote-by-mail ballots received before Election Day, the county confirmed.
The county said in a Wednesday news release that an estimated 4,710 provisional and vote-by-mail ballots were received on Election Day and are still being processed. That estimate does not include vote-by-mail ballots postmarked on Election Day that are trickling in through Friday. An updated vote tally is expected Friday afternoon, though officials could continue processing outstanding ballots and providing updates through March 19 if no clear winner — or winners, in case of a runoff — emerges, a county spokesman said Thursday.
Including the outstanding ballots, primary turnout stands at about 9.7 percent in a board district of roughly 310,000 eligible voters. While complete voter demographics are not yet available, Latino voters made up about 40 percent of early voting, according to data provided Monday morning by Political Data consultant Kevin Callan.
Voter turnout in school board elections is typically low — 10 percent or less — and even lower in special elections. In the last BD5 primary in 2015, 26,811 votes were cast.
A runoff will leave the board district, where nearly 90 percent of the more than 81,000 students are Latino, without a representative for another few months. The seat has been vacant since July, when former board member Ref Rodríguez resigned after pleading guilty to money laundering charges.
The board member for BD5 represents students enrolled in 177 district schools located in parts of the southeast of Los Angeles, including the cities of Huntington Park, Maywood, South Gate, and Bell, and in neighborhoods northeast of downtown, including Highland Park, Echo Park, Silver Lake, Eagle Rock, and Los Feliz.
Although the boundaries of BD5 were drawn to help elect a Latino representative, the three non-Latino candidates in the race — Goldberg, Repenning, and former charter school executive Allison Greenwood Bajracharya — garnered the most campaign contributions and outside donor funding. United Teachers Los Angeles gave more than $640,000 to Goldberg by Election Day; SEIU Local 99, which represents education workers including cafeteria staff and bus drivers, doled out about $920,000 to get Repenning elected. California Charter Schools Association Advocates, the charter school organization's political arm, didn't endorse a candidate in the primary.
Ortíz raised the most of the seven Latino candidates, with about $130,000 in campaign contributions.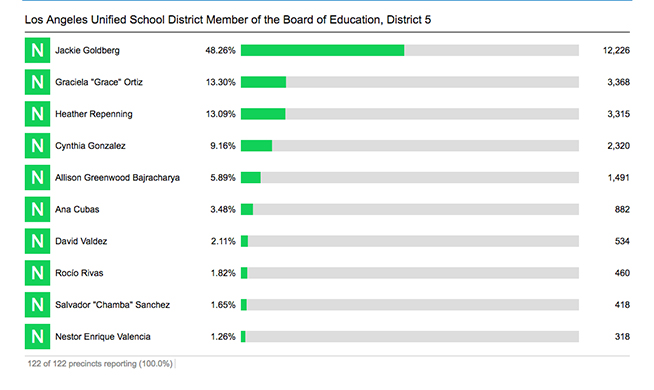 Here's some background on the top three vote-getters:
●  Goldberg, backed by UTLA, was dubbed "the candidate to beat" during the campaign season, carrying considerable name recognition from her previous positions as a 16-year teacher in Compton, a school board member for eight years, a city councilwoman, and a state assemblywoman. The Silver Lake resident told LA School Report that her top priorities as a board member would be taxing the state's "150 billionaires" and multimillionaires and pushing for more accountability and transparency for charter schools. She's adamant that lowering class sizes — and pooling more resources toward teaching children to read — are keys to student success. She does not speak Spanish. Read our profile on Goldberg here.
●  Ortíz was endorsed by dozens of elected officials, particularly from heavily Latino cities in L.A. County. Ortíz is a social worker who was born and raised in Huntington Park and speaks Spanish. She's worked for 13 years as an L.A. Unified Pupil Services and Attendance counselor and currently works at Linda Marquez High School. She is a UTLA member. Ortíz was elected to the Huntington Park City Council in 2015 and served as mayor in 2016-17, when she voted in favor of a one-year moratorium on new charter schools in Huntington Park. Ortíz told Speak UP in an interview that she had to "wear that hat" as a councilwoman, and that the charter moratorium was temporary. "My view on schools, in general, is I believe in good schools, period. I believe in good schools in all our communities. Period." At a recent forum, she said teachers should have the ability as stakeholders to make decisions and that lowering class sizes is key to educators' effectiveness because it allows them to listen to their students' needs.
●  Repenning, who was endorsed by L.A. Mayor Eric Garcetti, is the L.A. Board of Public Works' former vice president and Garcetti's former director of external affairs. The Silver Lake resident told Speak UP in an interview that she's focused on boosting wraparound services for impoverished communities, getting more state funding for early education, and adding a "parent perspective" to the school board. Her daughter attends a district elementary school. Repenning also believes charter schools should be studied but opposes an immediate cap. And she considers herself a "problem solver" who, like Goldberg, would prioritize finding new funding sources for L.A. Unified. She speaks Spanish.
If the runoff pits a non-Latino against a Latino candidate, it could get interesting, pollster Paul Goodwin told LA School Report last week.
"If you have a Latino candidate who makes the runoff, there might be a push for Latinos to turn out," said Goodwin, who's worked on independent expenditure campaigns funded by CCSAA. But "if you have this interesting sort of inter-union battle between Heather and Jackie … then you might have very, very low Latino turnout."
This article has been updated to add more information about Friday's county update.
Get stories like these delivered straight to your inbox. Sign up for The 74 Newsletter