Let's Begin Listening to the Voices That Really Matter in the School Choice Movement: Children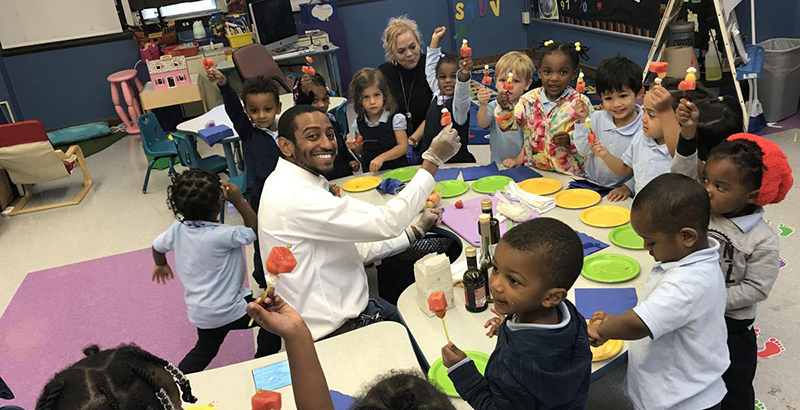 This essay originally appeared in redefinED
Washington, D.C.
While attending a recent event hosted by D.C. Public Charter Schools, I stood in the lawmaking core of our country where landmark decisions such as Brown v. Board of Education promised education equality, and I closed my eyes.
I imagined what it would be like to celebrate the success of all students without focusing on the particular setting that allowed them to achieve this success. That's when I realized we've been going about this all wrong.
Education choice reformers often focus on the wrong "face of the education choice movement." We look at lawmakers, activists or orators declaring their unwavering support of education choice who are surrounded either by supporters or by the opposition — teachers unions and school district leaders.
All those faces have one thing in common: adulthood.
Yes. The only faces we see, the only voices we hear, are those of adults. But those faces and voices cannot convey that education right now, particularly in cities like Washington, D.C., is a life-or-death choice for students.
As a choice organizer from the same background as many of our students, even I struggle to communicate for our kids. Grown-ups are sometimes too far removed. Opponents of education choice who would deny students the means to escape the shackles that have burdened their families through generational poverty, despite their inability to effectively support these populations, must hear from students directly.
I opened my eyes and looked around. The event I was attending was meant to celebrate the accomplishments of charter school students and highlight the fact that there are nearly 12,000 young people are waiting for a seat in those charter schools.
In most instances across the country, waiting lists are tied to funding access, but in D.C., the problem is far more egregious.
In 1995, the District of Columbia School Reform Act stated that charter schools would receive right of first choice to vacant buildings. Today, Mayor Muriel Bowser literally has closed the door on minority students by refusing to allow this. Refusing to allow the expansion of charter schools keeps students beholden to the randomness of the charter school lottery and forces them to remain stuck in ineffective and unsafe schools.
Over the past 20 years, D.C. public charter schools have effectively served low-income and minority students by implementing dual-language, technology, arts, inquiry-based and project-based schools while also focusing on diversity and innovative learning models. These schools are safe, effective and thriving.
This was evident in the thunderous drumline of Mary McLeod Bethune Day Academy Public Charter School as participants marched through a standing-room-only crowd. Students as young as 8 showed pride and mastery of musicianship representing a charter school that caters to their unique abilities.
The worth of these schools also was evident in an exhibit in which students shared their journeys and inspirations through original works of art. One student stood before his drawing of Emmett Till, the teenage boy brutally lynched at age 14 in Mississippi for allegedly whistling at a white woman. This student's portrait reminded me of the sins of our history and how the grotesque and untimely death of a child catapulted the civil rights struggle into a mainstream movement.
Till's casket is memorialized right up the street at the National Museum of African American History and Culture, but what has our country actually learned from years of oppressive practices against minorities and the fight to do better? Today, instead of denying access to diners and buses, our country limits the access of our most vulnerable children to quality education options, continuing oppression that began long ago.
In the days of the civil rights movement, we didn't focus on children until tragedy struck. Until the death of a child galvanized a nation.
Education choice is the social justice issue of our time.
Let's not make the same mistake twice.
Keith Jacobs serves as manager of charter school initiatives for Step Up for Students, a nonprofit that helps administer the Florida Tax Credit Scholarship for lower-income families, and the Gardiner Scholarship for children with certain special needs. Prior to working with Step Up, Jacobs was a K-12 educator and administrator in traditional and charter public schools for 14 years.
Get stories like these delivered straight to your inbox. Sign up for The 74 Newsletter