Edelin: D.C. Charter Students Are Locked Out of a Million Square Feet of Available School Space. New Campaign Aims to Change That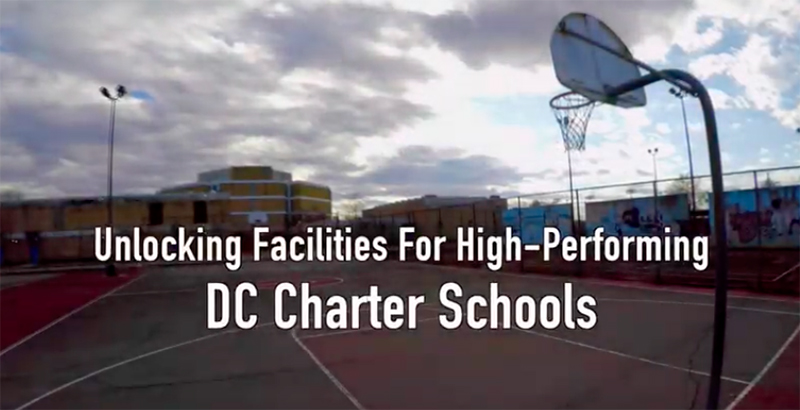 A new campaign on behalf of public school students in the nation's capital is asking the District of Columbia government to end the scandal of there being nearly 12,000 students on waiting lists for charter schools unable to accommodate them. End the List combines a new online presence with a YouTube video, Open Doors: Open Minds; radio ads in English and Spanish; and a media blitz, plus community activism. The goal: to ensure that the government recognizes its responsibilities to the city's future, our children.
Shamefully, while charter students are unable to access dozens of high-performing public charter school campuses, the city sits on around 1 million square feet of surplus school space, in underenrolled, low-performing city-run schools and in some 14 schoolhouses not used for educational purposes. Successive administrations have decided to flout D.C. law, which provides charters a "first right of offer" to buy or lease excess school building inventory before private developers can bid for those spaces. Instead, scores of schoolhouses have become luxury condos, while others are left to rot.
By failing to release spare space, the District is not only breaking the law and its moral obligations but also compounding the additional ways that public charter school students are unfairly treated as second-class citizens. For every $1 the D.C. government spends on facilities for charter school students, it spends $3 on school infrastructure for each student in the traditional public school system.
This unfair underfunding forces many public charter schools into the city's high-priced commercial real estate market, requiring them to obtain costly loans to renovate warehouse, retail and office space for school use. Consequently, many lack adequate auditorium, library and cafeteria space as well as playground and playing field amenities. Some even start out in church basements.
Only last year, the government announced it was turning five ex-schoolhouses over for noneducational use, including landmark and historic school buildings empty for years or even decades. One is set to become lavishly appointed apartments, a trophy office building and a high-end grocery store, of which there are no shortages in the District's hot real estate market.
Next month, AppleTree Early Learning Public Charter School must find a new home for one of its campuses in southwest D.C., where the high-performing, data-driven pre-K program aims to close the achievement gap faced by disadvantaged students before kindergarten. Ranked a Tier One school by the city's charter board, AppleTree's Southwest campus has operated out of portable classrooms at the site while looking for a permanent home — an all-too-typical challenge for the city's charter schools. Its lease on the grounds of a traditional public school ended, imperiling an important program that brings essential, effective early education to vulnerable communities.
AppleTree is struggling to relocate even though its modular buildings need only 9,000 square feet of space and the city has millions of surplus square feet of suitable space. AppleTree eventually found a new location, but it is not available until the 2020-21 school year.
Sadly, such perverse priorities have become standard in the District. As the city's traditional public school system fell into decline, and those who were able left for better prospects elsewhere, enrollment fell by about one-half in a generation, creating much surplus space. Segregation's sorry legacy also contributed to a large building inventory, sometimes with school buildings a block or two from each other. But rather than offer buildings to charters, the city preferred to cash in on sites in rising real estate markets and wait for better prices in those left behind.
Given the city's attitude, one might think its public charter schools had done something wrong. In fact, charters largely rescued public education in the District from near-collapse a quarter-century ago, when the federal government took control of a system in which both academics and safety had crumbled and half the students dropped out before graduating. Such is the demand among District families that D.C. charters now educate half of all public school students. If waiting lists for popular programs were eliminated by releasing surplus school space, that share would be even higher.
The city's neglect of its charter students is especially shocking when one considers that District charters educate a higher share of economically disadvantaged and minority students than the traditional system.
District charters utilize their operational independence to bring new, more effective educational programs to at-risk students whose parents and guardians previously lacked school choice. Students in the city's most disadvantaged wards are twice as likely to meet citywide college and career readiness benchmarks as peers enrolled in the traditional system. And charters have raised high school graduation rates, enabling many more students to access the rigor of a college education.
It's high time the city opened doors to its surplus schoolhouses and space to its public charter school children.
Dr. Ramona Edelin is executive director of the D.C. Association of Chartered Public Schools. 
Support The 74's year-end campaign. Make a tax-exempt donation now.