NYC Mayor Unveils Partial School Reopening Plan, but Questions Loom About Logistics, Safety and Learning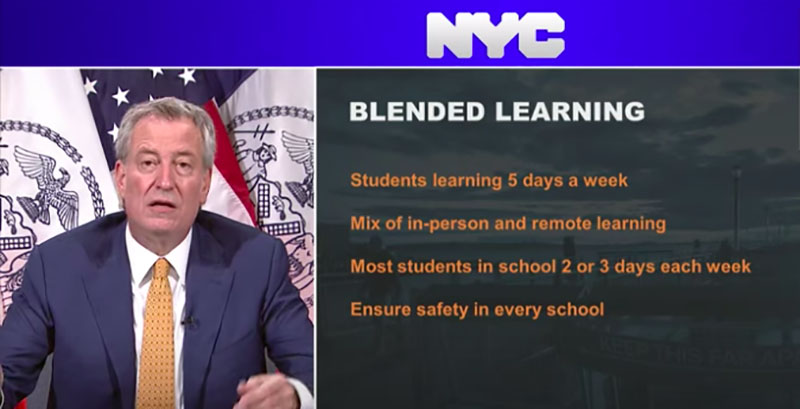 Mayor Bill de Blasio on Wednesday revealed his long-anticipated plan for reopening schools this fall in New York City, one that would bring students back to the nation's largest school district only part time.
The arrangement he outlined is a tentative one, given the nebulous nature of the pandemic, but it does tell parents some things about what September could look like for the city's 1.1 million students. Put simply, it's a hybrid model being considered by many districts around the country. As it stands, the city's students will spend one to three days in the classroom and the rest of the week learning outside of it, depending on their school's capacity for social distancing.
School leaders hope the plan will allow the city's 1,800 public schools to reopen as safely as possible, with no more than 12 people, including teaching staff, in the classroom at one time. In New York, classrooms typically hold an average of 30 children at once.
That plan is subject to change, including announcements from Gov. Andrew Cuomo, who has the final say on when and whether schools around the state reopen and said Wednesday he would make that call Aug. 7. The path forward could also change if the city's coronavirus case count surges or plummets. The mayor's plan also comes as the Trump administration launched a campaign this week pressuring states to reopen schools, a critical step to reviving the virus-ravaged economy.
In the meantime, though, principals this month will start mapping out what the fall could look like, accounting for tight budgets and building in flexibility around variables such as the number of students and staff who plan on returning in person in the fall. Families who want to pursue full-time online learning have to indicate that preference by Aug. 7.
Principals have been given three main options for reopening schools and can appeal to their local superintendents with alternative plans, if they can explain them sufficiently.
The choices account for school building capacity, and all involve staggered schedules. One is for schools with facilities that can hold half of students or more at once: kids would come to school on alternating days, which would stay fixed during the semester, and learn remotely on the other days. Another is for more crowded schools: students would be split into three groups and attend school in-person one or two days a week. The latter plan leaves open the possibility that some students wouldn't be in school on consistent days every week and each scenario would leave working parents scrambling to find child care for the days their children are not in school.
"For the majority of kids," de Blasio said at a press conference, "you'll either be going two days a week or three days a week, depending on the week." He added, "This is new and different. And I know it's no one's first choice."
Sarah Cohodes, an economics professor at Teachers College, Columbia University, wrote a recent article in The Atlantic, outlining her thoughts about the fall. While she acknowledges the enormity of the challenges facing department and school administrators, she has a few concerns about New York City's version.
Chief among them, she told The 74, is that the plan has been built around the capacities of specific schools, meaning that some students are going to have more face-to-face learning time than others. Research indicates that kids attending virtual school have lower test scores and graduation rates. She believes that districts should prioritize the students who are most vulnerable, including special education students, English learners and those transitioning into a new school.
"In my mind, if you're going to have differential access to what is the most precious instructional commodity, the face-to-face instruction, it makes sense to be really thoughtful about who gets that time," she said.
The DOE has said that special education students with Individual Education Programs, who have already had small, in-person lessons, could go back to school for alternating weeks or even full time, but the plan doesn't necessarily account for any of those other high-need populations, including the youngest children who are still learning to read.
Mark Cannizzaro, president of CSA, the principals union, said he was satisfied with the mayor's announcement — in particular, with the exemption allowing building principals to brainstorm their own ideas — but has concerns about the viability of the hybrid plan.
"Principals are receiving their budgets today as we speak," he said, explaining that leaders are having to account for big added costs in the fall, including buying PPE, acquiring better remote learning curricula, and paying extra staff to oversee smaller classes and others to keep classrooms clean. "You need to make sure you have enough resources to keep everyone safe and provide an adequate education."
As such, the federal government needs to distribute more resources to schools, he says, adding that the $3 trillion federal Heroes Act, which has passed the House but not the Senate, will be "critical" for school leaders. "It's going to determine whether or not we can safely reopen," he said.
Michael Mulgrew, president of the United Federation of Teachers, said he thinks there are a lot of details that need to be worked out in terms of safety procedures in the building, but he added that he does believe de Blasio's plan puts safety first. Mulgrew said he's been speaking with union leaders in other districts around the country about their reopening strategies and thinks New York state and New York City are proceeding with extra caution, given the city's recent status as the pandemic's global epicenter.
"Other [districts] shut down but didn't have the same surge of cases we had," he said. "We're educators. We teach lessons and learn lessons. We don't make mistakes twice."
While transmission is relatively low in New York City, case counts around the country are multiplying in some places. On Tuesday, President Trump tweeted, "SCHOOLS MUST OPEN IN THE FALL!!!" leaning on states and districts to do so. The next day, he threatened to withhold federal aid from schools that don't bring students back and dismissed the Centers for Disease Control guidelines for reopening. The state of Florida subsequently generated controversy when the governor said all schools would be required to reopen full time in the fall.
Mulgrew was unimpressed by the president's position.
"We need the federal government to say, 'We're going to take care of the children of the U.S.A.," he said. "They gotta bail out the children. I'm sure if it was a corporation, they'd be running to bail it out. I think children are a little bit more important than our corporations."
Mulgrew also said that although parents are eager for their children to return to school, broadly speaking, the 75 percent figure cited by de Blasio in his Wednesday press conference doesn't account for the fact that most of those parents who responded to a recent DOE survey also had many questions — all of them related to safety.
"They wanted to make sure their child is safe and that when they're coming home, the family is safe," he said.
Mike Loeb, a seventh-grade science teacher at the Urban Institute of Math in the Bronx, was unsurprised by the mayor's announcement. Loeb is his school's union representative, and in June, he visited the building with his principal to measure classrooms and figure out how many students they could safely contain. The experience made him wary of what the fall might bring.
"Teachers want to be back in school," he said. "We really miss life as we know it — there's no question about that. With that said, obviously the virus is still rampant, and I think a lot of us are still gun-shy because of how terrible it was in March and April and May. We've had teachers die, and students get very sick, and family members pass away. That's very fresh in our memories."
As of late June, 31 DOE-employed teachers had died from the coronavirus. Next week, Cannizzaro says, teachers will start submitting applications for medical accommodations, with the city estimating that some 20 percent will receive one.
Loeb said the hybrid plan will require an overhaul of how instructors used to teach in the classroom. Group work with social distancing will look completely different, he explained, as will "turn-and-talks," those moments in class when kids are asked to dive into a topic with a peer. "It's hard to do that when you're six feet apart from your partner," he said. All students and teachers will also be wearing masks.
And then there's the issue of classroom materials, like the beakers that Loeb uses in science class. Although the chancellor has said the DOE will pay for deep cleanings at night, disinfectant wipes and hand sanitizer, Loeb is worried about the logistics of keeping spaces clean throughout the day.
Cohodes, the Teachers College professor, has more questions, too. Given that the new plan means every student will participate in some form of remote learning, how will the department and schools act to make that curriculum as strong as it can possibly be? Will some instructors have to teach a double curriculum at once, both in person and online? Or will administrators assign the online learning effort to some teachers and the in-person component to others? How will schools catch the remote-learning-only students up to their peers every week?
On the parent side, Cohodes anticipates that the hybrid plan will produce a shadow network of child care, potentially creating more opportunities for virus transmission.
"What if you're a teacher, and your kids are remote on the day that you're supposed to be teaching in person?" she wonders.
Wealthy parents might pay for tutors, she guesses, while the majority of families, who are low-income, will have to find other solutions.
"I just want to reiterate that this is a logistical human challenge that has never been faced on this scale before," Cohodes says. "The federal government is the only group that can step in."
Support The 74's year-end campaign. Make a tax-exempt donation now.