Less Than 2 Weeks From School Remote Opening, D.C. Yet to Disclose In-Person 'Learning Hubs' to Help Working Parents With Child Care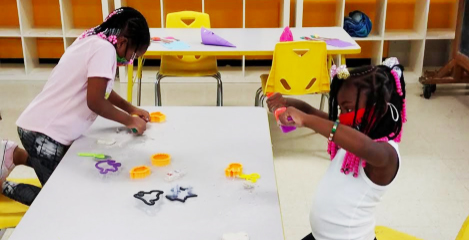 D.C. public schools are less than two weeks away from a virtual re-opening, but city officials have yet to disclose any plans for scaled-up, in-person child care and academic support for thousands of students from low-income families where parents are returning to work.
While school districts in many U.S. cities have begun unveiling large-scale plans for in-person "learning hubs" where working parents can leave children in centers with adult supervision and help with virtual instruction, lower-income families in D.C. have few options.
A limited number of community-based nonprofits, like the YMCA of Metropolitan Washington and the Boys & Girls Club of Greater Washington, are preparing to host free or subsidized learning hubs for small groups of children, in adherence with health guidelines during COVID-19.
Smaller D.C. nonprofits are also trying to help families: The TraRon Center, which works with children in Ward 8 affected by gun violence, is aiming to fundraise $100,000 to open a full-day hub that will serve a portion of its 16 families.
Other cities, meanwhile, are building capacity. San Francisco, for example, plans to serve some 6,000 high-needs students across more than 40 sites, including cultural centers. In Denver, officials are prepping for hubs at all 41 of its elementary, middle and K-8 schools. Fairfax County Public Schools, a nearby Virginia district and one of the largest in the nation, announced last week intentions to form hubs geared toward "the greatest-needs" students at 37 schools, with a sliding fee scale based on income.
D.C. advocates insist there are ways to build on nonprofits' efforts by utilizing spaces across the city that can safely host learning hubs for small groups of children: parks or other outdoor spaces, churches, unused office buildings, libraries, recreation centers.
Some suggest city partnerships with local universities, too, so college students taking virtual classes can work at hubs for course credit. Others are lobbying for more federal dollars that could be used to bolster these programs.
"If we were looking at how we could expand resources to provide those opportunities, tapping into the spaces that are available … I think we could come up with some good options," said Allyson Criner Brown, a DCPS parent who specializes in racial equity and family engagement. "But that's not the conversation that I'm hearing."
In a district where nearly 80 percent of students are considered "economically disadvantaged," including those receiving free or reduced-price lunch, there is likely to be a dramatic need for such programs. Families face another months-long stint of all-virtual learning — for D.C. Public Schools' 52,000 students, that's Aug. 31 through at least Nov. 6. And options available in normal times have ebbed during the pandemic; less than 30 percent of child care centers that typically accept vouchers for low-income families have reopened, according to city government databases.
The YMCA is already feeling the demand. More than 300 D.C. families expressed need for a learning-hub-type setup in its recent survey. But as of Tuesday, the Y is only able to host about 65 children across two D.C. branches.
The dilemma throws into stark relief the deep wealth gaps that exist in D.C. Families with more means looking to also secure child care and help with virtual instruction are poised to spend hundreds a week on "pandemic pods" or are weighing homeschooling, nanny-share and tutoring options.
D.C. is "a diverse city of haves and have-nots," said Ryane Nickens, president of the TraRon Center. "The have-nots," she continued, "are always needing to figure things out on their own."
When asked by a D.C. State Board of Education member earlier this month about child care and learning hubs for lower-income, working families, D.C. Deputy Mayor for Education Paul Kihn acknowledged that there aren't "clear or great answers" right now, though officials "are in discussions in an ongoing way" with D.C.'s health department.
New COVID-19 cases in the district appear to now be plateauing after increasing last month — and the positivity rate stands at about 2.1 percent, below the 5-percent mark the World Health Organization considers safe for states to reopen.
"We're always stuck in this conundrum where we think that health conditions in the city are not good enough to allow us to reopen schools, but at the same time we're saying we want to provide enhanced child care" that brings people together, he said. "We have to be very cautious."
Although D.C.'s Department of Parks and Recreation did run learning hubs at six sites this summer, Kihn told The 74 the model is not "viable" for large numbers of students under current public health guidance.
Ward 6 State Board of Education member Jessica Sutter believes there's an achievable balance between prioritizing safety and serving vulnerable communities.
"In an evolving public health crisis, all sorts of guidance and public planning will change over time. That seems reasonable," she said. "But the need for children of working parents to be cared for is a constant. … [and] government has a duty to consider how we help them access that care."
A reliance on localized supports
Single mom Benia Mckinnie is starting this school year with a new job — and uncertainty about what that will mean for her three kids, ages 4 to 12, who are navigating virtual learning.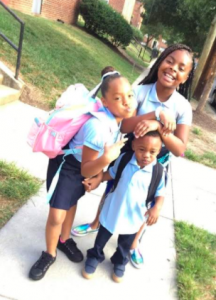 "It's going to be hard for me" if there isn't someone "to sit with them, help them with their work," said Mckinnie, a soon-to-be armed special police officer who lives in Ward 8. For now, paying for an outside service isn't an option. "My mom and my brother, they do as much as they can, but they have their lives to live as well," she explained. "I basically do everything by myself."
Mckinnie is hoping to sign her kids up for the nearby TraRon Center learning hub, opening on Sept. 7.
Creating the hub wasn't a question for Nickens. "A couple of our parents have had anxiety attacks around COVID, around all the added pressures that come with school being [physically] closed," she said. "We find ways to meet the needs of those we serve."
The program will accommodate "no more" than 13 kids indoors; children in the neighborhood, however, can stop by to ask questions, print materials and check out books, Nickens said. The learning hub would run from 9 a.m. to 3 p.m., with afterschool programming from 3:30 to 5:30 p.m.
Accounting for costs like masks and hand sanitizer, breakfast and lunches, headphones for students and two teaching aides, Nickens puts the program's price tag for the school year at $100,000. The center had fundraised about $30,000 as of Tuesday.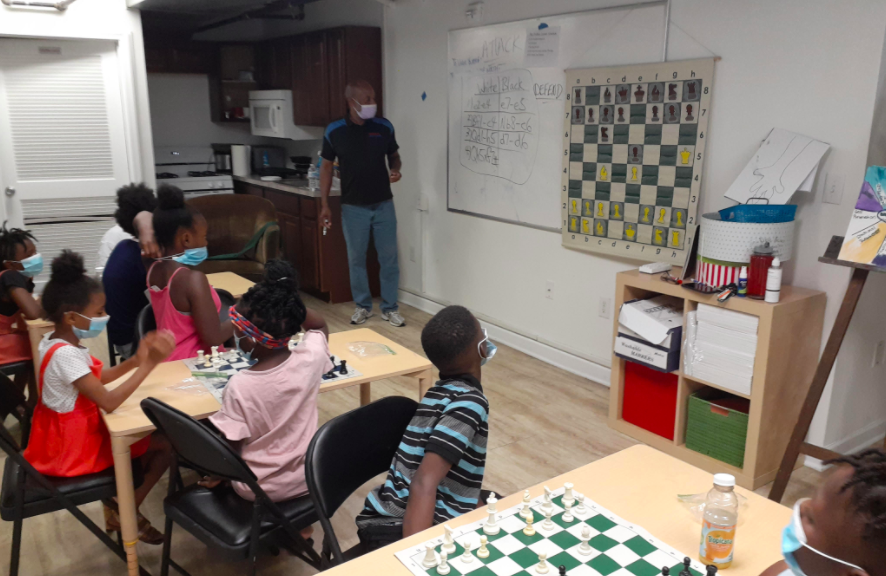 At the YMCA, current plans are to offer a learning-hub-like program at at least two D.C. branches starting Aug. 31 from 7 a.m. to 6:30 p.m., said Reynard Eaglin Jr., vice president of youth development and operations for the YMCA of Metropolitan Washington. After a curbside drop-off, temperature checks and health screenings, staff will help students log on and follow their virtual instruction. The program will also provide homework assistance and social-emotional support, with activities that encourage students to talk about their feelings and how to express them.
Donations, grants and state and federal funding will subsidize the cost for low-income families.
Eaglin said the YMCA is also in talks with about four D.C. schools it's partnered with in the past for afterschool programming about opportunities to use building space during the day.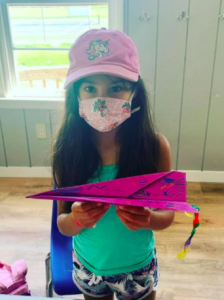 "With so many families returning to work … we're trying to serve as many children and families as possible," Eaglin said. "Partnering with the schools, we can serve more."
The Boys & Girls Club of Greater Washington confirmed it would offer 9 a.m. to 5 p.m. hub programming — with access to daily meals, laptops and high-speed internet — across its four D.C. sites, with current capacity for 195 kids total. Before the pandemic, the organization saw about 2,100 youth coming through the doors each day.
"We are certainly seeing increased interest in tutoring support, extended childcare options in a safe environment," spokeswoman Kandice Ferrell wrote in an email Wednesday. "[We] expect to reach full capacity quickly as the community need is great."
For those with means, more options
For many families with more financial stability — including those in the middle class — concerns over child care and learning are front and center too. But the possible solutions look different.
Some, disenchanted with how their public schools handled the first bout of remote learning in the spring, are unenrolling.
Elisha Peterson, a children's physician unable to work from home, was initially mulling a "microschool" for her preschooler, 6-year-old and 8-year-old. After gawking at the "astronomical" costs — at least $1,000 per child a month — she's decided to enroll her youngest in a private school for a little under $8,000 a year. She hasn't settled on accommodations for her other kids yet.
Another parent, stay-at-home mom Brittany Wade, has opted to homeschool her five children in pre-K through eighth grade.
Wade plans to have "a wave of learning each day," she said, teaching her youngest children — the early risers — first and instructing the others while they nap. The basement "looks like a school," she added, littered with crayons, markers, games and index cards.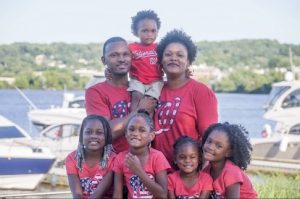 "Before COVID, I was already thinking about pulling my children [out]," said Wade. One child was having trouble learning to read; "life skills" like "how to count money at the store" were lacking. "I was super scared of having my children's education just on me. But with this COVID [pandemic], I was just like, look, this is the time."
Other families, pleased with their schools' pivot to virtual learning, are seeking outside help to ensure that their kids are supervised, and following online instruction. Sharon Culver, a DCPS pre-K educator with a 3-year-old and a 6-year-old, is considering a nanny-share with one other family as she teaches virtually.
These parents said they know neighbors, community members, who don't have the same options. And while the onus to create opportunities for lower-income families doesn't fall squarely on other parents' shoulders, those like Culver pointed out that parents carry a big megaphone. They, too, have a part to play.
If "parents don't speak up and advocate," Culver said, "it won't get done."
Get stories like these delivered straight to your inbox. Sign up for The 74 Newsletter